Greeting, the great warlords.
Today I had a 2000-pt game with a guy called FireCat. He brought Blood Angels composed of Mephiston, Corbulo, 1 termi squad, 2 deva squads, 4 land speeders (two of them made a squadron), 2 razorbacks, and some marines. Contrary to my expectations, he did not use vndicators and any deepstrikers.
Before starting the battle report, please note that I'm not a native speaker of English. Sorry for wrong expressions and/or grammars in advance  
Game Info
It was Maelstrom Mission 1 and 'effectively day' meaning that I got a nightfighting but forgot to use Stealth, stupid… 
  We both chose Tactical Warlord Traits. FireCat also took four Divination psychic powers, while I got two from Runes of Battles – but I did not use any of them for the entire game. I made him deploy first (thanks to Baron!) and seized the initiative (thanks to Vect!!). Wyches and reavers got +1 WS from the battle drug (meh). Only one unit of his marines got the red thirst providing Furious Charge and something others (forgot it).
Deployment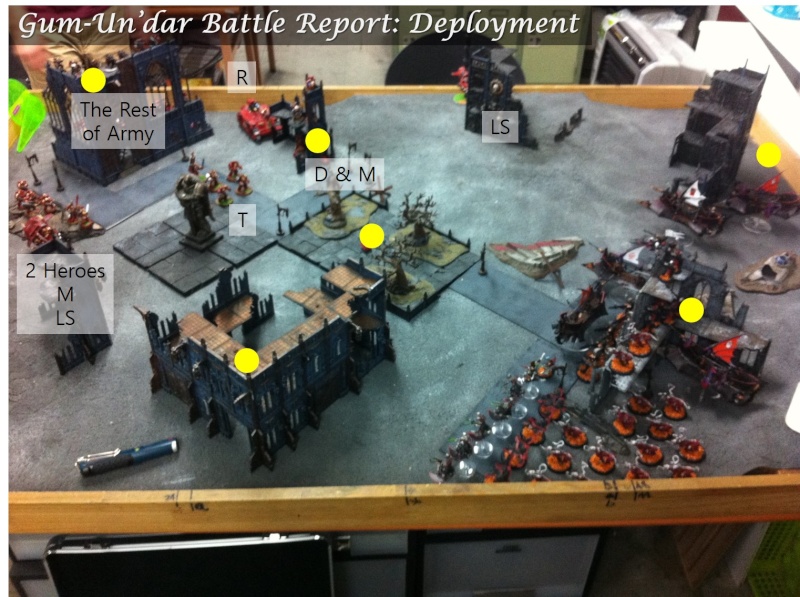 FireCat put one land speeder (LS) behind a front ruin. Devastator squad (D), razorback (R), and a unit of marines (M) hid in the mid-upper ruin. Termi squad (T) stood on the center plain. Mephison+Corbulo (Heroes), one land speeder, and 10 marines were in his backyard (the heroes did not pair with the marines here). The rest of the army located in the rear (behind the ruin).
Every unit of Gum-Un'dar Coven started in very front line of the deployment zone as you see. I played VERY AGGRESIVELY in this game, so most of the battles occurred in the center and his deployment zone.
Oh, and the yellow marks indicate the tactical objectives  
Dark Eldar Turn 1
Almost every unit ran to the enemy. The beaststar hid in the mid-lower ruin and all haywyches (three in the upper part) moved using the enhanced aethersails and then flat out. The raider of 5 d-scythe wraithguards (in the center) moved toward the termis. Dark reapers in my backyard ruin managed to kill one deva marine. Meanwhile, FireCat claimed that all of my ravagers were out of range to shoot and I said
ok, treat it as you said if you want it
– so they COULD NOT SHOOT AT ALL in this turn which was significant loss of my firepower  
Oh, and both my dark reapers and wracks got 3+ cover from their mysterious objectives, respectively, which was useless anyway cause FireCat had never attacked either of them for the entire game.
Blood Angel Turn 1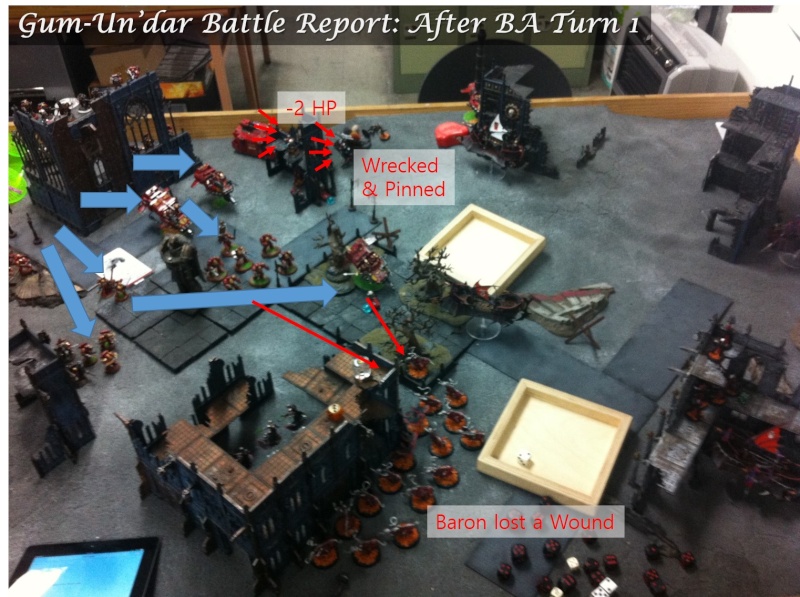 Mephiston+Corbulo, termis, marines, and three land speeders came up. Baron's shadowfield perfectly protected the heavy-bolter shots from the land speeder (yay!) but was finally broken by termis (boo…). He lost one Wound as well as the shadowfield, but no beasts died. Meanwhile, others aimed at the vehicles of haywyches. JINK WORKED GREAT HERE! The raider in the very front line (you may not see the vehicle as it is covered by the ruin) consumed tons of S5-9 fires and just lost 2 HPs. Although it was weapon-destroyed and immobilized, it survived anyway and the wyches in it were not harmed at all.
However, sadly, the venom behind the raider was wrecked after then - btw, it went down in flames by BOLT PISTOLS! - what a fragile car we have
  FireCat gained a VP from First Blood. The wyches also failed to pinning test. Afterwards, funny thing happened; FireCat rolled four 1s at once which made three Sabotage objectives in his terrain and one explosion (but no one died).
Dark Eldar Turn 2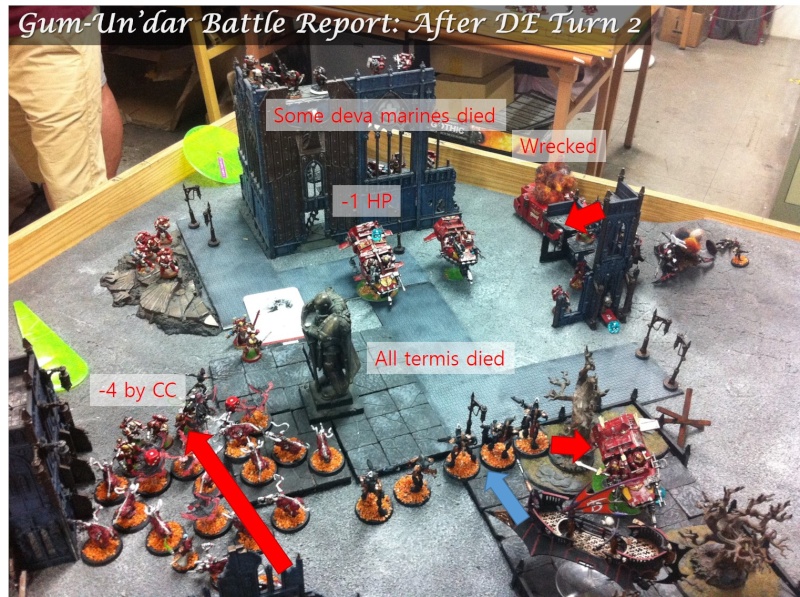 IT'S TIME OF ANGEL'S PAIN! 
  3 reavers and razorwing jetfigher came up to the battlefield. The jetfight launched all missiles to the deva squad in the backyard, killing some marines and stripping 1 HP of land speeder (lucky scattering!). The beaststar charged into the 5-marine squad and killed four. Two dissie ravagers wiped out the termi squad – well, in fact this made me confused because the wraithguards had disembarked to attack them. They shooted&charged into the land speeder instead, but gave no damage.
And there were three units of 5 haywyches on the field, say Alpha, Beta, Gamma. Alpha Team was pinned, Beta Team charged and wrecked the razorback, Gamma Team charged and wrecked the land speeder! (not seen in the photo)
Blood Angel Turn 2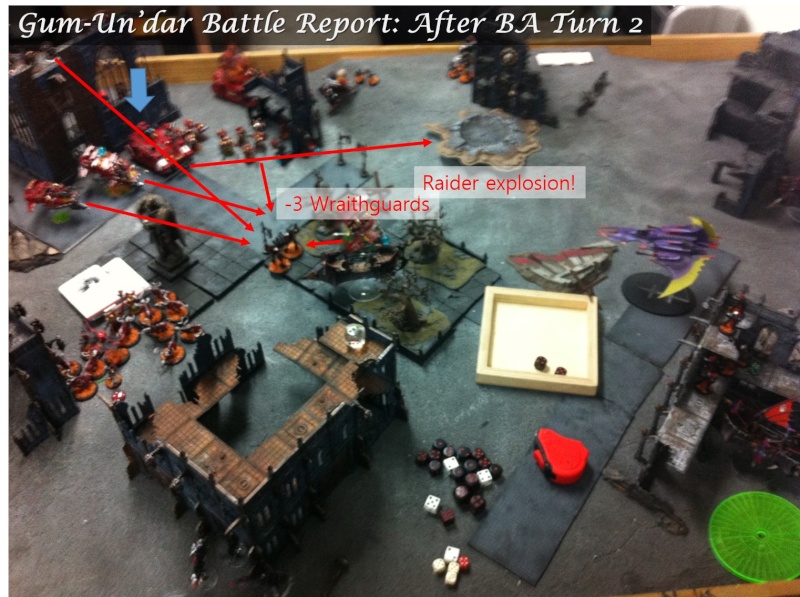 Sorry for the shaken photo. The second razorback in the backyard advanced and a marine squad disembarked from the vehicle. Afterwards its twin-linked lascannon caused the explosion of empty raider. All other vehicles, deva squads, and some marines focused fire on the wraithguards, killing three.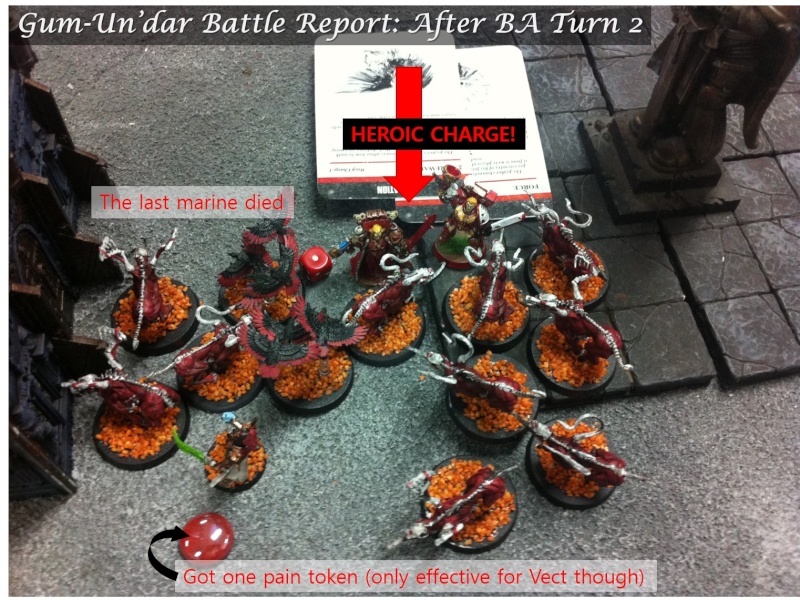 Meanwhile, Mephiston and Corbulo charged into the beaststar. I had no information about them (it was my first game vs Blood Angels) and OH MY KHAINE, THEY WERE HORRIBLY DEVASTATING! 
  Mephiston got To Hit re-roll, To Wound re-roll, Force, 2+, 4++, 5+FNP and Corbulo got 2+FNP! Baron lost his last Wound (failed Look Out, Sir!) and left the battlefield. This was terrible for me as I lost the way of Hit&Run. Saying in advance, I managed to strip ONLY TWO WOUNDS of Mephiston until the end of the game while the Blood Angels' heroes massacred all my beasts. The only good thing in this close combat was that I killed the last tactical marine and got a pain token for Vect.
Dark Eldar Turn 3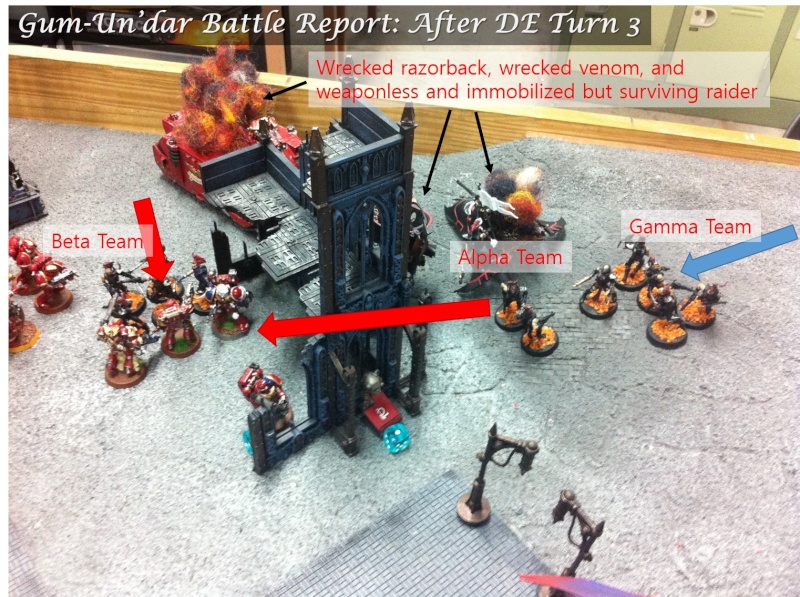 I forgot to take a picture of entire battlefield. Wyches did much better than expected today. They killed two marines in the shooting phase with their pistols. Alpha Team failed 10"-charge roll (as I expected) but consumed overwatch fire for Beta Team (as I expected too). Beta Team charged successfully but no one died (both friends and foes). Gamma Team moved and ran.
In contrast to wyches, the expensive d-scythe wraithguards did nothing important. Well, it's my fault actually cause I made them charge into the land speeders, not infantry (All infantry looked too far away from the unit). They would have do much better if I had given them wraithcannons.
Oh and I gotta make a comment on the reavers and wracks (hard to find in the pictures  
 ) For the entire game, they did not leave their objectives - I think it was good decision as they earned 3 VPs (from 9 total) by just standing behind the ruin.
Blood Angel Turn 3
All the shots were focused on the advancing ravagers. The upper one got Crew Shaken, while the lower one had no damage thanks to the flickerfield. Meaniwhile, another marines (the only unit who gained the red thirst!) also charged into Beta Team wyches. The team lost the combat by 1, failed the morale check, and fled away to the south. The heroes of Blood Angels kept sweeping poor dogs with the psychic powers, 2+, 4++, and FNP!
Dark Eldar Turn 4
Beta Team wyches regrouped successfully. Alpha Team (2-wych squad) wrecked another land speeder, and Gamma Team wiped out the last marine of devastator squad and earned a pain token. Love you talented girls! 
  Wraithguards did nothing again.
Blood Angel Turn 4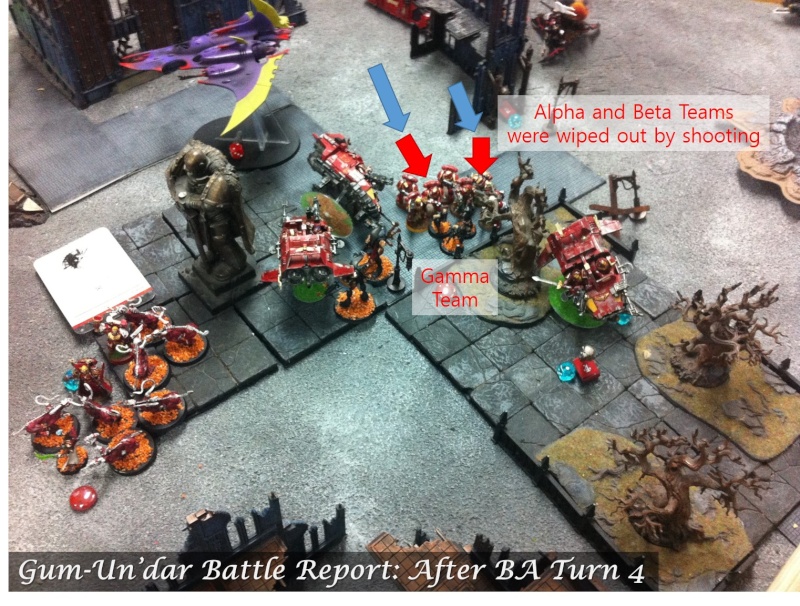 FireCat drew an objective card giving VP when he wiped out a unit in an assault phase. He first killed two squads of wyches (Alpha Team and Beta Team) in the shooting phase, and then made two units of his marines charge into Gamma Team for this objective. THANKS TO DODGE & FNP, HOWEVER, GAMMA TEAM ALL SURVIVED AND EVEN KILLED A MARINE! 
  (FireCat passed the morale check though). Meanwhile, one ravager was hit by lascannon and exploded.
Turn 5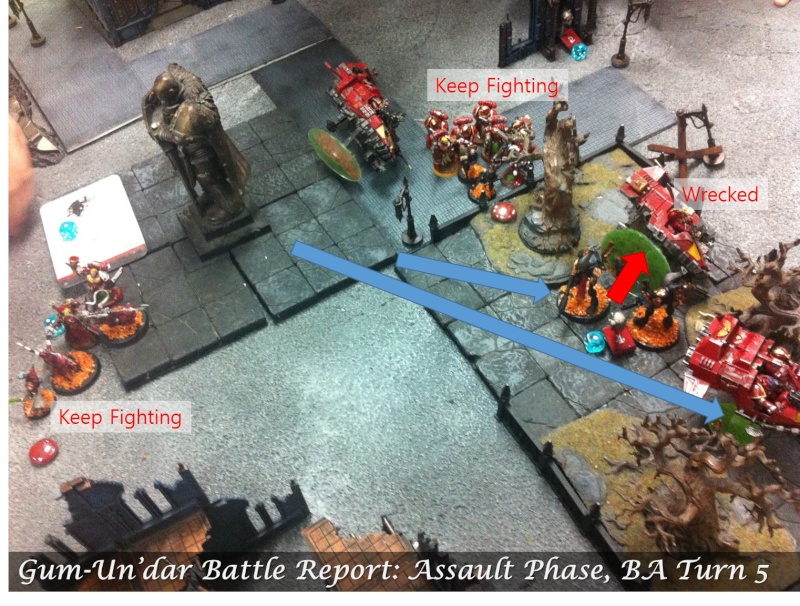 I forgot to take a photo during DE Turn 5 – this image was taken in the middle of BA Turn 5. Wyches bound two units of marines again (papa is proud of you, daughters!). Wraithguards FINALLY wrecked the land speeder in the center. The last land speeder flat-out moved to earn Linebreaker VP.
AND THIS IS THE CLIMAX OF TODAY'S GAME. Although I was 3 VPs ahead of FireCat, he grabbed the last opportunity to win - eliminating Vect as a casualy would have provide him a huge VP from both an objective card (forgot the title) and Warlord Kill. Mephiston and Corbulo killed all the beasts (and earned an extra VP from the objective card mentioned in Turn 4)
BUT VECT MANAGED TO SURVIVE!
(only one Wound would have killed him due to Force). We rolled a dice, it was 2, and the game did not continue. I managed to win 9-8.
Final Comments
The game taught me a good lesson. First, the beaststar is awesome but I should avoid close-combat heroes with 2+armor, or should keep Baron alive for Hit&Run, or just take Karandras instead of Vect (In fact, I ordered the model a few weeks ago). Second, cheap wracks and fast reavers are our outstanding scoring units. Finally, I gotta reconsider the use of wraithguards – I haven't made any good profit from them so far, both for d-scythe and wraithcannon.
This BR took SIX HOURS to write...whoa, I'm not sure of writing Vol. 2 in near future
 Anyway, I gotta go to bed now. Your comments and suggestions would be much appreciated!