Fidra wrote:

Regretting not seeing this sooner! Your painting is gorgeous, I love the colour scheme too. It's both vibrant and sombre. I'm really excited for the rest.

How did you do those markings on the hull of the raider there? Your kabal symbol is great! How did you make it?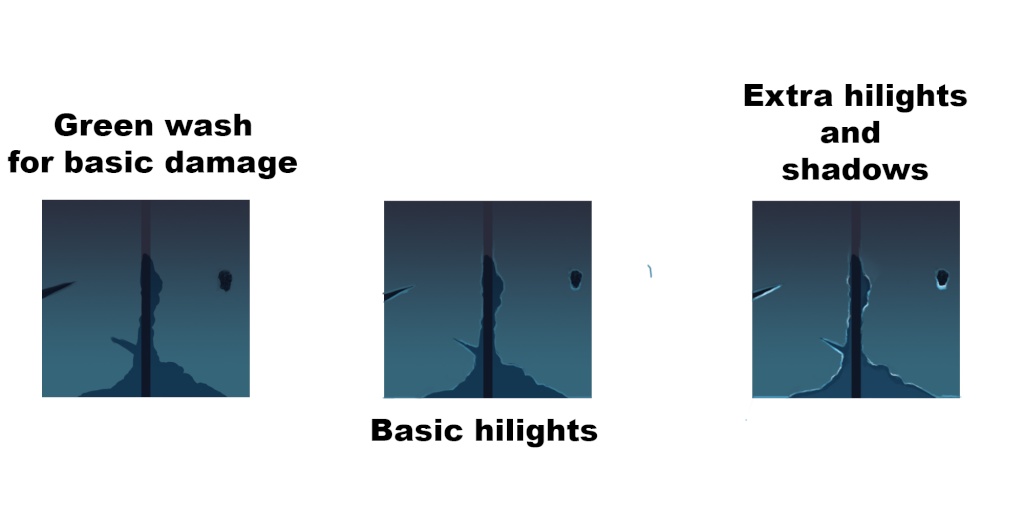 Classic battle damage based on real world painting - base material, primer and paints. Here I wanted to skip classic metal base material and make paints primers and base material as one. So if you want same results u need to manipulate colours in same pallette. Steps in bdamage are going in oposite direction from mine. First goes hilight and extra hilight and only after that you are painting with dark colours (black) in the middle of hilighted forms. Chiped painting in most cases starts with black spots and shapes and in the middle you are painting with metalics.
I use steps that i showed on image. Dark areas are marked with washes, then you are aiming for basic hilights and only after that you make better agressive hilights and shadowing near borders. Just imagine how lights reflects in edges and shadows from light source falls on shapes.
If you don't know how to find better shapes for bdamage keep in mind 2 things:keep damaged areas near a source of damage (nearest parts to agressive environment) and mix types of damage (corrosion, scratches and blunt hits).
I hope this will help you guys to achive same results on your models.