Greetings, citizens of Commorragh!
Herein lies the story of another raid upon the mon-keigh as the denizens of our most glorious shadowed home grow restless, and hunger for the suffering of the lesser races.
Another match against the Dark Angels player from my
first
batrep, nwabudikemorgan, as he rolls out his Iron Hands. Our first DE:SM matchup of 7th edition, and we were excited.
As per usual we didn't know what the other would be fielding until we set up and lists were shared before the match.
This time I'll be using actual pictures instead of my beloved diagrams. As such I forgot about things like clearing the board of clutter and am not a great shot. Forgive me. Please let me know how it works and what you think.
C&C on our lists, tactics, and the batrep itself always welcome!
An Adeptus Mechanicus cargo-barge has been shot down by a Dark Eldar ambush, scattering its precious shipment of advanced cybernetics in the ruins of an ancient Imperial settlement. The Iron Hands escort to whom the tech belongs struggle to recover it all before the raiding pirates abscond with the booty!
Cult of Marrow Excised
HQ
- Duke Sliscus
Haemonculus, Venom Blade
Haemonculus, Venom Blade
Haemonculus
Elites
- 10 Mandrakes
Troops
- 9 Kabalites, Raider w/DL, FF, NS, Racks, Trophies
9 Wyches, HWG, Raider w/Dissie, Sails
9 Wyches, HWG, Raider w/DL, Sails
10 Wyches, HWG, Raider w/DL, Sails
Fast Attack
- 5 Scourges, 2 Heat Lances
Heavy Support
- Voidraven Bomber w/FF, NS, Implosion Missile
Iron Hands 01010000 01100001 01110010 01101011 01101001 01101110 01100111 00100000 01001100 01101111 01110100
HQ
- Master of the Forge, Combi-Plasma
Elite
- Dreadnought, 2 TL-Autocannons
Dreadnought, 2 TL-Autocannons
Dreadnought, 2 TL-Autocannons
Troops
- 5 Tactical Marines, Flamer, Combi-Flamer, Drop Pod
5 Tactical Marines, Melta, Combi-Melta, Drop Pod
Fast Attack
- Stormtalon
Stormtalon
2 Landspeeders, 2 Typhoon Missile Launchers
(He promptly forgot they were a squadron and played them as individual speeders, which I never registered. Oops.)
Heavy Support
- Whirlwind
Predator, Lascannon Sponsons, TL-Lascannon turret
Predator, Lascannon Sponsons, TL-Lascannon turret
Fortification
- Aegis Defence Line
Music: Wardruna - Runaljod, Yggdrasil
Mission: Maelstrom 4, Spoils of War (Secure Objective "X" cards can't be discarded, CAN be scored by opposing player on his turn)
Night Fight: No  
 
Warlord Traits: DE - Master of Ambush (Warlord & 3 units have Infiltrate rule)
IH - Strategic Genius (+1 Seize, reroll reserve rolls)
Combat Drugs: Painbringer (reroll wounds in CC)
First Turn: Iron Hands
Deployment:
6'x4' table at our local GW. He deployed first, stringing out his Aegis Line at the edge of his DZ. Both Drop Pods, both Stormtalons, and his Master of the Forge are all hiding in Reserve.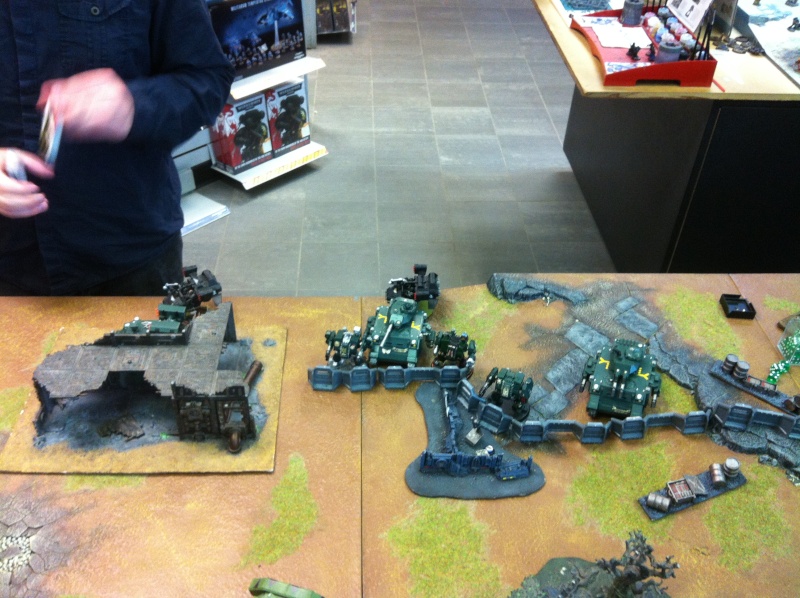 I placed Sliscus' Kabalite Raider in the ruins in my DZ then infiltrated the three Wych Raiders, with a VB Haemy in each of the 9-wych boats, forward into the ruins on his flank out of LOS from much of long range firepower.
(My turn to oops; can't infiltrate IC's without the rule with an infiltrating unit! Duh.)
.
Voidraven and Scourges are in reserves, with Mandrakes and the naked Haemy outflanking.
I fail to Seize.
IH Turn 1
- The two speeders shuffle over to get LoS on the Raiders on the flank, while all the heavy guns pivot to aim into a window allowing LoS to the Raider in the middle of the board. The Melta Drop slams home next to the two Raiders and Marines pour out. Without further ado the order to open fire is given. Long story short, I pass 8/11 Jink saves. A speeder shakes one of the top-left raiders, then the drop pod's storm bolter glances it to death.
Yeah. That happened. First blood.
The whirlwind takes out a few wyches as I pass FNPs.
DE Turn 1
- As a pirate and a predator, Sliscus wastes no time and goes straight for the throat. The two intact wych raiders turbo-boost into the vehicular gunline's midst. Sliscus' Raider moves up and the kabalite warriors gun down two marines, giving the wyches an easier go of it. Wyches move with their Haemy to enable a multiple assault into the drop-pod and marines, and thankfully make their 1" charge. Sarge and Haemy are locked in a challenge.
2 hull points are done to the Drop Pod but no infantry casualties.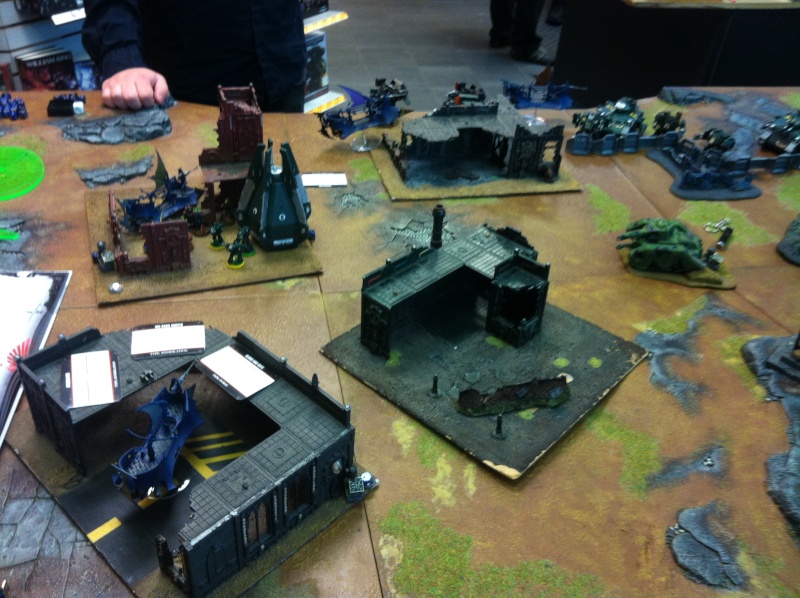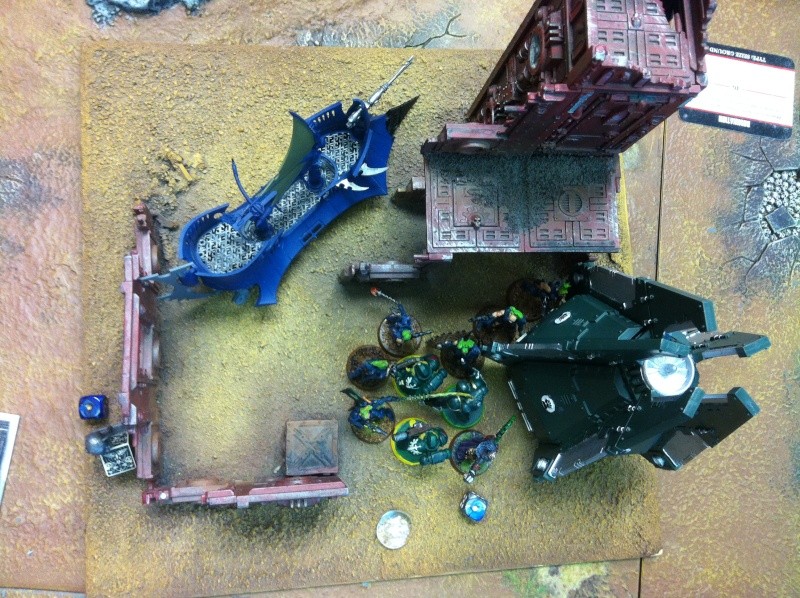 IH Turn 2
- Reserves! With his warlord trait he gets both his Stormtalons and the Drop Pod while keeping his Warlord off the table. Drop Pod lands next to the purple-sail Raider near his Speeders. One Talon threatens each Raider in his DZ. Preds & Dreads pivot to fire on the target in their midst, with one dread claiming an objective for a VP. Bullets soar!
Preds & Dreads explode their target Raider rapidly, and gun down the Wyches & Haemy inside with help from the Whirlwind.
Marines BBQ & bolter the purple Raider killing 6 wyches and putting a glance on the Raider itself. The Speeders, both Stormtalons, and the drop pods inflict a whooping 5 glances AND 5 pens on the purple Raider... who passes all its jink saves. In CC, the Wyches finish the Drop Pod and the Haemy loses the challenge and dies, but both units hold.
Things are starting to look down for the evil space pirates.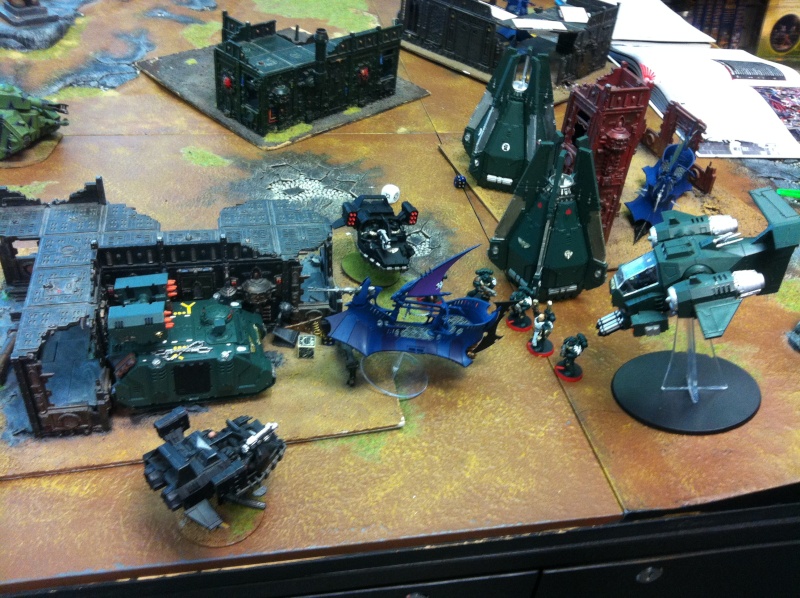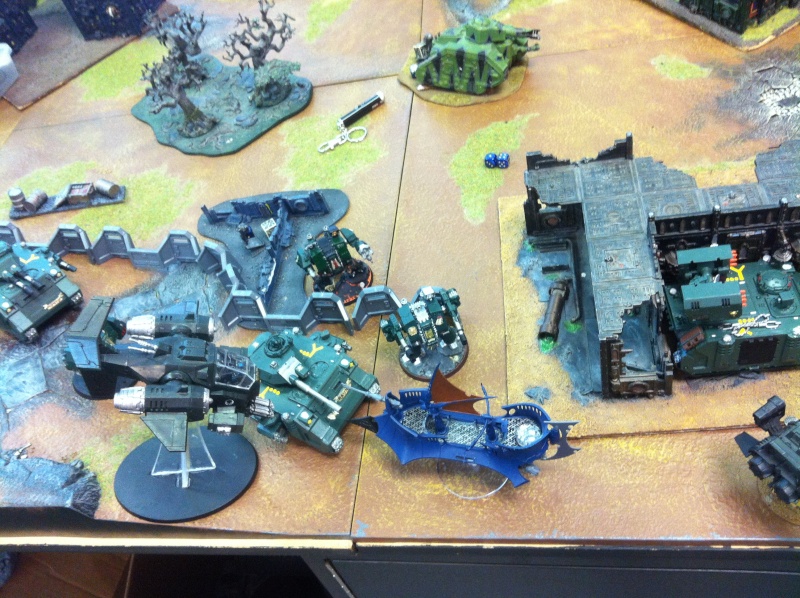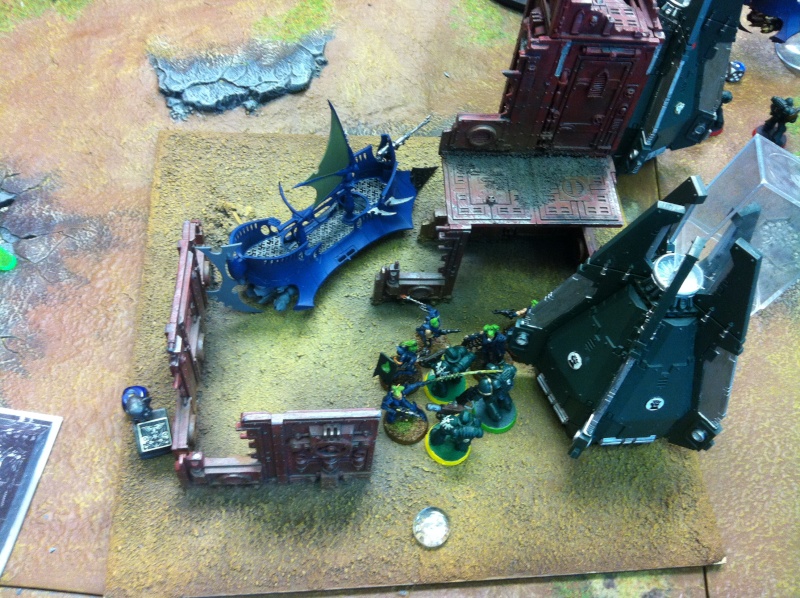 DE Turn 2
- Voidraven stays in reserve, apparently waiting for the opportune moment. Mandrakes arrive from outflank, on my table right, and the Scourges join the party too. Scourges try drop ~7" away from the Dreadnought on obj 5 but scatter out of melta and fail to damage it. Mandrakes show up with their Haemy in the rear-arc of one of the Predators AND GLANCE IT TO DEATH WITH BALEBLASTS! 4 surviving Wyches disembark and charge the Whirlwind, glancing it to death as well. Duke's Raider boosts onto an objective near the Scourges mid-map to pick up a VP. CC sees one Marine die but both units hold.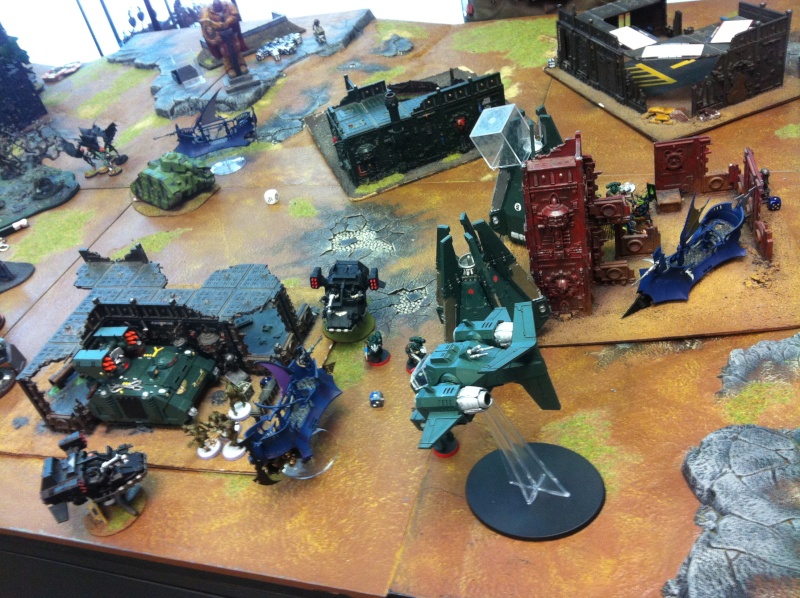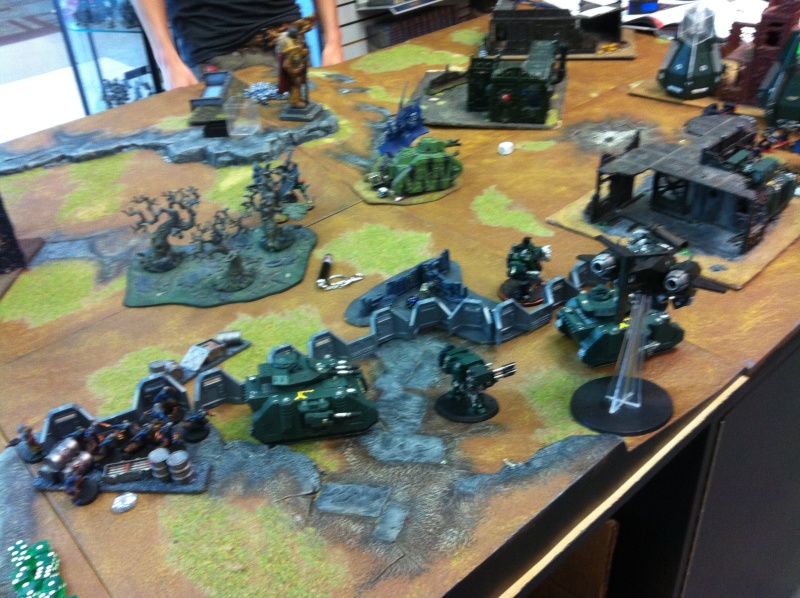 IH Turn 3
- Warlord stays off the table. Minimal movement from the gunline as expected. Both Stormtalons veer off to pursue the Duke's Raider. Both Talons, two Dreads, and one Predator put down that Raider and kill 3 Kabalites while Duke tanks a bunch of ammo on his shadowfield. On the other side the Marines and a Land Speeder make short work of the 4 Wyches. The other Speeder, Drop Pod, and Dread wreck my last Raider. Wyches earn a kill in CC, leaving 1 Marine. I finally remember their combat drugs and start rerolling wounds. Some objectives are scored.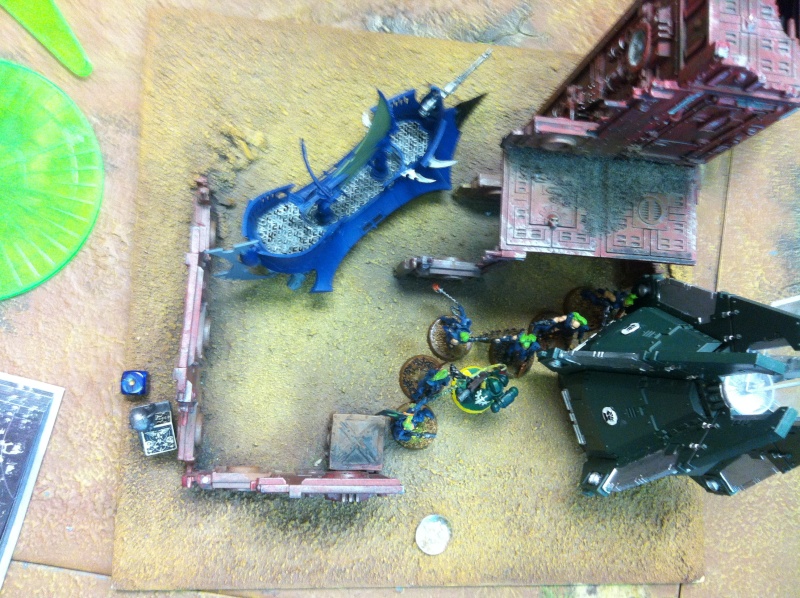 DE Turn 3
- Voidraven swoops in and explodes one Stormtalon! Over with the Kabalites, Duke moves up and hits the other Stormtalon with his blast pistol!!! But the flyer jinks out of the way of the deadly shot. At least he'll be snap-firing next turn. Mandrakes run forward in an attempt to get closer to either a flyer or the other Pred and an objective. Wyches lose one of their members in CC but hold fast.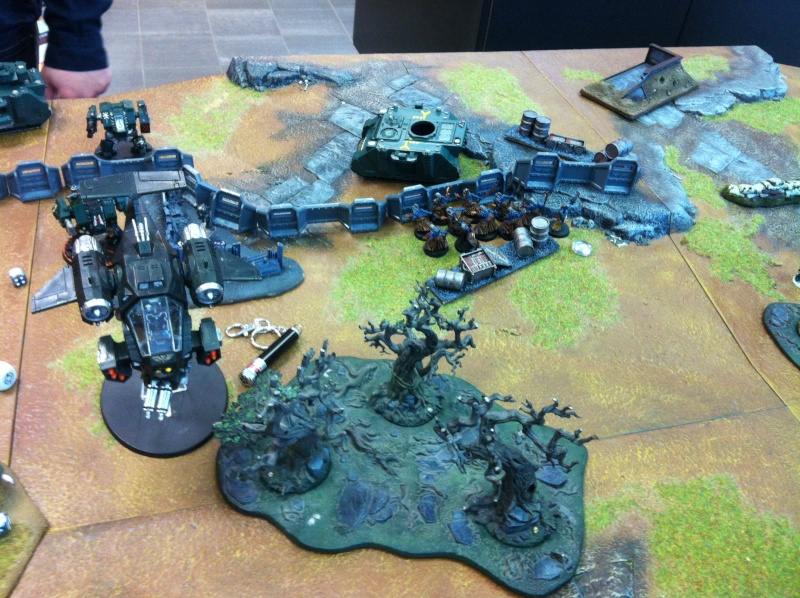 IH Turn 4
- Master of the Forge arrives! He walks on and takes shelter near the ruins behind the wreck of the Whirlwind. Stormtalon spins around to face the Voidraven, puts a pen in but the Voidraven catches it on the Flickerfield. Dreads and Pred open up on the Mandrakes and kill a few. Mandrakes fail morale and run back into a forest. One Speeder boosts onto the objective near the first Drop Pod and my Wyches. CC sees the last marine die! Wyches consolidate onto the objective the Speeder is trying to claim.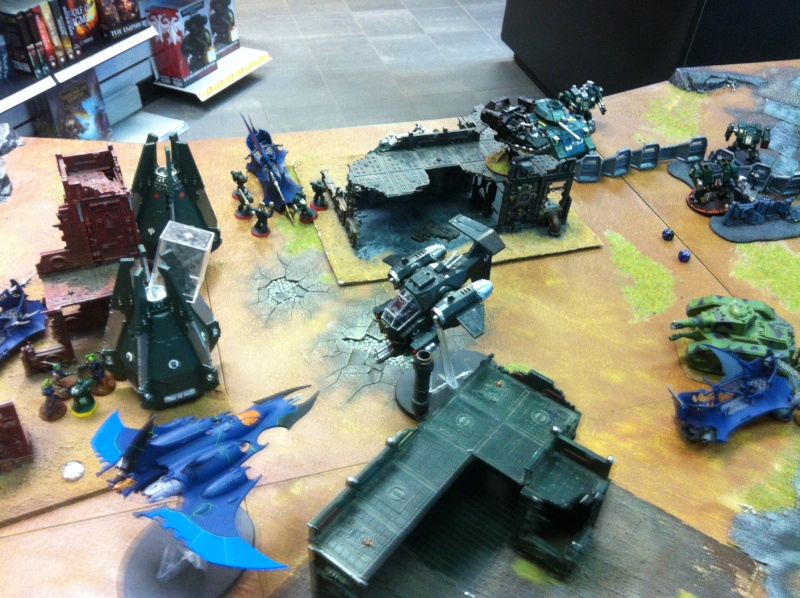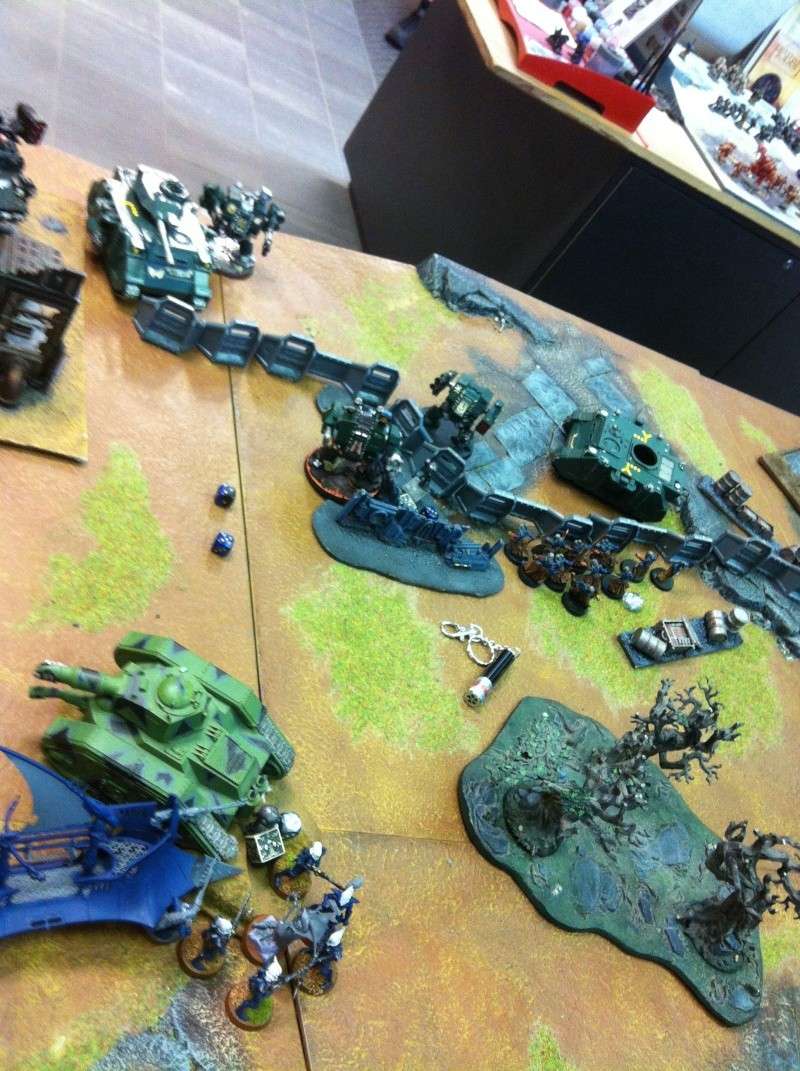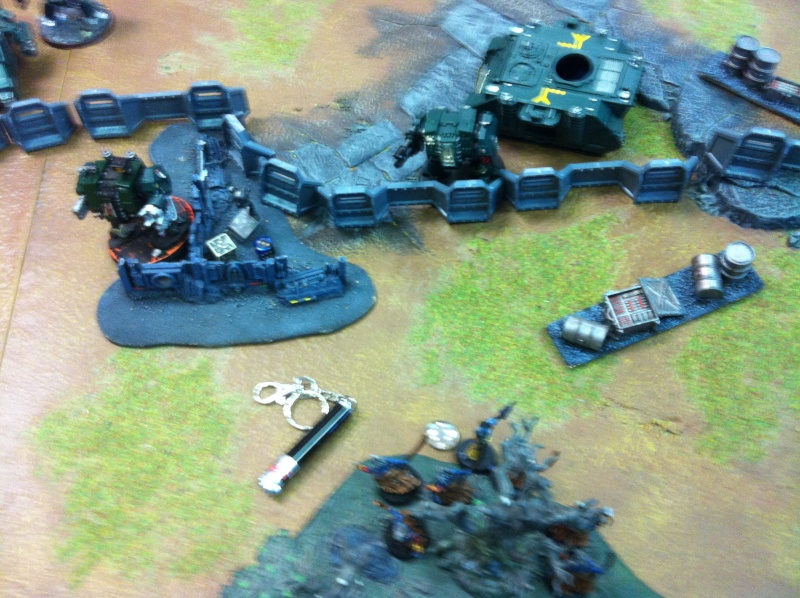 DE Turn 4
- Sliscus moves and runs up towards the Dreads and Predator hoping to make a name with his Blast Pistol skillz. Leaves the Kabbies behind to objective camp in case the card comes up. Wyches charge and disable the Speeder, permanent-like. Consolidate out of LoS of everything whilst holding the objective. Voidraven sees the opportunity for glory and makes a bombing run on the Master of the Forge by flying off-table. With a table-edge and the 2nd floor of a ruin right there, opportunities for scatter abound. Yet the pilot's aim is true, the Master of the Forge goes to ground but fails his 6+ save, and dies to Instant Death! Warlord for 3 VPs, tying up the score!
Mandrakes consolidate.
IH Turn 5
- Stormtalon hovers over to an objective and hums songs of victory as it strafes the life out of the Kabalite Warriors. Predator, Speeder, and Dreadnoughts open fire on the Mandrakes. With their 4+ cover the Mandrakes pass a gazillion saves, only losing another ~3 models and the Haemy. His plans had been to wipe them AND Sliscus this turn, but the Pirate had other ideas. Of course, the Mandrakes fail morale again and fall back another 9".
Iron Hands up by 1 VP.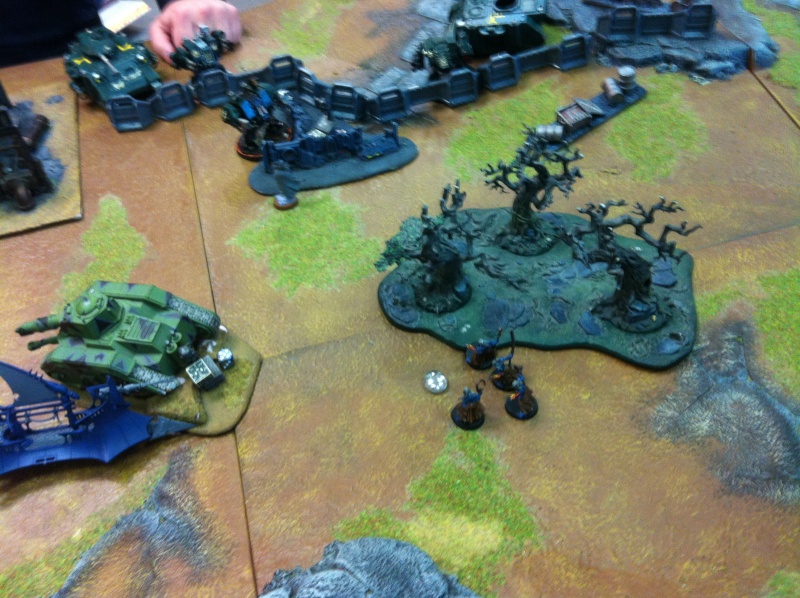 DE Turn 5
- Voidraven flies back on from ongoing reserves. He trains his guns on the remaining Speeder and cuts it in half with precision lance fire. Sliscus nimbly runs around the back of the closest Dread, holds Linebreaker, and puts a hull point on it with his pistol but foolishly doesn't get stuck in CC. Wyches move to engage the Stormtalon but even with Fleet fail their 10" charge.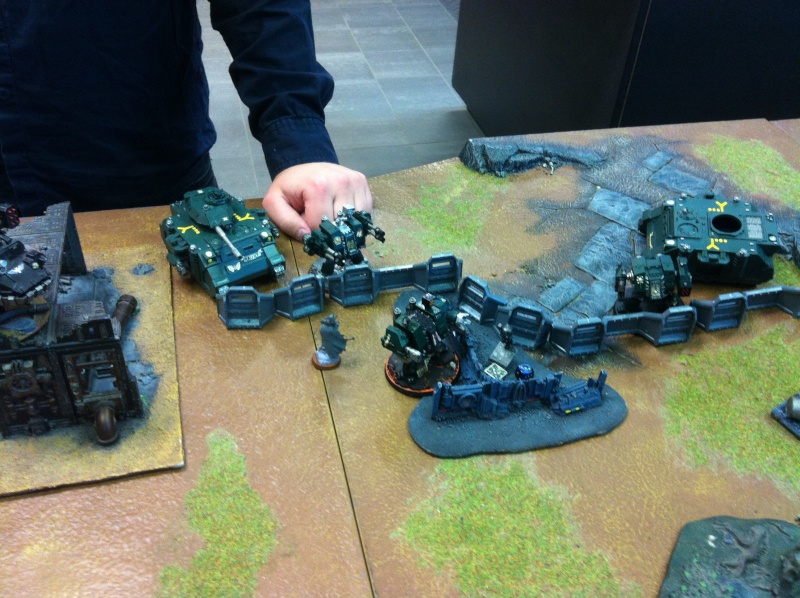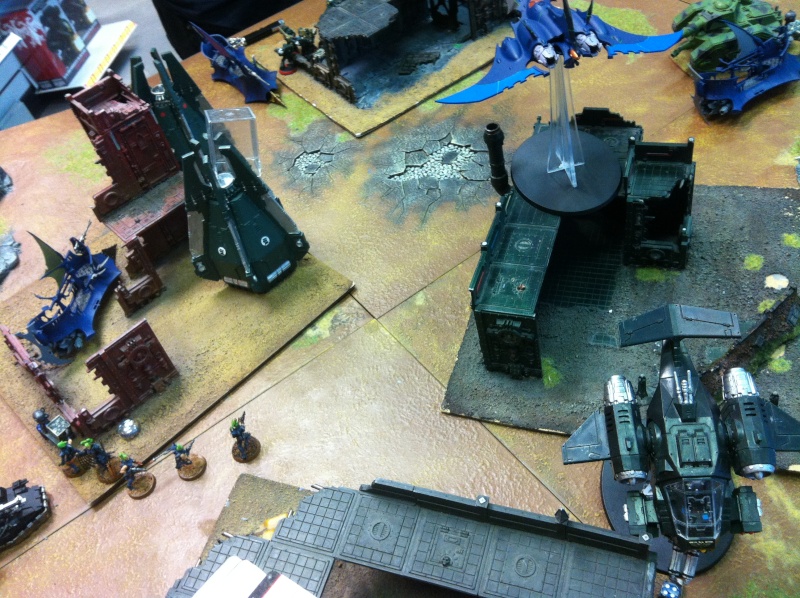 The Game continues on to Turn 6!
IH Turn 6
- The Predator tank shocks Sliscus out of Linebreaker  
 The Dreadnought Sliscus damaged unleashes his vengeance in the form of a single autocannon shell that gets through the Duke's shadowfield and Instant Deaths him (Or so they think...). Warlord right there, folks, with extra VP from his objective card. Stormtalon hovers over into Linebreaker and gets another objective VP. More shooting into Mandrakes accomplishes nothing. Again.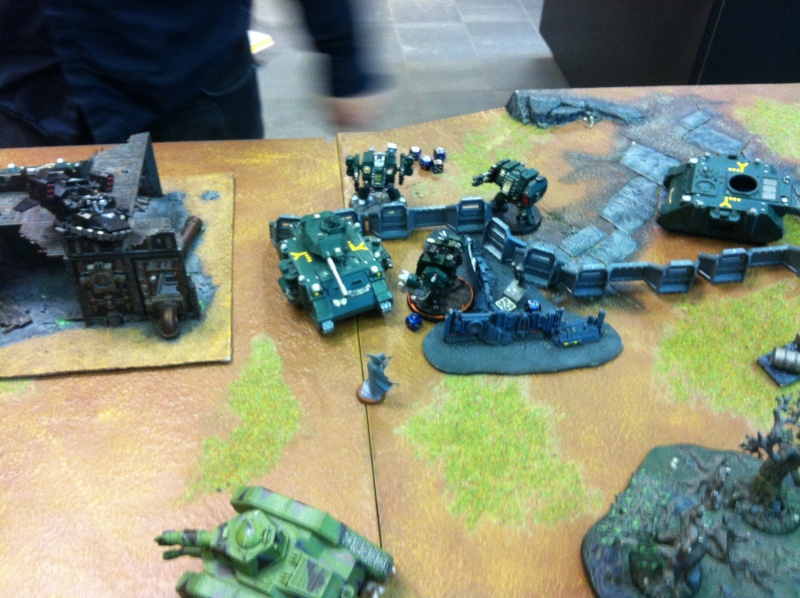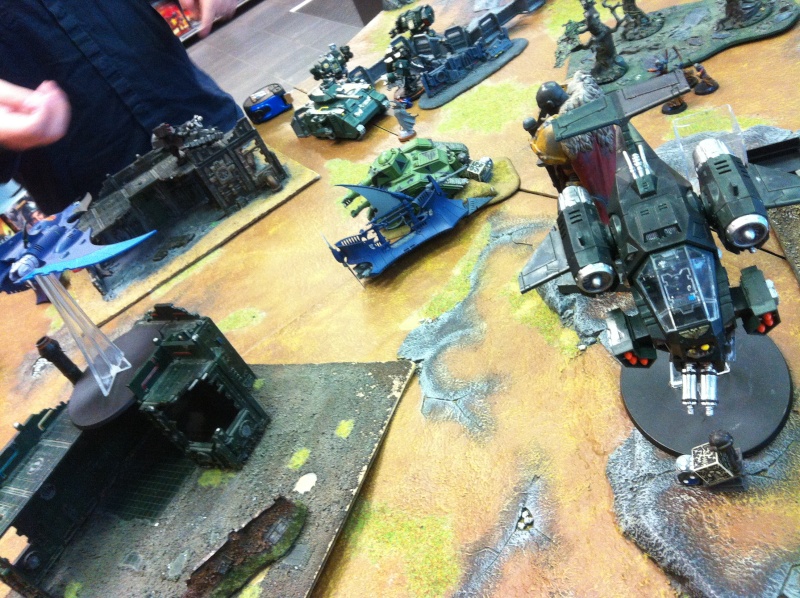 DE Turn 6
- The Voidraven manages to Stun a Dreadnaught, while the Mandrakes put another glance on the rear of the damaged one. My Wyches move and run to earn back Linebreaker for the Dark Eldar! Small victories, yes? Bottom of the turn before we roll for continuation I concede victory to my opponent.
Points are tallied up, and the Iron Hands force wins with 15 vs my Dark Eldar's 8 VP.
The Iron Hands recover their precious cybernetics equipment as they kill off the remnants of the ambushers, secure in their power as Astartes champions. Another day, another victory.
An enjoyable battle comes to a close and handshakes are shared.
I do believe both of us enjoyed that match. Initially, I thought the sheer amount of HWG and other anti-vehicular weaponry I'd brought to this matchup would lean the win in my favour, but I again learned why nobody ever brings large units of wyches. 'Cause they dissolve far too quickly. That said,
for those of you keeping track those 6 wyches in CC with the marines from the bottom of turn 1 were stuck in that very same combat for 6 CC phases. Ridiculous, with only 3 marines to fight! But they won eventually, and that's what matters. Right?
Mistakes I made; dunnoe. I'll come back to this after I get some sleep. It's 3am over here.
MVP was the Voidraven. Yes it showed up late, but it killed dead everything it shot at first try, and that's admirable in my books.
Also, the mandrakes. Not only did they kill a predator, the unit survived 4 shooting phases. I brought them because I wanted to try them outside of an apocalypse game which I never had done until now. Overall I'm somehow impressed with them and damn what the rest of the internet says. Outflanking Mandrakes with a Haemy will be something I try again in the future.
What are your thoughts on this match and my batrep?
Hope you enjoyed it, and thanks for taking the time to read!
Cheers.