So, I've been doing some conversion and painting stuff again. As I mentioned, I wanted to update the aesthetic style of the Nurgly Eldar. Really, just different shades of green and brown leather is a bit dull, no? Aside from that, I'm building my Astra Militarum force and wanted to give them a bit of a unique feel. As such, aside from butchering their uniform by removing the shoulderplates, giving them gloves, patching their shoulders as indication of battlefield role and handing them sweet, oh so sweet berets, I will be doing the following: Make half the army female (yaaay, gender equality!) since guard fluff has indicated time and time again how women in the 41st millenium are on relatively equal footing with men, even in the Imperial Guard.
But as usual, BY KHAINE I BETTER GET THAT LIGHTING FIXED! Really screws up a paintjob that otherwise looks fine in person
Exhibit A: Aesthetically Upgraded Nurgly Eldar
What I decided to do was, save for the technical paints like Nurgle's Rot I have yet to order, to give their armor a more "plant-like" or "poisonous" effect. This is illustrated below.
What I also did was update the look of the farseer. Her last hairstyle bugged me ALOT, so I peeled off the greenstuff and "re-converted" my first ever conversion. And for the best, in my opinion. Looks much prettier now.
The boat got the same treatment, but I still have to get busy with technical paints on it to make it look as filthy and disgusting as would be expected of papa Nurgle.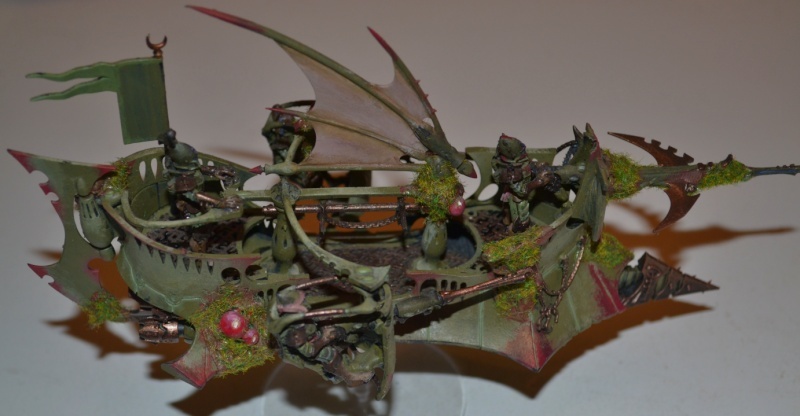 Exhibit B: Condotierro Colonial Legion
I'll probably get around to explaining the fluff behind the planet they're from... Sometime. Too much to explain and all that. Just imagine them being State Mercenaries from Space Venice... That should cover most of it.
This image contains the Female Officer of the Fleet conversion I did. Loads of greenstuff was used for certain. The Condotierro Sergeant which is the first and only character so far I've painted up. As you might be able to see, his shoulderpads have been removed and replaced with ployed cloth. The wonders of greenstuff eh? In the future he may be getting a backpack though, but I'll see about that when I feel the need for it. The two other characters are two of the female guardsmen.
In order to make them work I had to both chip away at the shoulders to make them more in line with their hips as female anatomy dictates, and I had to thin out their waste as, once again, anatomy dictates. Of course these characters may fit beauty/pinup standards a bit much, but that's all I can really do at the moment without resorting to custom heads or alot of custom bits and pieces.
Their waist is thinned out by chipping away at the plastic aswell. And they also have berets. They may look a bit oversized, but it's hard to cut away at metal bits in order to create "beret" space. In any case, I want them to fit the uniform their male counterparts will wear: http://www.puppetswar.eu/product.php?id_product=306
Also, a back picture of the Sergeant and Fleet Officer:
Before I forget, when my Astra Militarum arrived, it had 4 very lovely almost ancient Imperial Guard sentinels in it, 2nd edition I believe. However, one of them was missing parts! So what does every sensible, well intentioned general do? They pillage their newly acquired bitz and get around to making something that is fancy, extremely fancy!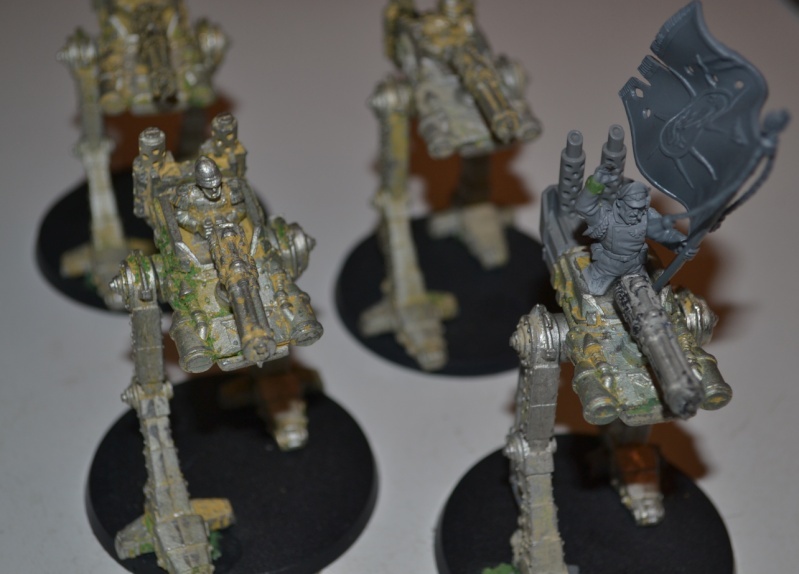 The man needed a name, and as such I have named him after a most unorthodox commander that happens to have enabled my purchase of these models. Your Armoured Sentinel Steel Phalanx stands ready to follow your command, officer! ...I'll be sure to play this while painting and fielding them: https://www.youtube.com/watch?v=QZm4zseMok0 (This song... Hnnnnggggg!)
I hope to be able to post further updates on the Condotierri in the future (with better camera/lighting quality preferably), but for now, I hope you enjoy the pictures!