Last night, league play at my local shop kicked off.
This time I decided to start learning more about overall strategy with regards to deployment and keeping to a plan throughout the game.  In other words, I wanted to be more proactive than reactive.
My overall strategy was to place all objectives, if available, into a corner.  Then, depending on how many I had, deploy my wracks and warriors on top of them.  My Haemi would start with the reavers, giving them the pain token, then immediately start moving towards the warriors.  The Talos would move to center field while the cronos would hang back to support my troops.  The venoms and reavers would put pressure on the opponents side of the board to try and keep him tied up away from my side.
The games were all 750 point.  And, amazingly, I played 3 games back to back all of which were crusade w/vanguard strike deployment.  Also, all of the tables had plenty of terrain.  I couldn't have asked for a better board.
I took the following list:
Haemonculus - hex rifle and liquifier
3 wracks
5 warriors in Venom w/dual SC
5 warriors in Venom w/dual SC
Talos - liquifier, SC
Cronos - Probe, Vortex
7 Reavers - 2 caltrops, 1 blaster
Game 2 is here
Game 3 is here
--------------------------
Game 1: 5 objectives, I won roll to go first.  He wasn't able to steal.
Nurgle Daemons
Nurgle Herald w/Portal Glyph
10 Plague Bearers
3(?) Nurglings
3 Beasts of Nurgle
4 Plague Drones
1 Soul Grinder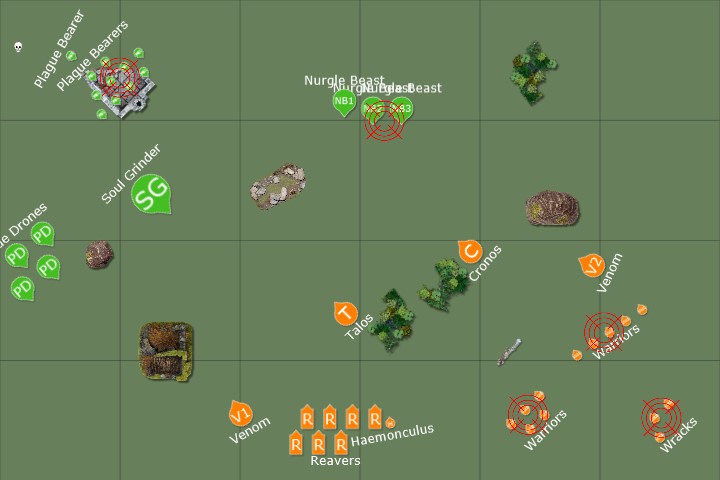 *note: this image doesn't do the terrain justice.  I'm not showing everything, nor the size of it all.  
I put my 3 objectives in a triangular pattern in the bottom right of the board behind plenty of cover.  Per my plan, wracks and warriors were deployed on top of each one - out of their transports.  MC's were in the middle of the forward line, Reavers were back, about 12" away from my objectives with Haemi next to them.  one venom was on the left of my line, the other on the right.
He put one in the top left corner and another around the top mid area.  He kept the nurglings in reserve.  Herald and plague bearers were on the top left objective.  Portal Glyph was deployed about 10" away from it.  On the line (from left to right) was the drones, soul grinder and beasts.  
Without going into a full blow by blow, my execution was almost flawless.  By end of T2, his drones and all but one of the beasts were wiped. End of T3 and the soul grinder fell to a smash attack from the talos and I lost my first unit: a venom.  At this point my cronos was locked in combat with the other beast, both wiffing their attacks.  
T4 was interesting.  I wiped his plague bearers and herald with a venom and reavers.  This left only 1 beast on the board, nearly tabled.  At this point I had 12 VP (fb,warlord, lb and 3 objectives) - he had zero, However, Warp Storm caused a 9 man unit of pink horrors to appear, which dropped smack in the middle of my objective triangle...
In T5 my cronos finally killed the last beast.  My warriors shot the pink horrors and the haemi liquified some dropping them to 4.  Then my haemi and wracks assaulted the pink horrors... and were promptly wiped from the board.  This was a huge turning point.  With the wracks utter failure in close combat, defeat was snatched from the jaws of victory.
His T5, the pink horrors moved on top of the objective the wracks had been holding and killed 2 models from a warrior group on the other; they held.  Now the score was my 9VP (2 objectives+all secondaries) to his 5VP (1 objective, lb and warlord).
A 6th turned was successfully rolled for!  My units, being too far way, failed to dislodge the pink horrors; 3 remained and made their morale check.  His T6, She Who Thirsts caused 3 Daemonettes to enter from the portal glyph.  Those models made a bee line for his objective and grabbed it.  The pink horrors then finished off one of my warrior units.
Game ended: DE had 6VP - one objective, all secondaries.  Daemons had 8VP, 2 objectives, line breaker and slay the warlord.
Although I lost, it was a great game with a great opponent.  
I think my failure was that the Cronos had moved way too far away from my objectives and couldn't properly support them when the time came.  It assaulted the beast of nurgle when it simply should have moved backwards drawing it in and shooting it; which had been highly effective against the other 2 beasts.  
A second failure was that my jetbikes should have moved to be on top of his objective once it was cleared in order to make sure it was denied even though only the portal glyph was around it.  3 Daemonettes wouldn't have been able to dislodge them and the 3 VP they were able to grab really hurt.  
Note to self: Keep your guard up, even in the end game especially if there is the possibility of new units appearing.