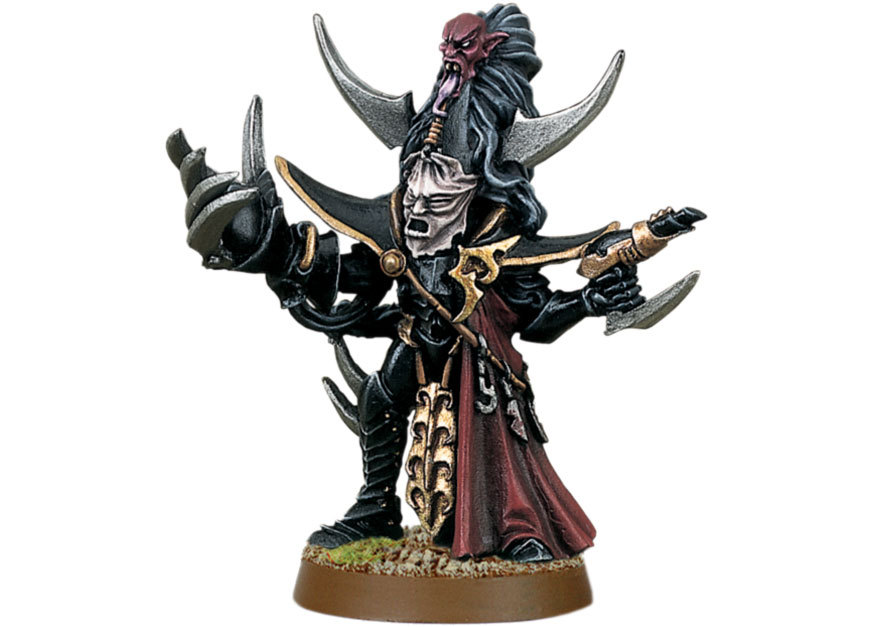 Pull up a chair there, young bloods, and wonder why in an edition rife with ignoring cover that we can't use soulseeker ammunition anymore. Still, welcome back to Old Archon Discusses… wherein I reminisce about the mysteries of the Dark Eldar because so few of you are old enough to remember us from back in our ancient birth in...3rd edition.
Tonight Old Archon is going to discuss...No'akei, the Daughter of Pain, Medusa V, and why DE players are pretty much the coolest players in existence!
=====================================
The story of Medusa V and the tale of No'akei does not start at Medusa V, as so many might believe, in reality it starts in the pages of the venerated White Dwarf 241 pictured above, for 3rd Edition has hit the shelves and DE are a new and fresh army and it's time for them to have some Batrep love!
In this Batrep we will learn that Asdrubael Vect, Supreme Overlord of Commoragh and the finest strategic mind of all the Dark Eldar will choose to do battle with the hated Craftworld kin…by arranging his force in front of their gunline and slowly walking forward while his Raiders cruise towards the gunline as slowly as possible and wonder why the plan isn't working as intended and the allied Wych force led by Lelith basically runs around in no cover acting like their 4++ in h2h combat matters a hill of beans to the Dark Reapers shooting missiles at them.
Thanks Vect. Good work there.
But I digress. You see, there was also some fluff (precious, precious fluff) which was so rare and so precious to us back then (and, to a degree, even now). We are introduced to two new players in the game of DE;
Archon Anuris Baneheart
– This is Vect's #2 guy apparently, a powerful Archon in service to Black Heart and a man whom Vect doesn't want to get too full of himself lest he start thinking he can depose Vect and claim the throne.
Dracon No'akei
– A personal champion of Vect's that he would delegate command to in favor over Anuris to keep Anuris in his place. Again, considering the tactics employed by 'Vect's Personal Guard' in this batrep, maybe Vect would have been better served leaving Anuris in charge and then just tried to pass the blame to him. I dunno, just saying…
In any case, that was our introduction to both Vect's #2 and also one of Vect's personal champions.
Archon Anuris then totally disappeared from fluff. Is he still around? Who is to say, maybe he got too bold and Vect dumped him into a rendering pit, maybe he's still "loyally" working for Black Heart. Your guess is as good as mine.
But No'akei…No'akei would have a further role to play in the world of the Dark Kin…
You may or may not know about the GW Global Summer Campaigns. But they used to happen and used to be ruddy amazing…well, at least most were, I will admit after the glory that was Eye of Terror that Medusa V felt a little…flat. Still, the Global Campaigns ruled.
The basic premise was GW would cook up a story (of varying quality) and then YOU, the player at home could play battles that…would matter for how the story came out for your faction! Yes, you could affect the very flow of the story of 40k! They were huge affairs with special battle events at participating venues and huge tracking of battles with regular updates from GW and actual player interactions that mattered. Fan made fluff would be promoted to canon, and players who were key organisers on forums would manage to get mentions of their army being advised by characters whose names were remarkably similar to their forum handles.
Each faction had their own story to tie them in and give them a purpose, and all the armies were divided into two 'teams'. Dark Eldar were placed on the Disorder team (with Chaos, Orks, Necrons, ect. ect.)
Our story…was based around No'akei, the Daughter of Pain…yup, No'akei was back, and she had a chip the size of a boulder on her shoulder.
No'akei – maybe has daddy issues…?
The basic story was she'd been the head of Vect's bodyguard but, for some reason, he'd been all like 'Woman, get outta here!' and slapped her with one of his oversized gauntlets and banished her from Commoragh. Not to take that laying down, No'akei quickly decided she'd settle the score basically by killing Vect and claiming his throne, so she came to the battleground of Medusa V to take slaves, ruin everyone's day, and basically be a royal pain as she did her own little personal evil side plot that didn't give a hang about the rest of Disorder.
For the record, just to give you an idea of the missions and the "game balance" of Medusa V, here are team Disorder's missions;
Chaos – claim the planet and perform a ritual to turn your sorcerer-lord into a Daemon Prince.
Necrons – claim the planet for yourselves by building a big space wall…yup.
Orks – leave the planet, break stuff on the way.
Tyranids – reclaim the Death Leaper xenotype – eat stuff.
Dark Eldar – get slaves. Leave.
As a comparison here is Team Order's wincons.
Space Marines – stop Chaos.
Imperial Guard – save civilians and stop Chaos.
Eldar – save Webway and stop Chaos
Tau – study other races and steal Eldar tech because you're Tau and are little backstabby feebs.
Guess which side was more organized in its purpose?
If you guessed Disorder…you are wrong.
This also might be a good time to discuss what each side "won" if they achieved their objectives, because all of the races were being bribed to try to do well in the wars.
For example, Eldar had Altaioc at risk, if they won the Craftworld was saved. If Nids won enough points they'd earn a new unit. Same for Tau, they were promised new tech for their win. All of the races had their bribes.
You know what DE's "bribe" was?
That No'akei would roll into Commoragh, wuss slap Vect, and take over.
It wasn't a lot, but it was what we were offered. I mean, with victory we could start a civil war and plunge Commoragh into a worse state and lose one of our best characters, and with a loss we…would have a wimpier civil war…huzzah?
I mean, seriously GW, what the hell?
So, as the weeks passed and the battles started stacking up, a few things became clear. Chaos was not likely to win (shock) and the Imperial Alliance led by Ultrasmurf Oi Boy Sicarius was likely to carry the day. Despite all that…the DE victories were doing quite well, as we sniped along ripping up settlement after settlement and claiming their souls for No'akei because though some Order generals seemed to give a fig for the civilian populations, most were rather more blasé' about it and focused on other strategic goals. So, as things stood, pretty much we, the DE playerbase, was going to help kill Vect… That said, we had one shining beacon of an example. Proof that, if GW handed you a stinky pile of wtf, you still had options;
You see, back in the Eye of Terror days the Orks had basically been told 'you're on Chaos' side…so, help the Black Crusade' and a bunch of Ork players thought about that and then pretty much decided to tell GW to Zog Off – they were the ORKS! The biggest, meanest, and greenest race in the galaxy, and they weren't about to play second fiddle to Abbadon and Chaos.
They had krumpin' ta do!
So, a specific planet was chosen, an important forge world, and the call went out to all Ork players to 'make it green' And, with everything else going on, by the time the Imperial players noted, there wasn't much they could do about it, not with Abbadon smashing in Cadia's face. And so Da Green Kroosade was declared a success, and GW even happily accepted it into canon – the Forge World fell to the Orks and it was a major blow to the Imperium and the Orks made sure that they mattered.
Well now, how to make sure DE matter…
So, the campaign slowly ended. The Eldar Autarch slew the Chaos sorcerer in single combat at the height of his ritual, and the Ultramarines, in their proud and ancient manner, promptly worked hard to take credit for doing something while they weren't there. The Nids managed to eke out enough points for their Death Leaper and scuttled off. The Orks (and I kid you not) managed to smuggle themselves off planet by fooling the Imperium into thinking they were civilian refugees…because the Imperium is dumb. They then stole a battle ship and (presumably) flipped the Imperium the bird out the passenger side window as they peeled out the tires and rode away into the sunset while the theme from Smokey and The Bandit played (I may be remembering things wrong at this stage…I am old) The Necrons dropped the ball due to points, even though in the battles they officially did activate their shield…I dunno. The Tau did…whatever the hell it is Tau do and probably lost most of their men while declaring victory. And the True Kin…yeah, we got a whole bunch of souls and slaves.
It was time for No'akei to return to Commoragh and take out the oldest and baddest Archon around, and issue in a new reign of…random girl who deposed Vect because she paid off a few Archons with the souls of about 3 hive cities…
Whoop-de-doo.
So, she marched into the throne room, all proud and bad, and staked her claim to the throne and Vect was like 'child, please…' and she was all like 'I'm a Mary Sue of some random developer's army, love me!' and Vect was all 'you better have some big hidden assets in that thong if you're taking me out, lady, I'm Vect y'know, I'm the OG Archon, you ever read 'Torturer's Tale woman-child?' And then No'akei was like, 'I paid bribes, the most clever plan ever, who else could ever think about bribing some people with the lives of part of a population of one planet to overthrow you…arise my minions, arise!'
And all the other Archons sort of…shrugged, and said 'thanks for the souls…stupid!'
Wha-wha!?!
You see, what had happened was a group of Dark Eldar players had decided that they *didn't like No'akei the random Archon, and thought Vect was uber awesome* (I know, shocking). So they contacted GW and were like, 'hey, can we just betray her and keep Vect?' and GW, because they were still a cool company then…and also because they probably really didn't care about the DE story much anyway, said, 'sure, go for it!'
And so the Betrayal of No'akei was born. The word went out to any and all Archons who would listen, "you need to inform GW that your wins count for Vect and that you are betraying No'akei" and the word was taken to with glee.  It was pure Dark Eldar politics and pure Commoragh brilliance – the Dark Eldar were going to manage their win con, and then betray it to keep the status quo.
And that is how the last great story campaign ended for the Dark Eldar. We betrayed No'akei and left her and whoever had been foolish enough to remain loyal to her (I know of none) to wallow in the mud alone, tossed into a pain pit whilst we toasted the success of her mission and feasted with Vect long into the night, as the master of Commoragh steepled his fingers and nodded knowingly to himself.
'Just as planned.'
-------------------
Will there ever be a grand story campaign again? I honestly don't know – it feels like GW is moving away from doing as such. That said, with Dakka's last attempt it is clear that there are still fans who wish to make themselves known and organize such things.
All I can say about that is – if one pops up, I know I'd like to participate. And let me assure you, if the storyline leaves us as a forgotten step-child, then I fully hope to create or be part of a dastardly plan to toss a slight wrench in the works again, because we're the Dark Eldar, and we make our own rules.
No'akei, Would Be Mistress of Commoragh and Medusa V.
Old Archon remembers...