I've been lurking here for some time now, and the community is full of thoughtful advice and help for the newcomer. I'm not much of a one for battles or tactics, more of a story teller, so by way of introduction I thought I might offer the short tale of the rise of The Mairiia – Sister Haemonculi of the Virid Blush..
Comments and criticism welcome, my apologies in advance for any inevitable breach of etiquette.
*Deep breath*
_____________________________________________________________
The Mairiia – Sister Haemonculi of the Virid Blush
Twin births are rare in Dark Eldar physiology, rare and very valuable. By consequence it is not unusual for the offspring of such births to be offered as tribute by ambitious parents to garner favor with those who hold the power of life and death over them. Not much remains recorded about the parents of the Mairiia, the gift of their daughters to the Haemonculus Vlokarion seems not to have raised them into history's gaze. Of the infants' lives however, records abound.
Vlokarion noted the details of his experiments upon the pair with obsessive rigor and the first decades of the Mairiias' lives were a cacophony of scintilating agony. Whenever Vlokarion's machinations threatened to collapse the adolescent minds of his pet children he would revive them with indulgent displays of his art. Whatever unknowable grotesque purpose the Ancient had originally concieved for the pair was, however, slowly overshadowed by the unavoidable fact of their aptitude for the work of the Haemonculi. The Mairiia, it seemed, were natural flesh sculptors.
As they reached their first century, Vlokarion tentatively allowed his wards to assist him in place of his unthnking wracks. The fluidity of torture the three working in unison could achieve became, for a short while, legendary. Performances for the great and the powerful ensured the names of the Mairiia were spoken in the highest echelons of Commorragh. Emanations of pain spiraled up daily from the Master Haemonculus' dark oubliette, broadcasting the cruel works taking place beneath. Vlokarion's reputation grew on the backs of his students.
Throughout these years the Mairiia acquiesced to the demands of their master, learning his art in preparation for their own blossoming. When they were alone they plotted and prepared for the day when they would no longer be Vlokarion's performing curios. The opportunity for that day arrived with the Solarite Y'vin Amaali.
Half a millennia ago Vlokarion had given Amaali his wings, and in return, demanded every hundred years a tribute of souls and relics. Amaali took the opportunity of the coming tribute to request an audience with the Haemonculus and his young kin, and was granted such with one caveat – he must provide one of his own for the trio to perform upon.
On the eve of the appointed day Amaali arrived at the cavernous hall used for the coven's private performances. With him, caged and carried by a trio of wracks sent for the purpose was, a pitiful, ragged and half crazed scourge. With a vicious grin Vlokarion accepted his gift, and set to work preparing for the next day's performance. That night Amaali and his entourage were entertained by the Mairiia, performing minor feats of torture upon unfortunates from a dozen species. They coaxed bone spires from the living chests of guardsmen, re-curving and impaling themselves, or crafting ossiferous cages into which they leased starved chitinous beasts. The brutal performance left their guests minds reeling with waves of ecstatic pain, drunk on malice and sated with potent drugs the visitors eventually lapsed into a heavy sleep.
The Mairiia took their chance.
Joining their Master at his preparations in his chambers beneath the great hall they recounted in stereo their performance above, speaking proudly of their grace and invention in their art, and the brutish philistine ignorance of their guests. Vividly they recounted a false story of the loutish and impolite scourges inability to comprehend or appreciate the delicacy of their works and the unspoken insult hence dealt to their master's coven by these slow witted birds. Together they rounded on the restrained scourge, speaking as one about the sorry beast, how their master deserved tribute of altogether higher caliber and how to work upon something so broken was itself a slight and the greatest of all their guests insults. That night the Mairiia poisoned their Vlokarion's mind against Amaali and his troupe, and by the morning rage had gripped him so fully that he bade them do whatever they might to avenge the honour of his coven.
Wracks were sent with clear instructions, and the still dreaming scourges were rudely assaulted with chains and clawed hands. Oaths and screamed protests were all ignored, and one by one an amphitheater of restrained living flesh was erected around a stage dressed with only two chairs. Last to be brought was Amaali himself, clutched between the enormous hands of two grotesques, struggling ineffectually he was chained into the chair facing the audience of his brothers. Vlokarin took the stage, and sat facing Amaali. He did not smile nor speak a word in response to the Solarites barked challenges, but sat passive, as though an observant ghost. A fanfare heralded the Mairiia.
Once again they spoke in perfect stereo to the unwilling crowd. They spoke of the insults dealt to their master and to them, and they spoke of due punishment. Before them today they would witness the ruin of their clan, and the atonement of the coven for allowing such insults to pass.
They began an opera of torture working flesh and bone into agonizing configurations, flaying, cauterizing and sculpting atrocities upon their victim. In broken skin they weaved a narrative, a story of soaring freedom counterpointed with a destiny of subterranean servitude. As their plots unfolded upon the writhing body beneath them their true purpose crystallized.
They told their own story through this unlucky others flesh, their own dreams of freedom. They revealed to all the betrayal of their master, of their trickery and of the gullible acceptance of their lies. Despite their revelations Vlokarion, held rapt, did not interrupt the performance and as the piece reached its crescendo the Mairiia offered a tithe in performance to their master. He who had benefited most from the works of their own hands would be offered half of such in return for their freedom, and their future silence about the events of this day. They had between them crafted a plot that offered Vlokarion no option but to accept, or to have it known that he had been unwillingly deceived by these adolescent tricksters. He offered only a curt nod.
The broken body in front of them was assaulted one last time. Amaali's wings were ripped from his broad shoulders and held aloft by the Mairiia in triumph. This began their final act.
The two now stood facing each other and worked as though in a mirror, as a pair of hands un-drawing each other. Synchronized blades flashed and ichor gouted momentarily from open arteries quickly sealed with clamps and fire. With unerring speed and accuracy they worked a routine they had planned intricately. Moments later each had fulfilled their promise, and held aloft the others severed arm. Turning, they offered a matching pair of their limbs to Vlokarion, buying their release with an act of gratuitous self mutilation. The onlooking scourges, silenced by their own Solarites brutal fall and now bathed in such a perverse and enthralling display could only cluck their approval in muted tongues as the twin performers began to fuse flesh and bone and build for themselves new limbs from Amaali's ruined wings. Working single-handedly, loose flesh supported by attendant wracks, they made each other whole again from new parts. The rebuilding was a work of greater labor than the taking apart, and the ballet they danced taxed them both to the limit of their skill. After hours of exhausting work they were finished, and stood, side by side in front of their erstwhile lord and master, their remaining arms clasped around each others shoulders, wings outstretched in grand display. They bowed their thanks to their audience, and before Vlokarion's mind could change, made their escape in search of new cruelties.
That day the clan of the Solarite Y'vin Amaali ceased to exist, with no explanation – an event that was rapidly assimilated by the political tides of the dark city, barely a blip on the radar of the powerful houses. More significantly, the Ancient Haemonculus Vlokarion entered a century and half of introspective study, accepting no entreaties to host even the most powerful and influential. Rumors flowed, but no truths could be found to explain his behavior. Of the Mairiia little was heard for another millennia when they emerged beholden to the Duke Sliscus in self imposed exile and commanding a mongrel force known as the Virid Blush.
When asked of the origin of their clan's chosen name the Mairiia are silent, only they know that its origin lies in the verdigris flush of anger, frustration and, perhaps, pride that they saw upon their masters cheek they day they engineered their freedom.
_____________________________________________________________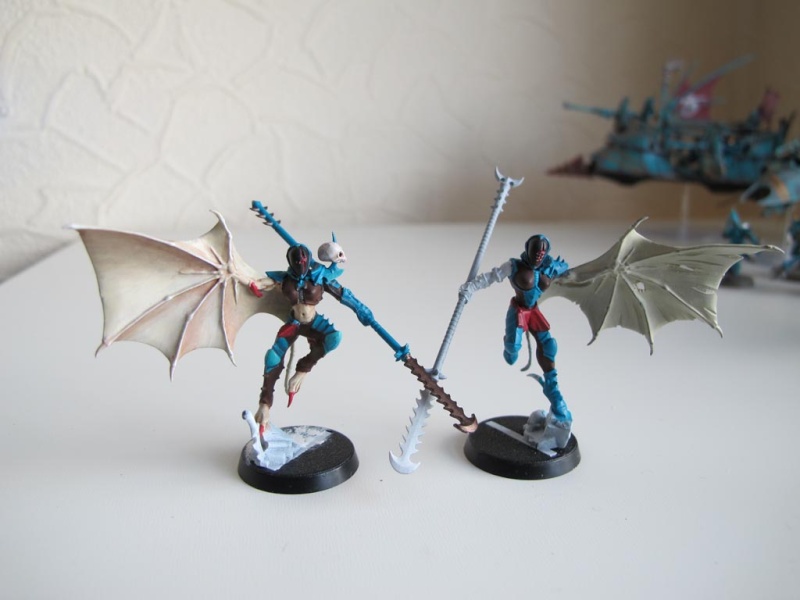 The Mairiia - a work in progress
(colour scheme shamelessly appropriated from a painter of far more skill than I.)