1k Footdar Vs FootWolves
I managed to set up a game for this week, mostly because I had said I would play a test list last week and didn't.
So I took the Foot list from a while back.
2 Haems
2 x20 Warriors, 2 SC
2 x3 Trueborn, 2 DL
2 Taloi, 1 w/Twinlinked Liquifiers, 1 w/Chailflails
1 Cronos, w/ Vortex
He brought 3 Squads of wolves, If memory serves, each had 2 meltas in them. A specialist guy who was in effect Sgt. Wolven.
A Rune Priest
2 Long Fangs squads of 6 Missile Launchers.
He won deployment/terrain/turn.
First thing he did was snatch that nice tower and stick it as far back in his DZ as he could… I grabbed the who booth, because according to all my buddies… yeah that phone booth totally fits 20 guys! The rest of terrain was not in my favor. He got the ruins after sticking me with the tanks, but mostly because I was not paying enough attention when he said (much earlier, so it's not his fault, I just wasn't paying attention) that the box lid was Area cover, man that would a been nice.
Anyway I attempted to seize… '1' and the 'luck' starts.
His turn 1, he kills the cronos right off the bat, the cover did not help in any way shape or form… Puts some other wounds around, I retaliate, or attempt to. On the whole very little happens in my favor.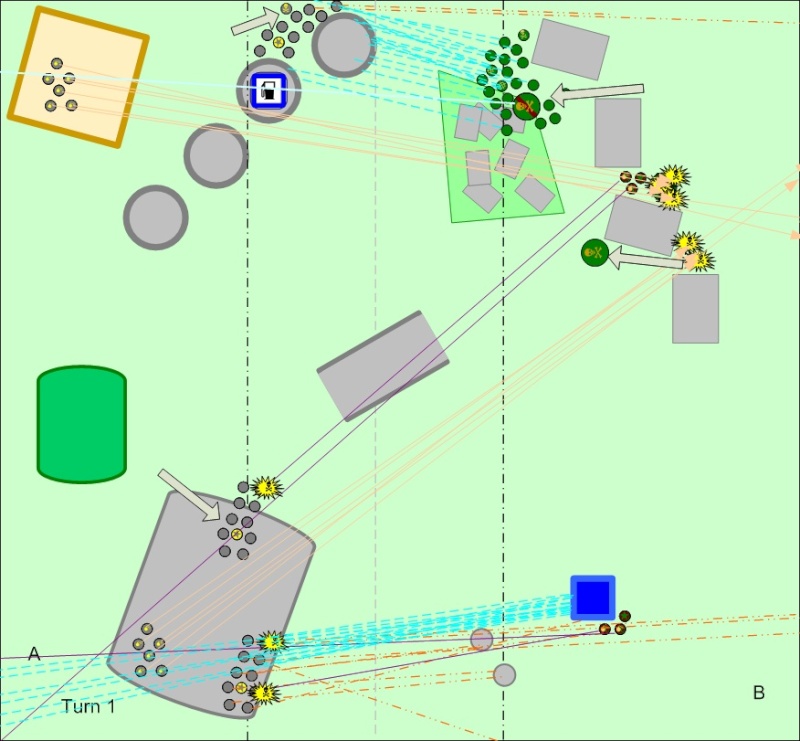 Turn 2 his priest uses the ground to eat 4 members of the warrior squad, including their haem. He shoots up the chain flail Talos, it dies, cover did nothing… I shoot back, Moving the warriors up to rapid fire, my fingers tingling with the joy of so many rapid fire shots, the talos unleashes a torrent of vile death… and it seems we've just given the marines a nice acid wash, cleaning their armor and being all nice to them..? Well all the better for my warriors to mow them down while they look at the peak of pristine right? So a hefty torrent of 38 shots! 7 HIT!? 3 Wound!? All are saved! WHAT DICE CHEATERY IS THIS!? The trueborn at the top take out a longfang, splinter cannons deal out a few marines and a dark lance vaporizes another.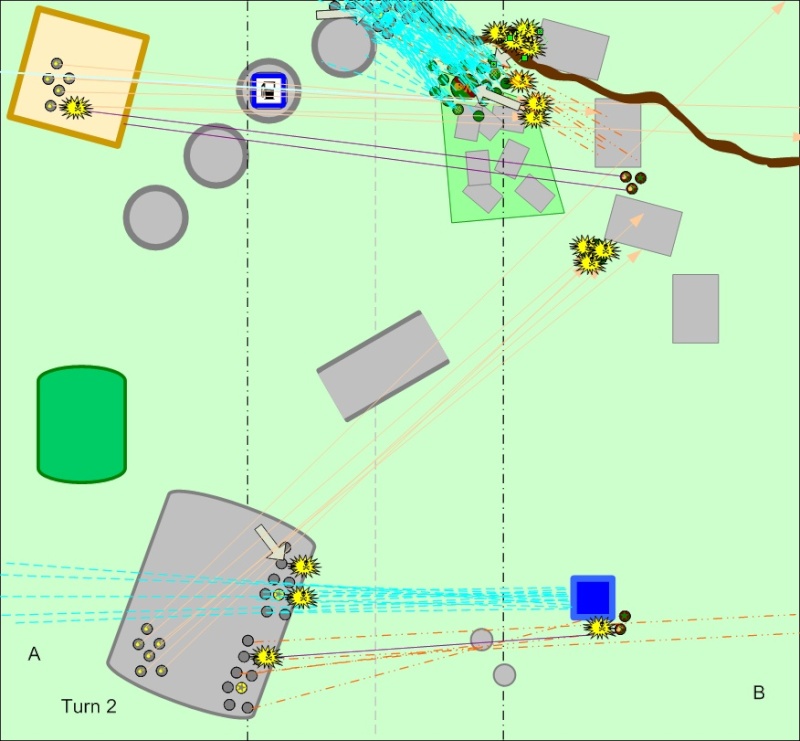 Turn 3 another warrior succumbs to the jaws of the very earth beneath him. The long fangs make short work of the last talos, shooting knocks out a few more warriors, and the 2 darklances at the northern end are reduce to minestrone soup. I send the 20 warriors out of the booth after another chance to torrent out a squad. They at least kill SOMETHING…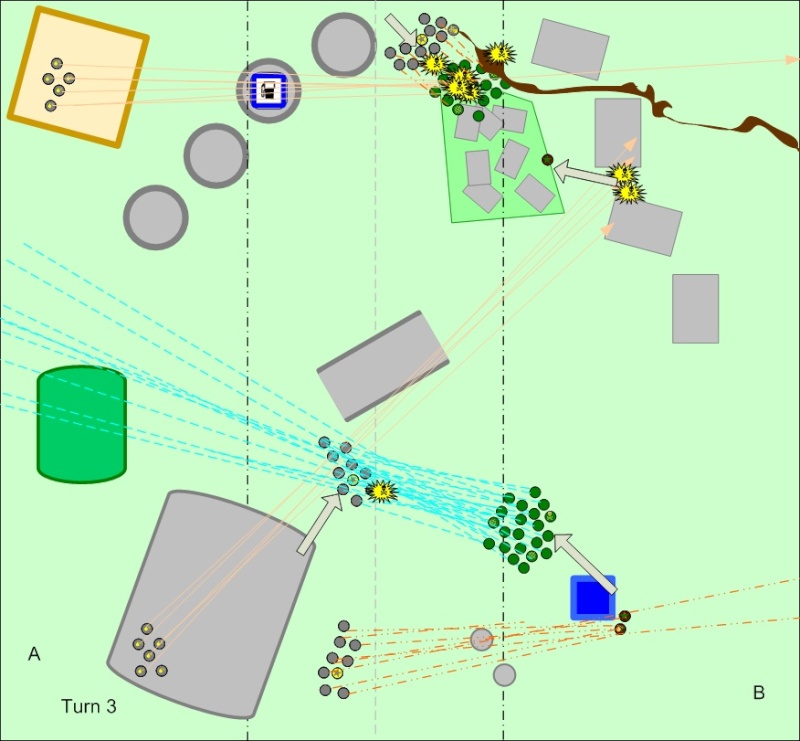 Turn 4 Combat continues more warriors die, but as the down side to rolling low all game is fails kills, the upshot is passed leadership tests. The last trueborn from the northern end eats a round of missiles. The marines to the south march up and charge, overwatch gets one. Combat removes more warriors, they break on my turn and start running off.
Turn 5 sees the end of the northern combat. The Rune Priest start marching south. The marines catch the fleeing squad, overwatch is ineffective. Combat ensues, the Warriors loose and break again, this time with a Haem and a warrior remaining, as the last trueborn team is removed in a hail of missile fire.
Turn 6 is over quickly… the image below.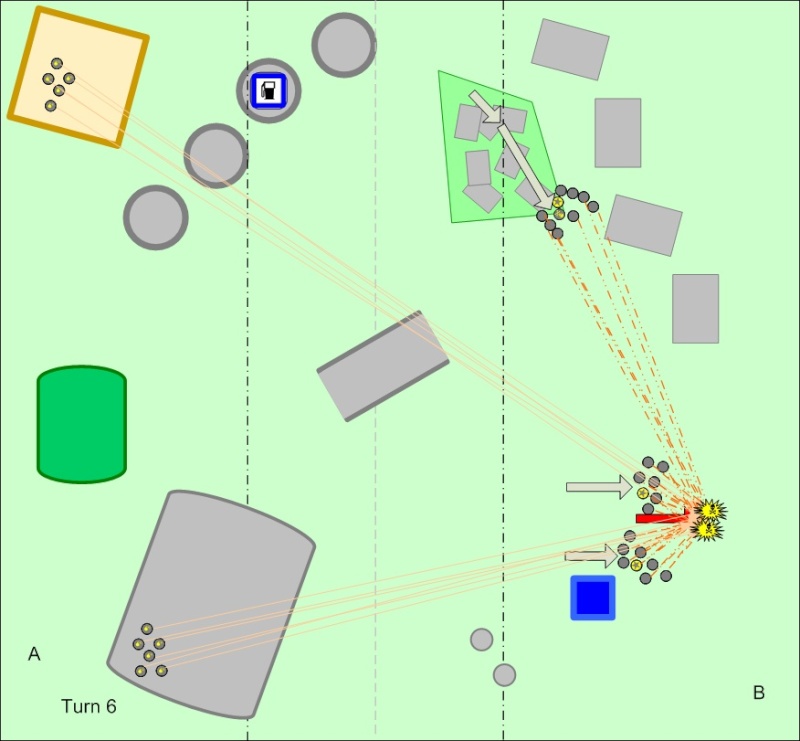 So lessons learned... 1 don't leave home without a ride. 2 pay more attention to terrain... 3 get better dice?
Yeah, never taking that list again.