Greetings gentle beings!
It is I, Por'el Sa'cea Leo'lan Jhin, and now we are entering battle as the glory of the Space Marines will-

Be crushed unda the power of da WAAAAAAAAGH!!
Well, yes, but-
WAAAAAAAAGH!!!
No, you see, what I mean is-
WAAAAAAAAGH!!!
...
...
...
...
Are you-
WAAAAAAAAGH!!!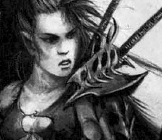 As much as you being proven to be a pansy is, let's get onto the fights.

WAAAAAAAAAAAAGH!!!
I am continually surprised you're not listed in Codex: Orks
I'm now an acceptable ally.
As though that chart makes any sense.
Blood Angels can team up with Necrons...JUST LIKE IN THE FLUFF!
WAAAAAAAAGH!!!
WAAAAAAAAAAAAGH!!!
I'm officialy rooting for the Mon'keigh now.
=================================================================================
Librarian versus Illuminor Szeras


Both of them step out onto the red sands, where already many great warriors have fallen. The Librarian is reading from a book to limber up his mind, and Illuminor Szeras is wearing his 'I <3 Blood Angelz' T-shirt.
JUST LIKE IN THE FLUFF!
Come on metal thing that apparently can feel pain now despite having no soul so we Dark Eldar can still totally kill you for yucks and to feed She-Who-Thirsts!
Librarian rolls a 6 (10) for initiative, and Illuminor rolls a 4 (6)]
Turn 1 - Long Range
The Librarian is ready, he knows this will be a pivotal round for him, he's already looking for some good cover.
The proper term is 'being a wuss'.
[Illuminor fires...5 to hit, HIT!. He rolls to wound, and rolls another 5, currently the Librarian is facing instant death.
The moment of truth is the cover save roll...2...]
What is this gak!?!
Bwa-hahahaha, Dakka-dakka-dakka!
Indeed, the fight is over before it has begun, a pile of cinders is all that remains as Illuminor Szeras goes over and bro-fists Commander Dante-
JUST LIKE IN-
You do realize that joke was stale the first time you did it.
Every joke you do is about sex and pain.
That's not true, I also...sometimes...when...I loathe you.
Hur, hur, hur.

Illuminor Szeras Wins!
=================================================================================
Space marine Captain vs. Ork Warboss


The crowd is chanting for the Warboss as he takes the field, waving his power klaw to the masses. The Space Marine Captain is receiving rather less attention.
Whot does he expect? Bringin' a toothpick to a klaw fight!?!
He's cuter though.
Presuming he has a package.
Wait...that's a question?
The fluff is very vague about it.
But there are Marines in service to Slaanesh.
The fluff is VERY vague about it.
But you could always look and-
I'm not sure I want to know if things don't go the way I would want them to go.
...
...
Just sayin'
The fluff isn't vague about da Orks packages! We iz fungus, bwa-hahahaha!
Oh, look, (thank gawd) the fight is starting!
[Initiative rolls - The Captain rolls a 6, and the Warboss a 4 - big surprise, the Warboss will be dead last.]
Turn 1 - Long Range
The Space Marine Captain only has a pistol, so he is charging forward, but the Warboss is raising his combi-shoota and laughing as he lights the wick of a...rocket? Oh sweet mercy!
Aim for the stands, aim for the stands!
You just want more bloodshed?
Nah, he is certain the Ork will miss, so if he aims where he doesn't want to hit...
[The Warboss rolls a 3, and his shot goes arcing off into the crowds]
Turn 2 - Short Range
[The Warboss activates The Waaagh! and chooses to move immediatly into assault]
Dat's how real Orks fight!
So much cooler than Tau...sucky, sucky Tau.
Hey!
Yeah, that is *totally* not true.
Yeah!
Those fish-heads can't figure out how to suck to save their lives...literally.
Whoa! Family programing!
In Commoragh? That's kinda stupid.
Just like the Tau.
Assault!
The Space marine Captian seemed to be ready for this, and raises his chainsword high...
[5 attacks needing a 3 to hit...6,5,6,1,3
4 hits, needing a 5 to wound...3,6,6,2
2 Wounds, the Warboss has a 4+ save...4, 2]
In a mad flurry of blows, the Captain dances around his foe, expertly feinting, countering, and lashing out with battle skills mastered over the centuries. He manages to score a telling wound on the Warboss' side, driving his blade deep.
He shouldn' ought ta have done dat, now da Boss is mad.
WAAAAAAAAAAAGH!
WAAAAAAAAAAAGH!
WAAAAAAAAAAAGH!
Waagh.
...
...
...
I just wanted to belong...
You are a git.
Um, look, the Boss is swinging back!
[5 attacks, needing 4+...2,5,1,5,2
2 hits needing 2+...2,2
2 wounds, needing a 4+ save from the Halo...1,2]
And...oh...oh my, that is very inappropriate.
We callz dat da 'One fingered salute...in der bum!
Lulz!

Warboss Wins!
A series of brutal matchups, that ended in dramatic fashion via instant death - a common trend in these matches.
I'm honestly a little surprised that the 'Cron pulled it out, he'll have a hard time of it in later rounds though, if it gets into hand to hand combat, and since he won't be able to instant death the Warboss next round....
I am predicting the Boss takes the whole thing, he is too big to lose.
Dis guy talks a lotta sense!
Tune in tomorrow for our next fight preview - as we discuss the pro and cons, and see who else will join these noble warriors in the Elite Eight.