Greetings gentle beings!
It is I, Por'el Sa'cea Leo'lan Jhin, and we are ready to witness the glory, and grandeur, and gravitas, and...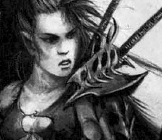 Gore?
No! No, no, no, no gore. Perhaps a bit, but I assure our gentle viewers that the devestation of last round-

Was totally unacceptable and we're cranking it up this round!
No, wait-
Indeed, we really need to charge the pain receptors properly, otherwise everyone will be unable to live their lives as abject slaves ground under my stiletto heels.
You're barefoot.
Aw, whatever your fetish is, I'm adaptable...and flexible.
Kharn's fetish is skulls...FOR THE SKULL THRONE!!!...also bunnies.
Do you know what a fetish is? Because the bunnies part might be the creepier one.
...they have floppy ears.
Guys, um, the fights?
Don't get your panties in a bunch, Leo, I once killed a Chapter Master while high as a kite, I'm pretty sure I can manage a bit of back and forth mocking of Kharn in addition to calling some fights that promise to be DE squash matches.
Well, you should get ready then, because our first competitiors are taking the floor!
=================================================================================
Succubus versus Inquisitor Coteaz

Both opponents are ready now on the battlefield, the Succubus is, as expected, getting a lot of the home town crowd excited as she...she...now that can't be appropriate to snort that much cocaine before a fight.
Don't judge our ancient battle arts, for they are deep with mystery...and sex
Would you look at that, laughing maniacally the Succubus is running in circles and is now sprinting towards the Inquisitor, who looks perplexed by his opponent's antics.
Cocaine is a hell of a drug!
[Succubus rolls a 4 for Init and MoF rolls a 5, with adding in their initiatives we get a 12 and an 9 - Succubus will go first
She rolls for combat drugs - 3, she will have +1 strength for this battle.]
Turn 1 - Long Range
Neither of the combatants thought to bring much long range wargear.
The proper term is Pansy Projectiles.
You know, considering the fact we have laser rifles and whatnot, isn't it kind of silly that so much warfare is settled by knives and clubs?
I don't get your point, my race is the most technologically advanced in the galaxy and we still use spikes and chains as a primary weapon.
We serve literal gods. Our top weapon is a chainsaw...on a stick!!
I weep for the future sometimes.
Turn 2 - Short Range
Closing the gap now, this is what people were waiting for, it's time to see if the Blast Pistol or some Krak Grenades just end this match before it ever gets anywhere!
Tau fights...
The Succubus is calling out her shot, something about aiming for his "cheesy bits"
Should be a large target...
Kharn sees what you did there!
[4 to hit, 6 to wound...Coteaz dives for cover...6, no wound!]
Coteaz is probably patting himself on the back for diving behind that small outcropping of rocks, and look here, he's prepping a grenade and hurling it overhand in the Succubus' direction.
If you don't evade this it's back to sparring grots as a curtain jerker!
The grenade is dead accurate on target, COteaz is looking mighty pleased, and...oh no! THE HUMANITY!
We refer to that as a spinning back kick...the fact the grenade flew into the stands after being deflected and killed half a dozen people is just bonus style points.
Kharn approves!
[Coteaz returns fire with a Krak grenade - 6 to hit, 4 to wound. The Succubus takes her own cover save...5! No wound!
Succubus uses Fleet to remain at Short Range distance]
Coteaz is charging forward but the Succubus is moving away, clearly she wants to keep things at range for a bit longer.
It would be dumb to fight that Daemon Hammer.
Turn 3 - Short Range
The Succubus fires, looks accurate, there's no cover for Coteaz to take advantage of now and...and the shot just fizzled off as it hit his armor.
Foul! FOUL! That's not according to the script!
[Succubus fires again - 5 to hit...1 to wound!]
Coteaz is laughing now, lobbing a grenade as he rushes in, the Succubus seems distracted by her misfiring pistol.
[Coteaz tosses a Krak grenade - 1 to hit, miss.]
They was both bumping the uglies with the Dice Gawd's Daughter, it is proven so!
Yeah, but she's such a tease, you know she wants it...
Turn 4 - Assault!
With a roar the two combatants both rush forward, ready to end this affair up close and personal.
Kick him in the junk!
NO TAU FIGHTS! KHARN IS AS HAPPY AS HAPPY CAN BE!
The Succubus is blindingly fast compared to the plodding form of Coteaz. The Succubus strikes first and strikes often.
[Succubus has 6 attacks on the charge - 5 hit (1,3,6,3,4,5) Needing 2+ to wound with re-rolls - (6,1,6,6,5) re-roll - 5 = 5 wounds.
Coteaz takes his 2+ saves - 6,2,1,4,1]
THAT'S what I'm talking about. Float like a butterfly and sting like you are using a Mother-Kaine-ing sword coated in deadly toxins!
Indeed, Coteaz is *badly* hurt, the Succubus was all over him, finding chinkc in his armor and sliding in her blade like it was child's play. He is desperate to end this battle now, and the Succubus is taunting him wondering why she was ever worried about entering hand to hand combat in the first place.
She's about to be reminded, here comes the hammah!
His swings look wild, I think the Dice Gawd is still displeased with whatever the Inquisitor did to his Daughter.
Now *I'm* curious, I didn't expect him to have much imagination in that field
[Coteaz has 4 attacks on the charge - (1,3,3,6) With 1 hit he needs 2+ to damage...1]
The Succubus is...oh, now, this is family programing, I really can't describe the gesture she is making.
Hur!
I could translate it for you.
Turn 5 - Assault!
This grueling battle continues, and the Succubus looks ready to finish the whole affair, she unleashes another dazzling display of swordsmanship.
[Succubus attacks, 5 attacks - (1,5,5,1,6) with 3 hits she rolls to wound - (5,2,4)
Coteaz girds his loins and prays to the Space Emperor as he rolls his saves....(6,3,4) Artificer Armor holds firm!]
Aw...aw crud...
STOP!!!!!!!!!
...
...
HAMMAHTIME!
I loathe you.
[Coteaz attacks, 4 swings - (1,3,6,2) only one hit again, to wound...2! (which, though pathetic, is still a wound)
The Succubus rolls dodge - 3!]
Look out, Coteaz, though off balance and reeling from the poison, spins around and...connects! The Succubus is down, the Succubus is down!
Total upset in my opinion.
Kharn is also upset...though in a more general and constant way.
Coteaz Wins!
=================================================================================
Haemonculus vs. Lord Commisart


The crowd is booing as The Succubus is carried off, still seeing stars after that thunderous Daemon Hammer hit.
Mostly I think they're booing the five hour lecture Coteaz gave us about how we're all vile xenos scum who will be purged.
This is why Grey Knights are not invited to any parties anymore.
In any case, the Lord Commisar is out on the field, his weapons ready and he looks pumped up, definitely planning to extend the Imperium winning streak tonight. The Haem looks...almost bored, he's just fiddling with some gear and not even paying attention to the Commissar.
[Initiative rolls - Haem rolls a 1 (5) and Commissar rolls a 2 (5)]
Turn 1 - Long Range
The Commisar starts off at a slow advance, chanting invectives against heresy as he lets out a long range shot with his bolter.
Meanwhile the Haem is planning to introduce ol' Lord Fussy-britches toa little toy we call the Hex Rifle.
[Commissar and Haem fire simultaneously.
Commisar rolls a 1 to hit - miss.
Haem rolls a 5 to hit...and a 6 to wound.
Commisar dives for cover...rolls a 3 for cover and a...6 for his characteristic test]
The Commisar's shot went wild and he's trying to duck down but...no, the Haem hits him clean on in the chest. The Lord Commissar has just been transformed into a crystalline sculpture, the look of horror and anguish on his face, the screams, I tell you, it's, it's...
Hot!
Funny?
I was going to say horrific...
That would have been my second guess.

Haemonculus Wins!
So that's the opening matches, how do we feel about them?
The Succubus wuz robbed!
That was a very close match, and not for reasons anyone expected.
I liked the part where people bled.
Oh well, at least I can look forward to the Haemonculus making another sculpture out of that jerk Coteaz next round.
Be that as it may, we now have some other matches coming up, I have also been told my request for a special guest host has been granted.
What special guest host? If this is that damn order Kharn put in for, and I quote, "some big bootied babes to hang around me while I flex" then I'll have you know-
It's an Ork.
...
Wait, what happened to my booty babes?
See you next time folks!