Greetings gentle beings!
It is I, Por'el Sa'cea Leo'lan Jhin, with me as always is-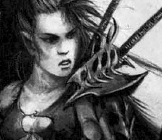 The real reason you actually pay attention to these reports.

Also Kharn.
Yes, *also* Kharn.
That's kind of rude.
Its not a problem, he actually can't follow any joke that takes more than three seconds to set up the punchline to. He's kind of like a goldfish or something, seriously.
You mean like a *BLOOD*fish, bwa-hahahaha!
Yeah, I'm sure that's what I meant.
Should we move onto the battles as opposed to sitting around and baiting an ancient sociopath?
Bringing up Lililth's age is kinda uncool, Leo.
What?
She's sensitive about the "sagging".
What!?!
To the arena!
=================================================================================
Colonel Iron-Hand Straken vs. Wolf Priest


The Wolf Priest is advancing out into the arena...but no one can see Straken.
KEEP YOUR HELMET FIRMLY ATTACHED!
What?
What?
This is another of those meta-textural jokes you and Lilith make, isn't it?
Possibly, I keep forgetting do you or don't you also have meta awareness of the game?
He's Tau, no one cares what they know because they're a marginalized species and codex with very one dimensional characterization.
Good point, when one of the 'Last Chancer' books is one of your biggest fluff achievements...
Totally unlike the Dark Eldar, who are featured all the time.
...
Trololololol.
Keep laughing, I checked, both of us are in the Light Heavyweight category - and I could always request my first match...
Only if you want to be smeared in your first match...and by smeared I mean decapitated...by a chainaxe.
Um, maybe we should pay attention to the battle at hand, the Wolf Priest is stalking forward even as we threaten each other.
Initiative
[Straken rolls a 3 for a total of 6, the Wolf Priest rolls 1 for a total of 5]
HE'S IN THE BUSHES, AND HE MIGHT HAVE VINES, PROTECT YOUR NECK!
Turn 1 - Long Range
The Wolf Priest is stalking around, keeping an eye out for his prey.
HE'S IN-
For Khaine's sake, Kharn, there is nothing there but sand and some random chunks of rubble to get cover saves behind.
That's what the bushes *want* you to believe.
...
...
What?
Turn 2 - Short Range
The sand near the Wolf Priest suddenly erupts into life as Straken bursts forth from cover, readying his plasma pistol. The Wolf Priest looks like he suspected an ambush was coming, and is responding by lobbing a grenade in Straken's direction!
[Straken fires his pistol - 4, hit, and then to wound...4!
The Wolf Priest decides it's worth it to take a cover save - 3, and takes a wound anyway, he'll lose his charge bonus attack next round.]
That went poorly for the Wolf.
He should have charged more, charging solves most problems.
[Wolf Priest's grenade comes in...4, hits. 5, wounds.
Straken takes his armor save - 4]
Straken just caught the grenade and had it detonate in his hand to no discernible effect.
Hot damn! I'm gonna chop off a few of my limbs and get cybernetic grenade catching hands too - I'm just glad they don't do that to too many IG troopers, it might actually make them a threat to the other species slowly consuming the fallen corpse of the Imperium's empire.
Shhhh.
Turn 3 - Assault!
Straken leaps forward, eager to get the battle underway, and the Wolf Priest already looks a little haggered from that plasma hole in his side.
But, looks like he's trying to match the charge...
[Wolf Priest checks for counter assault - 5, he gets assault bonuses this turn, huzzah!]
See! Charging! It's a GOOD thing.
[Straken and the Wolf Priest strike simultaneously.
Wolf Priest has 4 attacks and needs 4 to hit - 1, 1, 5, 5
needs 4+ to wound - 6, 3
Straken needs 3+ to armor save - 6 - no wounds.
Straken has 5 attacks needing 4+ - 2,5,2,1,1
1 hit, needs 2+ - 6
Wolf Priest needs 4+ to invuln save - 6!]
Wow, they struck in just a wild flurry, but though the Wolf Priest struck hard with the mighty Crozius Arcanum - the symbol of his might and a living reminder of the glory of the Imperium...and it bounces off a cybernetic human.
Meanwhile Straken stumbled around and looked like a doddering old fool as he tried to rend the Wolf Priest to little actual result. Sad.
Turn 4 - Assault!
Look out, the Wolf Priest is taking advantage of Straken being off-balance.
As well he should.
[Wolf Priest attacks - 3 attacks needing 4+ = 6,5,5
Three hits needing 4+ to wound = 4,5,4
3 Wounds needing 3+ for Straken to save them = 6,1,2]
Dai-yum!
The Wolf Priest just took a level in badass and totally unloaded on Straken - he apparently noted that if he hit the man in his *non-metal bits* that it caused more damage. Amazing strategy considering the average tactical ability of Space Marines.
Straken is bowed, but unbeaten, he is still swinging hard...
[4 attacks needing 4+ = 6,1,5,4
3 hits needing 2+ = 3,2,6
2 wounds needing 4+ for the Wolf Priest to save them = 2,1]
Oh no, it is over, IT IS OVER!
Straken takes out the Wolf Priest but fails to decapitate him - I give it 4 out of 10 style points.
I say 5 points, just for the amount of blood spilled, it was pretty sexy.
Colonel Iron-Hand Straken Wins!

=================================================================================
Ork Big Mek vs. Emperor's Champion


The Big Mek is stomping out, steam and black smoke churning out of that horrid contraption of metal he has strapped and...bolted himself into.
Meanwhile the Emperor's Champion is quietly stalking out, already pointing his sword at the Big Mek as he starts storming forward - this fight is already on!
WAAAAAAAAAAAAAGH!
Initiative
[The Big Mek rolls 2 for a total of 4, and the Champ rolls 3 for a total of 8.]
Turn 1 - Long Range!
The Big Mek cackles merrily as he stomps forward, firing his twin linked shoota indiscriminately.
He might be firing it *very* discriminatingly - he's not shooting at himself...
Turn 2 - Short Range!
As they get closer, the Emperor's Champion is raising his bolt pistol and taking a few careful shots as he trots forward into the wold flurry of shooting from the Ork.
A level head and skill will defeat that ugly beast.
That's what *she* said, hur, hur, hur.
[Champ shoots 1 shot, needing 3+ = 3
Rolls to wound, needing 4+ = 1
The Big Mek responds with some Dakka!
2 shots needing 5+ = 5,4 - re-roll = 2
1 hit needs 4+ to wound = 1]
As we all expected (though I am sad to see it) they are eschewing their guns and charging in to settle the matter like men...or, genetically created super beings and giant sentient fungi monster...or...whatever.
Turn 3 - Assault!
[Emperor's Champ strikes first - 4 attacks needing 3+ to hit = 3,3,5,2
3 hits needing 2+ to wound = 2,2,2
3 wounds needing 2+ to save = 6,2,1]
He cuts into the Big Mek's side, perfectly aiming his sword through a chink in the armor.
If by "chink" you mean a rusted hole with some duct tape over it and a 'repair dis' reminder noe stuck on it...
The Big Mek roars as he lets out a lumbering swing of his power klaw.
[Big Mek has 4 attacks needing 4+ to hit = 1,1,5,6
2 hits needing 2+ to instakill = 5,6
4+ Invulnerable save...= 4,5!]
Wasn't he supposed to go 'moosh' and not start doing fancy backflips and crap?
Whassup, little bit of skill and agility messing with your 'hurr, he's got a bigger weapon' selection strategy?
It's still pretty honkin' big...just saying.
Turn 4 - Assault!
[Emperor's Champ strikes first, 3 attacks needing 3+ = 6,5,5
3 hits needing 2+ to wound = 6,2,4
2+ Mega Armor don't failz me now! = 5,6,6]
Good strategy! The Big Mek covered the hole in his armor and made rude gestures at the Emperor's Champion to distract him.
That's not a strategy, that's being a dick.
Tell that to Creed...
[The Mek swings back, 3 attacks needing 4+ = 3,6,2
1 hit needs 2+ = 1]
Uh-oh, the Big Mek took a big swing and overbalanced slightly as the Champ ducked under the Klaw, he's going for the weak spot again!
Turn 5 - Assault!
[Emperor's Champ strikes first, 3 attacks needing 3+ = 1,1,2]
And he slips on some of the blood from the Wolf Priest and falls flat on his face...
Dorn would be proud!
[The Mek swings back, 3 attacks needing 4+ = 6,2,2
1 hit needs 2+ = 6
1 wound needing a 4+ save...= 2!]
OW! A Face full of power klaw, and the Big Mek is now holding onto him and just slamming him up and down repeatedly on the ground, a nearby wall, and the Mek's own head...
In yer face, Lilith! Skill my rosy red posterior, bigger is better!
Meh.
Ork Big Mek Wins!

=========================================================
And that's all she wrote!
I do apologize for not getting the next pre-battle up, but the matchups will be;
Tyranid Prime vs. Chaos Lord
and (the long awaited)
Autarch vs. Archon
I'll work on them when I get back from Greece, promise, and so they should show up sometime late next week (28-29th or so...?) Feel free to speculate on best gear loadouts if you want - I haven't made any hard decisions yet.
After that battle report we'll actually be moving into the Elite Eight! Hope you're all ooking forward to it