Greetings gentle beings!
It is I, Por'el Sa'cea Leo'lan Jhin, ready to once again bring you exciting news from the arena floor of the Dark Olympiad. With me, as always, is the deadly mistress of the arena who has killed and bedded more men than any other Wych in Arena history, Lelith Hesperax!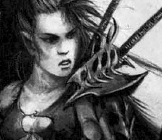 Not always in that order.

Also, Kharne, who has killed more men with beds than anyone else in history!!!
Wait...what?
You've killed more men with beds than anyone else in history?
Yeah, y'know, after the first few millenia you kinda get bored of decapitation and you need to branch out to explore your artistic extremes.
How do you kill someone with a bed, exactly?
It helps to pick slow species, or, y'know, Slaanesh things, because it draws them in.
It is awkward, but I'm coming to the realization I'm not actually the most disturbing and scary thing sitting at this table.
That's okay, Lelith, you still are top notch in my book. So, should we consider the brackets and the upcoming battles?

Our next two matches look to be very good, Inquisitor Coteaz will match up with the Succubus, and a Lord Commissar will face a Haemonculus.
In other words, 'continued DE domination is on the horizon'..
Pansy space elves covered in spikes and filthy worshippers of a corpse gawd. I tell you, this will be a tough one to figure out who is wussier.!
Let's take a look at our lineup, with expert commentary from these two masters of combat with me.
=================================================================================
Succubus versus Inquisitor Coteaz

The Succubus
Equipment loadout: Venom Blade, Blast Pistol
Total Cost: 85 Points
Notable Traits: Fleet, Combat Drugs, 4+ Dodge
Current Record: 1-0
Favorite Things: Torture, leather thongs.
Switching up her equipment loadout, the Succubus has brought a Venom Blade and a Blast pistol to this battle. There was probably some consideration for a Power Axe or Electrocorrosive Whip. However, the Whip wouldn't prevent the instant death threat, and the Axe would remove a lot of her speed advantage, so she's obviously banking mostly on the Blast Pistol again, and if she's forced into assault the hope will be to just lay him out with raw number of saves.
Not a bad plan, there's a tough slope to deal with a 2+ armor save, and this is the second time she's facing it. That said, with her Fleet, she ought to have two chances before taking it into hand to hand combat.
If this is another Tau style fight I will literally murder someone.
Me?
Nah, you have nice boobies.
What about me?
...
In that case I fully endorse a shooting war, it's awesome!
*Ahem* Okay, but if she gets into hand to hand assault, he'll be likely to work her over with his Thunder Hammer.
It's a Nemesis Daemon hammer, it's like a Thunder Hammer except with a lot of other rules to make it better.
That sums up the Grey Knights. Oh man, Kharne can't wait for a new Chaos Codex, we are gonna pwn then!
Inquisitor Coteaz
Equipment loadout: Master crafted Nemesis Daemon hammer, Artificer Armor, lots of other toys.
Total Cost: 100 Points
Notable Traits: Psyker, Creepy Bird.
Current Record: 0-0
Favorite Things: Emperor, Fire, The Fire of the Emperor, Birds.
So Inquisitor Coteaz, a warrior from the generally agreed upon most "borken" codex, what are our thoughts?
To be honest, he's hardly the most broken thing in there, and frankly I find him to be an appropriate threat for this weight class. Basically he's a thunder hammer wielding Space marine with worse stats but some psychic tricks.
He's a wuss...the bird is kinda cool though.
Obviously he'll be too slow to force the combat where he wants it, so he'll be lobbing grenades at the Wych trying to incinerate her as she's trying to frag him, but once it gets into hand to hand combat he'll have the advantage I'd think.
A master crafted thunder hammer is no joke, Kharne hates those things, especially when Nemesis.
Yeah, it's kind of embarrassing that most Space marine Captains are more "Eternal" than you, huh?
WE DO NOT JOKE ABOUT THE ETERNAL THING!!!
In conclusion
Coteaz hits hard, but will hit less accurately and, almost invariably, last. That said, he's overall more capable of inflicting instant death on his opponent. The Succubus can, again, keep on the outside and try to let her black hole powered pistol do the heavy lifting, and if she is forced into hand to hand combat still has a decent save and a superior stat line.
Predictions?
Succubus, she's going to prove that last time wasn't a fluke. She has two chances to swing it before combat is joined, and she'll be going first and will have a better chance than Coteaz.
Who am I kidding, that picture of Coteaz standing on top of a pile of corpses and smashing stuff is awesome!! BLOOD!!!
...yes. Well, I'm going to say I agree with Lelith, I suspect the Succubus will be able to use very Tau-like techniques of hit and run to control the battle to her liking and will rack up another win for one of the best pistols in the game...until Tau master that technology and get twin-linked ones that fire 12" and can be attached to Drones.
=================================================================================
Lord Commissar vs. Haemonculus
This is an interesting matchup. Both of these units serve interestingly similar roles within their respective armies, bolstering other troops and serving as light support. ANy opening thoughts from my esteemed colleagues?
Have you seen some of the things Haems can do? This is actually silly that the Imperium Dog is even going to show up.
Kharne stepped on a puppy once and laughed.

Lord Commisar
Equipment loadout: Bolter, Power Fist, Carapace Armor.
Total Cost: 95 Points
Notable Traits: An Almost Fanatical Devotion to the Emperor and nice red uniform...
Current Record: 0-0
Favorite Things: Summery Executions, Surfing on Tanks
Some interesting choices here, but I think they are wise. He knows that he's unlikely to get any easy damage in on the Haem and also that he'll always be slower, so he's just taking an equipment loadout to give him range and a hit that is at least likely to cause a wound if he manages to hit.
Yeah, kinda got to be sad to know you're outclassed both in range shooting and in assault. Cute touch with the Bolter though, didn't even know they could take that.
Myriad are the ways of Faith.!
So, since he can't cause instant death, the plan is to just try to torrent him down?
Makes sense, the Haem didn't bother to go Ancient, so he only has two wounds, just try to get rid of those and move on to the next round, I suppose...not that a Commissar stands a chance versus either Coteaz or a Succubus though, Ha!
You sound like you enjoy unfair fights?
I find it usually depends which side of it you're on, but as a watcher? Heck yes.

Haemonculus
Equipment loadout: Hexrifle, Shattershard, Powersword, Splinter Pistol
Total Cost: 90 Points
Notable Traits: Feel No Pain, Big spinal column
Current Record: 0-0
Favorite Things: Pain, Power From it, Lelith's Body
Check it out, despite bringing almost as many weapons as the Master of the Forge, the haemonculus still doesn't max out the division weight class.
Kharn approves.
Yes, and if you look at the choices you will see a strategic brilliance you should expect from DE. He has mutiple weapons all capable of ignoring his opponent's armor, also he has a weapon for every possible stage of the fight, and most of his weapons are capable of instantly toasting the Commissar if they hit. On top of that he'll be faster and tougher.
I agree, he sucks.
In conclusion
I have to agree with my fellow hosts, looks bad for the Commissar.
And I'm pretty sure Haems don't even have sex, so no issues with annoying the Dice Gawd.
I predict laughter. By me.
--------------------------------------------------------------------
If you wish to compete for prizes, remember that you need to post up your Votes. All Votes should contain the name of the two fighters you predict will win each fight.
VOTES MUST BE IN BOLD TO BE COUNTED
If I end up missing a vote that was correctly made, please remind me after the end of the battle when I'm posting the leaderboard.
Any vote post that is edited after the battle report is posted up will not be counted and I shall waggle my finger in your general direction.
The poll is there for people to toss out opinions at if they so desire, consider it a third commentator's opinion on who will win the fights.
Results will go up no earlier than Saturday, August 4th, for both fights.
Boring rules explanation: