Greetings gentle beings!
It is I, Por'el Sa'cea Leo'lan Jhin, ready to once again bring you exciting news from the arena floor of the Dark Olympiad. Today we have two matches to consider.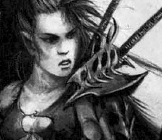 Indeed, blood shall stain the sands once more, cry havoc and let slip the dogs of war!

Who let the dogs out?
Your out of date pop culture references fail to amuse me.
Maybe if Kharn balled you up and drop kicked you across the arena it would amuse you?
Ahhahaha! Listen to that witty repartee, this is the type of entertainment we are talking about.
Let's just get to the murdering - because it looks like your favorite, and mine, a Succubus of the Dark City is stepping out onto the sands.
Indeed, and it looks like her opponent, the Master of the Forge is also ready, equipped with more wargear than any sane man would use.
=================================================================================
Succubus versus Master of the Forge

Both opponents are ready now on the battlefield, it looks like the Succubus has claimed the initiative and is trotting forward, a wicked grin on her face as she injects some combat drugs for the coming battle. The Techmarine is just taking stock of the situation and raising his bolter...
[Succubus rolls a 5 for Init and MoF rolls a 4, with adding in their initiatives we get a 13 and an 8 - Succubus will go first
She rolls for combat drugs - 3, she will have +1 strength for this battle...huzzah?]
Turn 1 - Long Range
The Succubus can do nothing but trot forward, the Master of the Forge is yelling some sort of invective at her...
Vile temptress of murder and despair? ::checks translator:: Bah, I think she's too experienced to fall for cheap flattery.
This is going to be what all tau fights are like, right, pew-pew boring-boring. Want blood!
Look, he's firing his bolter!
[MoF fires one long ranged shot - 6, hit! and then 1...no wound!]
It...it bounced off her bra...that seems highly unlikely.
You think we wear those armored bras just for show?.
...yes? Wait, was this a trick question?
Turn 2 - Short Range
Closing the gap now, the Succubus looks very eager to bring her Blast pistol into play. She should be careful though, the Master of the Forge is charging up the plasma generators on his Servo Harness...this might be the entire fight right here!
No! No Tau fights!
This is *true* combat my friends, settled at a manly difference with high powered weaponry that you can barely aim!
WRRRRRRRRRRRRRY!?!?
The Succubus fires first, laughing eagerly as she aims for his head...
[5 to hit, 4 to wound...MotF opts to use cover and takes his save...3, no save!]
And look at that, the dark matter shot has incinerated him where he stood, the ancient artificer armor he was wearing of no help to defeat the potent shot. Truly this is the height of combat skills!
A somewhat crude finish that denied us much pain for the hidden pain collectors that will allow us to rule the galaxy once they're full, but I suppose it's better to make sure we get to the later rounds in any case.
Hidden whats?
Hidden
rain
collectors to...you know...let the slaves...drink...
I thought your rain here was acidic or poisonous.
Propaganda and poppycock...that all said, y'know, don't walk around without one of those radiation umbrellas we provided you.
No disemboweling, but naked boobie lady goes to next round and a Marine dies, could be worse!

Succubus Wins!
=================================================================================
The Masque vs. Wolf Priest
Here they are, the Space marine remains are being scrapped off the walls but it looks like both of these contestants are ready to start now! You can hear the cheers from the Slaanesh section of the stands from here!
Yeah, Leo, those aren't *exactly* cheers.
Why what else could that loud and rhythmic grunting and squealing noise be? Here, let me adjust a viewfinder here and....oh...oh we can't show that on television...
Hur!
*Ahem* In any case, The Masque, as always, is dancing up a storm, showing off her agility and athleticism.
Looks like the Space Wolf is showing off something as well...
There's a full moon on the rise!
I'm pretty sure that's impossible to do in power armor.
Nah, I give Tau wedgies all the time whenever we fight and...wait, quick question, you guys - having metal torn up through the midsection of your bodies, fatal or not?
The Masque looks like she's taking advantage of the Wolf Priest's distraction and is trying to start the fight early.
[Initiative rolls - Masque rolls 3 (10) and Wolf Priest 4 (
- Masque will be leading the deal in shooting]
Turn 1 - Long Range
Both of them are just trucking straight forward, clearly they are intent on getting to grips with their opponent.
Turn 2 - Short Range
Look at this, can you imagine the speed of The Masque? She's already assaulting!
Pffft... sooooo slow
[The Masque triggers her Fleet power to move the combat immediately to Assault Range - no need to mess around with letting any Wolves get off a pew-pew shot.]
Assault!
Yes! Oh YES!!! I don't even care if it is the wuss Chaos God, Let's see some action!
The Masque opens up with a blinding array of attacks, she is just a sinuous and...sexy...and scintillating... ::Lelith throws some water into his lap:: *Ahem* Thank you. In any case, the Wolf Priest appears ready for her, he is howling songs to his war gods as he meets the ferocity of her attack head on, truly this is what he was born to do-
I thought it had something to do with dog chow...
As the dust settles it looks like The Masque is nursing a nasty shoulder wound, while the Wolf Priest is striking a Matrix pose and telling her to 'Bring it'
Burn!
[Striking at Init 7, The Masque goes first - 5 attacks on the charge, hitting on 4s = 4, 1, 2, 1, 6
2 hits, she then gets to try to wound on 5+ = 1, 6. One rending wound!
The Wolf Amulet comes into play = 4, no damage
Swinging back, the Wolf Priest has 4 attacks on the charge, needing 4+ = 6, 4, 2, 4 - Preferred Enemy = 6 reroll
4 hits will need 3+ to wound = 6, 2, 3, 6
3 Wounds on a 3+ save = 3, 3, 2 = 1 wound to The Masque!]
Assault Round 2
The Masque is charging in again!
Not good, she's dropping her wounded left hook low, and the Wolf Priest is using that opening, his rage fueling the potency of his strikes
Indeed, he catches one of her claws and repeatedly strikes her across the face with his Crozius.
Potency, repeated strikes with his Crozius? Are we doing euphamisms again? Kharne can do euphamisms too. Now he is still hitting her...IT'S LIKE SEX!
...
...
Kharne is like an unappreciated snowflake in the storm of life.
[The Masque opens up the brawl with 4 attacks = 2, 4, 4, 4
3 hits = 1, 2, 2
Wolf Priest responds with 3 attacks = 5, 1, 4 reroll = 6
3 hits = 1, 5, 1
Masque save = 1]
Oh-ho! Look at that! The Daemon goes down, drawn back into her dimension by large purple tentacles that I am sure will perform no action uon her that is remotely to be considered inappropriate!
It's moments like this I can figure out why you people thought Urien was just trying to "help" you versus the Tyranids.
Wolf Priest Wins!
A fascinating opening gambit, we saw one servant of the Imperium go down, and another advance to the next round.
Masque got a bum rap, not that it's a surprise that she was getting wonky with the Dice Gawd's Daughter.
Kharn also has to admit, he think Succubus lucked out-
I'm pretty sure that's called strategy, Kharn.
Strategy? Oh, yeah, that's what I call carrying around a black hole water pistol with me. Your codex is so cheap.
Now, now, I think it's time to enjoy the roar of the crowds and prepare for the upcoming battles. For very soon we'll get to see The Succubus back versus Inquisitor Coteaz, as well as a Haemonculous versus a Commisar - which should be a very exciting fight. Plus another Daemon, The Librarian, will try its luck versus the Necron Illuminor.
That's nothing! We also have the super classic Warboss vs. Space Marine Captain fight - now that will be a classic!
I quite agree, a great season is in front of us...assuming you don't kill each other first.
I wouldn't put much money on that one.
Yeah, I'm honestly trying to figure out which of you it would be funnier to kill first.
...ah...*heh* See you next time folks!