Lightweight Bracket
Preliminary Fights and Example Battles
Lightweight Battles and Pre-Fights

Greetings gentle beings!
I am Por'el Sa'cea Leo'lan Jhin or, for those of you who are not educated in our fine ways, I am Leo'lan Jhin, Water Caste Diplomat, and I-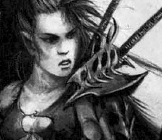 Should acknowledge your riveting and wonderful hostess.
Well, now, I believe the appropriate term is 'Co-Hostess'
Correct me if I'm wrong, but the term 'co' in your barbaric pseudo language tends to denote some sort of term of equality, doesn't it?
But of course! You see, in this culture the general back and forth nature of TV personalities is-
Hostess.
No, you see, as partners we-
Hostess.
I'm afraid you're missing the point.
Oh, I could provide you with...so many points, little man.
Clearly we should discuss this more during the commercial break, now, I do believe I was introducing the whole concept of this event?
I dunno, I wasn't actually paying any attention to you till I realized you weren't talking about me.
Ahem, yes, well, I'd like to introduce my co-... um, I mean, my fellow Host... Um, my representative of alternate cultural viewpoints - Lelith Hesperax! Give her a hand everyone.
You can call me Mistress of Blades, or 'your Highness' or, some other appropriate honorific within your culture.
Yes, well, you are mostly here as a simple advisor on the manner of your culture, though.
Yeah, let's stick with that cover story for a while longer.
Yes, well, maybe it is time I explained what it is we're doing here. You see, we came to understand that the humans were holding a grand sporting event-
Grand? ::giggles to herself.::
-yes, and they were intent on watching it. Well, we Tau are not as familiar with the idea of sporting events, as within the tau Empire all sportsmen are equally gifted within the glorious honors of our race-
I understand you do very well in most of the running events.
Why, thank you, it is nice that you noticed!
You guys get a lot of practice, I suppose.
Of course, daily.
...what I mean is, *especially* on the battlefield...practice.
You can't let a little thing like war get in the way of training.
Has your race even developed sarcasm yet? I forget.
In any case, it was agreed that we needed to present something very similar to this situation, and so we looked wide and far and were, thankfully, able to meet with a *very wonderful* delegation of the Dark Eldar who agreed to help educate us on the finer points of "Olympiads" as you humans call them. They informed us all it would need would be representatives of multiple cultures to engage in physicaly competitive engagements...they also assured us that it would require lots of guns and knives.
Especially knives.
So, we now present to you, the 1st Olympiad of Freedom and Honest Sportly Conduct, Light Heavyweight Division!
Oh, yeah...listen, Leo, about the name. We sort of...um, it couldn't quite all fit on the billboards is all.
We had to shorten the title?
Just a touch, you'll hardly notice.
Welcome to the Light Heavyweight
Dark Olympiad!
Um...'Dark' Olympiad?
Yeah, because we...um...host it in the Dark City of Commoragh, and the Dark Eldar came up with the core idea, so...
I guess that makes sense, there does seem to be a bit of a theme in that name though.
::whispering contentedly to herself:: Nothing for you to worry your tiny little brain about, I assure you, we'll be feasting on your pain soon enough.
What was that? Something about feasting on pain?
Oh, I said wel'' be feasting in refrain, we like...double meals...here...in the Dark City.
Oh...okay then. In any case, we'll be opening up the competition soon enough, and there will be a fine discussion of the rules, an explanation of you, the viewers, chance to vote to win *fabulous* prizes, and, of course, a releasing of the brackets.
This should be fun.
Most assuredly - I look forward to working with both you and the other...host of non-equal delineation to you for the entire contest.
Other host...what other host?
Well, your requests for all of these high end warriors, some of them needing to almost be snatched through time, obligated us to take some extreme measures to procure them all.
Snatched through time? Those were *examples* of warriors...what did you do?
Nothing bad, I assure you, it's just another co-host.

Where's the booze, where's the wenches! Let's get this party started, I want blood. BLOOD!
BLOOOOOOOOOOD!!!
By the Dark Muses....
-------------------------------------------------------
Coming up next;
The Rules!
The Prizes!
The Brackets!
All this, and more! Well, if by more we mean 'about what I said above' then yes, Yes!