Thought I'd start a project log for my army to track my progress, get some input/feedback and try and keep myself accountable and motivated!
I decided to go with the Kabal of the Black Blade which was destroyed by the Raven Guard in the Heraclad Massacre. The idea being that they weren't totally destroyed and have rebuilt or something along those lines.
I'm coming back to 40K from a long break, played Dark Eldar a little in 3rd Edition so I'm slightly nostalgic for the old models. Picked up some new bits and some older stuff off eBay and have started trying to intermingle them a bit.
I press molded some of the Kabalite Warrior bits and spruced up some old warrior models a little with some green stuff and sprue and plasticard bits:
I think when these are mixed in with the newer warrior models you won't really notice from across the table  
I also did a little work on a couple of old Scourges to mix in a squad with three of the new models.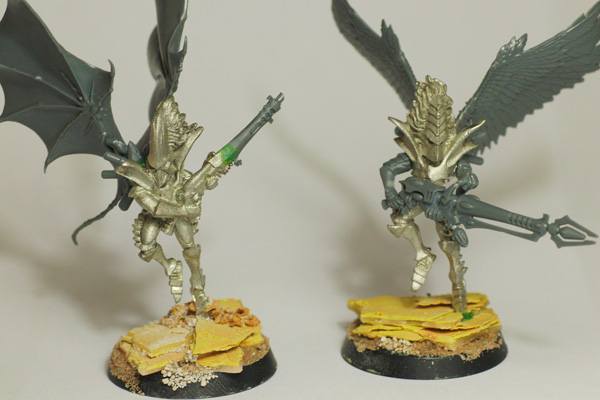 I got fairly far through painting a unit of 10 warriors with this scheme:
I decided I want to do more of the painting with an airbrush though so will be re-doing them. I'm probably going to stick with the scheme for the most part, might lose some of the light grey-green panels and just do them all turquoise.
I'm really not 100% sold on the bright yellow flesh bits either.
Any input would be appreciated!