Ignore the crappy paint jobs.  I'm still figuring out what to do with these...
Corsec Engineering site:  http://www.corseceng.com/omni-stand/
DragonForge Designs: http://www.dragonforge.com/
Bear in mind that every order I've placed with DragonForge takes between 2 and 3 months.  It's quality stuff, the guy is just always back logged.  He does update his page to tell you what month's orders he is working on though.  I've bought probably 200 bases from him over the past couple of years.
The last order I placed with Corsec took about a month.
This is the Tantalus.  It's on a Lost Empires 120mm x 90mm oval base.  The metal rod is the 3" version; I could have used a 2.5" but I thought that was pushing it with the size of the blades under the ship.  From corsec you would need the 3" rod plus 2 of the omni stand mounting pegs.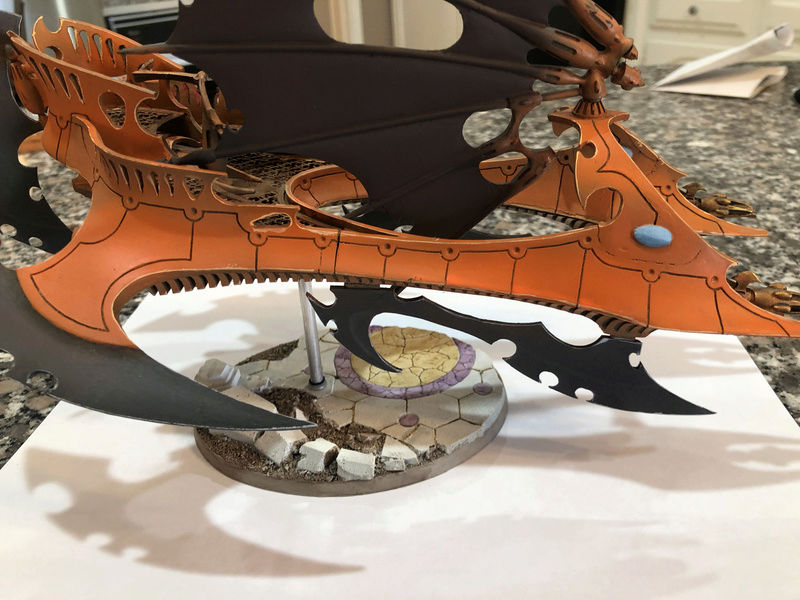 This picture shows a corsec acrylic base with a dicedock.  The acrylic he uses is clear.  THe reason it's brown is that I haven't removed the backing paper from it.  I like the dicedocks for some models but they are kind of a pain to get access to under others.  For example, I generally just put the dice in the pilots spot on the ravagers/reapers/raiders.  The dice shown are standard Chessex dice everyone uses.
Also note the threading at the top of the rod.  Each end of the rod has threads which makes it trivial to remove the base if you need to while at the same time providing an absolute secure way of keeping the model on the base.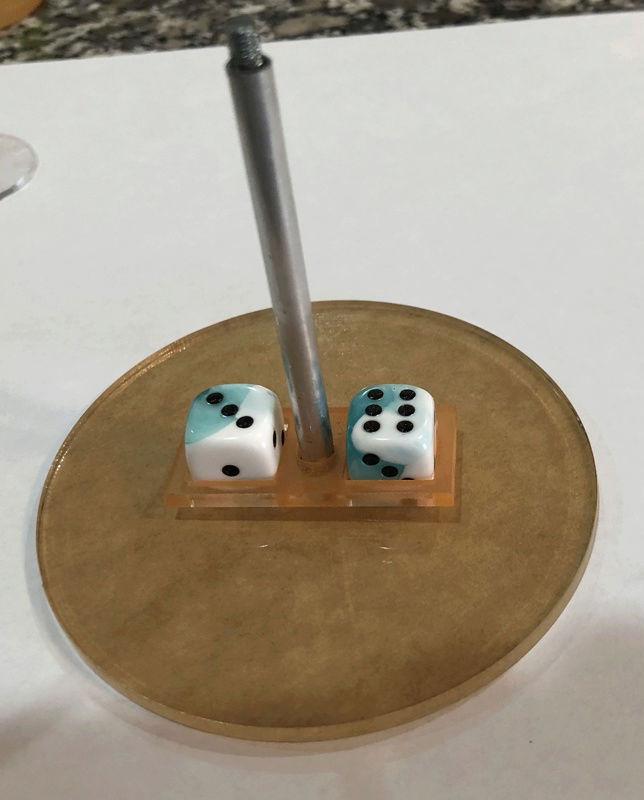 Corsec also has a dial+indicator that fits around the rods.  These are fine if you have a high contrast color under the base.  Although if you aren't careful it's pretty easy to move the dial off of the number.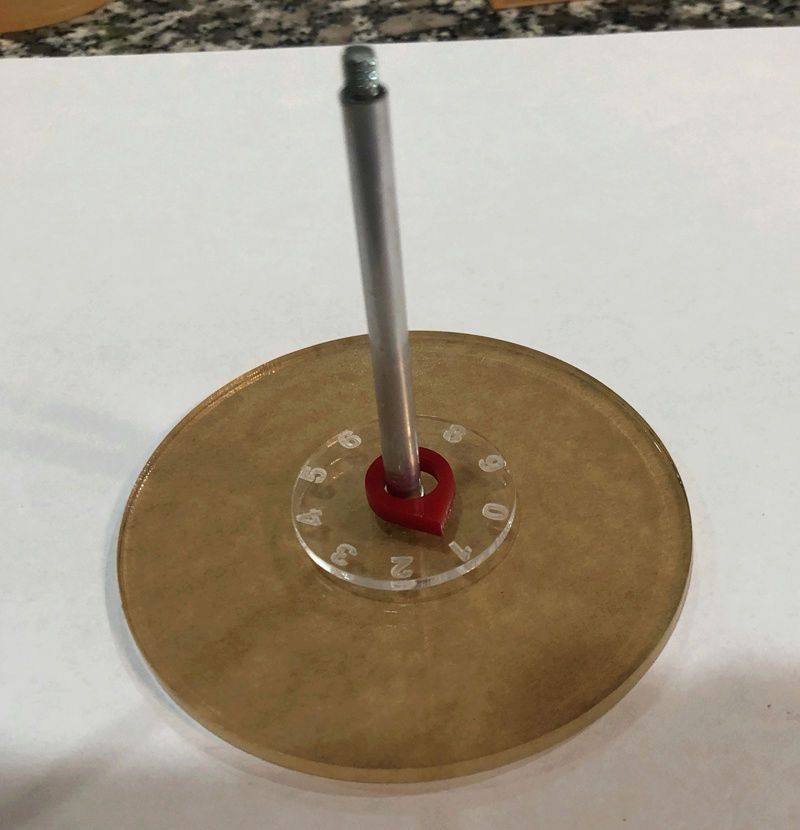 Dragon Forge Base with the 3" rod attached.  Note that I drilled out the base to embed the mounting peg into it.  I had to do the same thing on the Tantalus itself.  On the Tantalus I just drilled out the place where the supplied rod was supposed to go. Even though this isn't the center / balance point of the model the rod and base are more than strong enough to keep the model rock steady.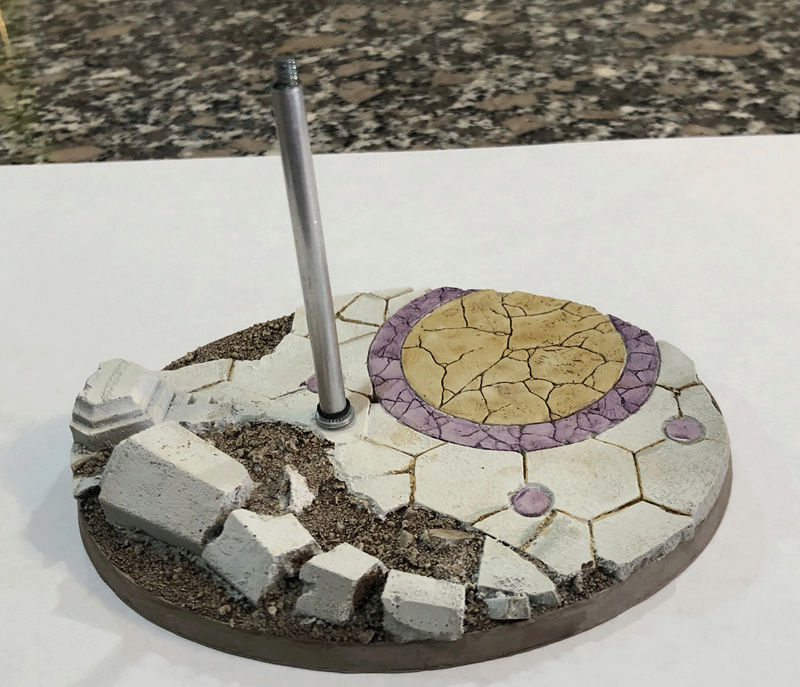 This final image shows the tantalus next to a reaper.  The reaper is on a 1.5" rod.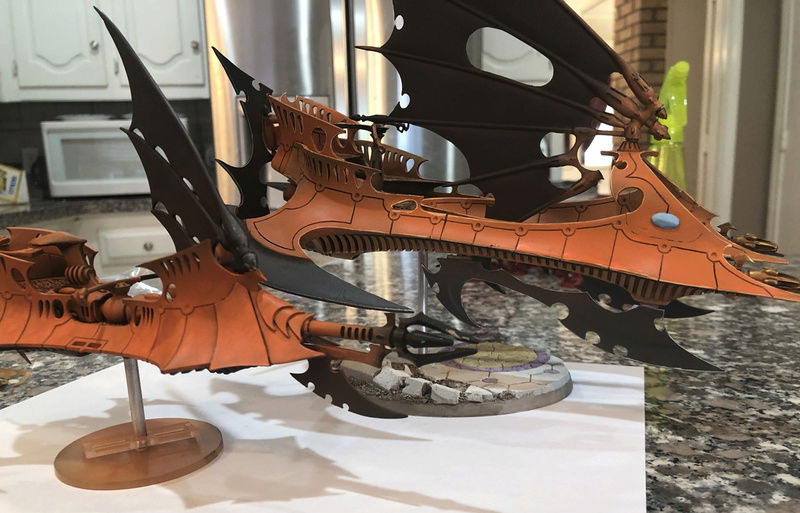 _________________
Kabal of the Green Hair