Two weekends ago I played in the Conquest tournament, which is the main tournament of the year in Christchurch NZ. This year there were 47 attendees in 40k, but mine was the only Drukhari entry.
My army was essentially Drukhari with some Craftworlds HQs represented by discontinued Drukhari options:
AELDARI BATTALION 2000 Points
Autarch Skyrunner with Laser Lance (WARLORD) - using Archon on Reaver Jetbike conversion
Farseer - using Kerudrakh "The Decapitator" conversion
Windriders with Shuriken Cannons
3 units of Kabalite Warriors with Blasters
5 units of Mandrakes
Voidraven
3 Ravagers - one using the the old Asdrubael Vect model
2 Venoms
2 Raiders
One of my thoughts leading into the tournament was to consider transporting some of the Mandrakes to reduce the vulnerability to small arms fire. That was part of the reason for taking an extra Raider than the Kabalite units could use. In the end, I didn't use that option at all, and once painted up, that could well turn into another Ravager.
GAME 1 - DEATH GUARD
No photo for this game, as I missed it in the beauty pageant. His list was Mortarian, 3 flying Daemon Princes, Sorceror, Typhus, 3 units of Plague Marines and 3 units of Poxwalkers.
This was my first time playing Death Guard since 3rd Edition, and back then it was a mass of hard to shift Plague Marines rather than a psychic powerhouse with a horde of zombies, so a different opponent to what I was used to.
The mission was a mix of the Cloak and Dagger Maelstrom Cards and a character assassination mission. I needed to kill Typhus and the warlord (one of the Daemon Princes), while he was after both my Archon and Decapitator. Deployment was opposite corners.
My strategy was to focus down the Plague Marines and try to deny a flank while gradually dealing with the larger models. The Plague Marines went down fairly quickly (all dead on turn 2), and I managed to avoid getting assaulted by most of the key stuff for most of the game.
The Daemon Princes look big enough to be targetable, but having to ignore them because there is a Poxwalker closer is fairly painful.
The game turned on a couple of key moments - first my 25 Mandrakes whiffed on killing the enemy Warlord after the Voidraven had taken four wounds off in overwatch. They then failed 20 saves and feel no pain rolls from 21 wounds. The second key moment was my opponent rolling 3 on D3 twice in the same turn for Maelstrom, turning a 6-1 lead into a 6-7 deficit.
Late in the game I tried for a fairly desperate Warlord on Warlord combat, hoping to tie the characters component, which also failed, leading to a loss on both the primary (maelstrom) and the secondary (characters). First game down with a 1 point loss compared to 24 for my opponent. The game was pretty close throughout, but was likely to turn against me if it had continued longer, even if the dice hadn't been so unkind, as the Poxwalkers would have reached me the next turn.
There wasn't a lot I could have done differently in the game. Perhaps the Mandrakes should have dropped to try to assassinate Typhus instead of the Daemon Prince, but I'm not sure if I could have positioned to make him the closest target.
GAME 2 - BLOOD ANGELS
Second game up against Blood Angels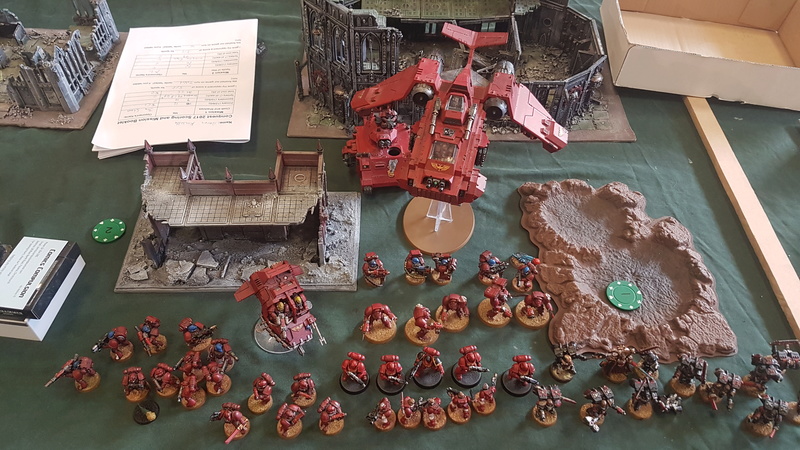 The Blood Angels list was a bit different to what I had seen from them before. There were two named HQs, one travelling with a 10 man Death Company and one in the Stormraven with a Heavy Flamer Devastator squad. There was a more conventional Dev Squad, Terminators, Predator (autocannon and heavy bolters), Land Speeder, Primaris Marines, Scouts and a Tactical Squad.
My quick assessment of his list was it didn't have enough anti-tank to deal with my list. He had a fair amount of deep strike and rapid deployment threat with the Stormraven, Death Company and Terminators.
This game was a maelstrom mission where you could claim your opponent's secure objective X cards, plus holding table quarters and was the only game where there was large line of sight blocking terrain, so I was able to hide my Ravagers from the Devastators and set up a deep strike castle with Kabalites outside their transports and then the empty transports making a ring around the outside of my table quarter deployment zone. The Voidraven was also on the outside, which ended up baiting in the target I was hoping for...
With the first turn he moved up the Stormraven, dropped in the Death Company in front of the Voidraven and the Terminators near some Kabalites. His shooting largely failed to do anything, although he had enough to kill a Venom for first blood. The Terminators made their charge, and didn't even kill a squad of 5 Kabalites(!) but the Death Company failed, so were in perfect position for a Void Mine.
My first turn essentially ended the game as a contest - the Voidraven killed most of the Death Company with the mine, the Ravagers downed the Stormraven, leaving the heavy flamers too far away to hope to kill anything, the rest of the Death Company, including the character and the Terminators were downed and I still had three units of Mandrakes in reserve.
The downside on this game, was my opponent was really lucky with Maelstrom, first turn he picked up have no enemy at the centre (deployment guaranteed that), defend the objective deep in his zone and kill an enemy in shooting. I was behind on Maelstrom the whole game, but ended up wiping him out turn three. The game was playing quite slowly and had I not completed the tabling on turn 3 I would have lost on Maelstrom because we were out of time.
Win 24-1 to reverse the first game.
GAME THREE - SPACE MARINES
Third game against a heavy mechanised Marine list
I quite like this list, it has three heavy tanks - a Spartan Assault Tank, Land Raider Redeemer and the Primaris Repulsor tank. A unit of Aggressors for a ridiculous amount of Bolter fire, Scouts and Tactical Marines to hold objectives and a Captain and two Lieutenants to buff the tanks.
This game was played on a table with lots of low ruins, but nothing high enough to protect a vehicle. I won the first turn roll off, but the initiative was seized, and my army was pretty much wrecked on the first turn.
The Spartan in particular really hurts. 8 Lascannons rerolling 1s to hit (Captain) and 1s to wound (Lieutenant) was enough to take out two Ravagers and the Repulsor got the third with the Scouts taking the final wound.
In the end we played two turns and I conceded after dropping enough Mandrakes to kill the Warlord for a single tertiary point. Another 1-24 loss, although this one felt as one sided as the score suggests.
Tactically this one felt like both armies had enough Alpha Strike to cripple the other and it came down to who got first turn.
GAME FOUR - ASTRA MILITARUM
Day two started with a game against Guard, who were back in force this year after hardly being seen in recent editions.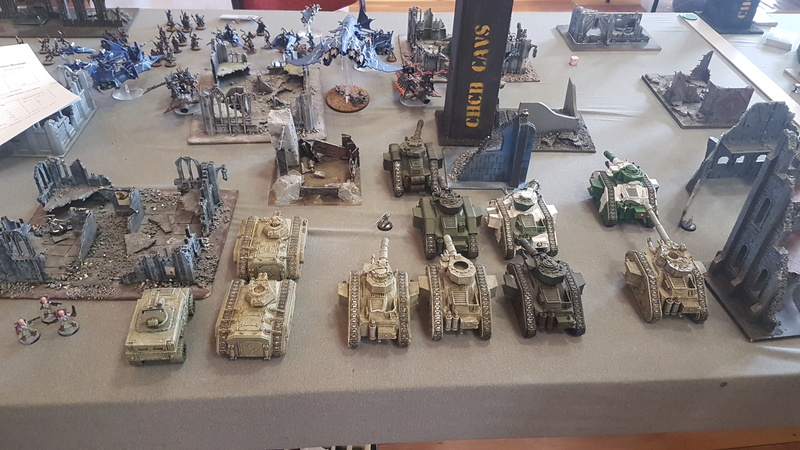 That's a lot of Leman Russ. Basically two Chimeras of Guardsmen and a Taurox with some Crusaders, plus lots of Battle Cannons.
This mission was The Relic plus Maelstrom Cards with a corner deployment.
The game went fairly well for me. Turn one mobility removed by killing all three transports and starting on the command tank. I took less damage in return than expected due to my opponent choosing to split fire against multiple vehicles rather than focus one down.
Turn two the Mandrakes arrived and I was able to charge one unit and consolidate into his tanks in a couple of places leaving almost all of his firepower tied up in melee with Mandrakes. I was able to get the relic out of line of sight, and controlled the board so completely that Maelstrom was never going to be in doubt.
In the end a comfortable 25-0 victory
GAME FIVE - RAVENGUARD
The final game for the tournament against a Ravenguard list.
This list has an interesting amount of deep strike assault power, with a unit of Terminators, two units of Veterans with Lightning Claws and Shrike to give them reroll charge ranges. That is backed up with a Stormhawk Interceptor, Vindicator and Marines, Devs and Scouts.
This game, much like the second was a case of building a deep strike castle, and staying there until all the deep strike threat was gone. The deployment was another corner deployment, which meant a wall of Kabalite Warriors (I refer to them as expendable minions) and empty transports was in place to prevent anything important getting assaulted.
I won the first turn roll off and didn't get seized, and managed to take out the Vindicator in the first turn and damage the flyer. One consequence of having first turn was the Voidraven had to move to the outside edge. My opponent landed a unit of Veterans in front of the Voidraven, but chose to hold back the Terminators, Shrike and the second Veterans. They made the charge, but didn't kill the Voidraven, and the rest of his army didn't achieve a great deal.
This was the second amazing Void Mine opportunity of the tournament, and I managed to kill the whole squad with the Void Mine (seven initially and one with a command re-roll). Ravagers deleted the flyer and Land Speeder and the rest of my army a few Marines, and I hadn't even needed to bring in the Mandrakes yet.
The Terminators came in next turn and got destroyed, and the remaining Veterans and Shrike the turn after for similar results. The deep strike castle was really effective and my superior ranged firepower was enough to easily win the game with another 24-1 result.
My opponent told me after the game that he didn't bring all the deep strike in at once because I still had all my Mandrakes to land and he suspected he would only kill a weak unit and then be out of range due to my mobility for the rest of the game. I think I could have dealt with them anyway, but it made the game a bit easier than it otherwise could have been had they all arrived at once.
---
Overall three wins and two losses and 12th overall of 47 players in the 40k competition. Guard were the top two placings, and I might have been the top index army (unsure of what a couple of the players ahead of me were playing, so could be wrong on that).
I found the Craftworlds HQs were much superior to the Drukhari ones - Doom plus Mandrakes is especially powerful. I would highly suggest that option while we are playing with the Index.
Setting up a deep strike castle was able to negate the deep strike assault units fairly easily. That style of play doesn't feel especially viable to me from the games I played. I recommend taking some chaff units you can sacrifice to deep strikers and smite heavy lists.
As always, there are some superb painters in the local scene, and the standard seems to improve every year. Here are a couple of photos of my favourite armies: