Since 8th edition is still coming, and I can't plan on lists for now, I'll start with a project log. I'm doing the Poisoned Tongue for all Kabal forces, and the Cult of Strife for all the Wyches. One day, I will have a combined Iyanden and Cult of Strife force to follow the novel
Valedor
, but for now, Lady Malys it is.
I did paint up a test squad of Kabalite Warriors - Kantor Blue, Drybrush of Alaitoc Blue, Drybrush of Chronus Blue, Shade with Drakenhof Nightshade - and the majority of a start collecting in the same paint scheme, but I'm starting to have doubts that this scheme is what I am looking for...
(Yes, the layering on that flap of flayed skin is bad and I should feel bad)
There are two options I am considering, right now I'm leaning toward the first one, shown below, which has a flatter look overall, but good nonetheless.
Secondly, I am thinking of doing it the 'new' way. (If the GW codex pictures are anything to go by) These guys are more 'traditional' looking and would have a really nice 'pop' on the tabletop. I'm sure I'd like it more in the end, but I don't feel like stripping 30 fragile, spiky models.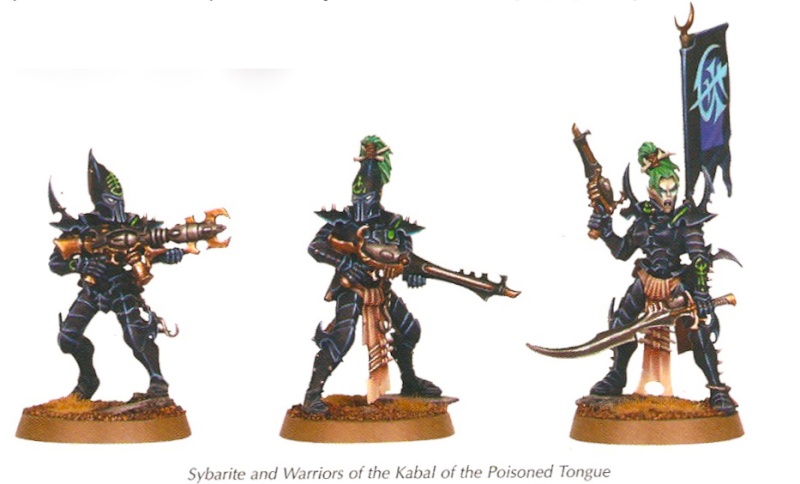 I also have 20 wyches for the Cult of Strife project, I took a big gamble on them being worth something in 8th edition... Nothing too special on these ladies, Incubi Darkness - Drybrush Kabalite Green, Drybrush Sybarite Green, wash in coleia greenshade. I also Drybrushed raised areas and edges of the wychsuits in grey, seen in the last pic. I am debating on whether or not to shade it down.
(Ignore the really bad looking skin on the guy in the back)
Any thoughts and CC would be appreciated, I'm torn on the paint scheme for the Kabalite forces.