Holiday time means lots of hobby time and lots of progress.  I got all those 15 players pretty much finished.  Unfortunately my superglue ran out so I need to wait for the replacement tube to arrive before I can put the pieces together and take some finished pictures.
In the mean time here's an interlude.  I scrambled to think of gifts for my D&D group and figured it would be neat to make up some custom minis of our characters.  Sadly the DM missed out but I'll do him one of the arch-villain once he makes his grand entrance!
Here we have:
Elizabeth the human bard,
Lucius the half-elf paladin and
Grit the genasi druid - anyone for goodberries?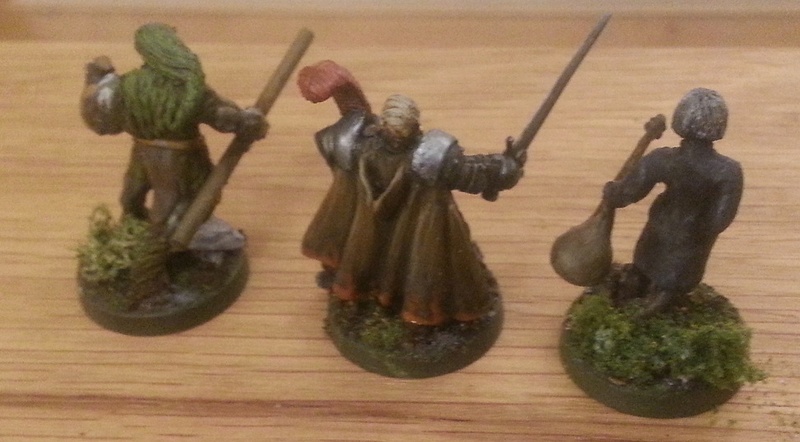 Lots of kitbashing and custom sculpting:
Grit is based on a beastman standard bearer.  The bag of goodberries and hair are greenstuff but he was quite a simple build.  I did some work on the face to make him a bit less mean and removed/repaired the chaos symbols.   I imagine an earth elemental would have kind of dusty skin so I used a lot of pigments to give his skin a dry/dusty look, which unfortunatly the camera didn't pick up at all.
Lucius is a half elf so I used a whole mix of parts.  The legs are beefed up DE warrior legs with some extra greenstuff to bulk up and de-pointy the plates.  The arms are from an Empire knight and the torso and cape are from some High Elf model.  I like the mix of human and elf parts, it makes him look quite slender even in bulky armour.  You'll probably recognise the stock DE head.  The character hates his elf heritage so I gave him a hood and floppy hair style to cover up his pointy ears.
I didn't really have a good basis for Elizabeth so in the end I bit the bullet and went for a near total custom sculpt.  This is her character art so I tried to replicate that in the mini:
http://www.punkrave.ch/7654-thickbox_default/velvet-gothic-coat.jpg
The lute started out as a wood elf bow which I straighted and bulked out.  The base mini is actually a heavily cut down daemonette.  The coat and boots are custom greenstuff sculpts built over that core frame.  The face needed some work to make it a bit more human and I added the hair.  I didn't have enough time to finish the coat.  It should have a slit back and belt strap but oh well.
It was all a bit of a rush at the end.  Our games night was this evening.  I had run out of glue and even ended up having to work on models where the greenstuff wasn't totally dry just to get it all done in time.  The pictures also turned out a bit rushed - they were taken in the living room as I was cramming feet into boots so apologies for the dodgy lighting and focus!
If the superglue turns up tomorrow I'll post pics of the main event - else they'll go up soon after Christmas. Thanks for checking out the plog, hope you enjoyed!