Hi! We're joined again by Karlos the Kabalite and Gary the Guardian. It's been a long time guys, what have you been up to?
GARY: Wow! Well, we craftworld eldar were visited by a magical cat who gave us an enchanted codex, granting us super-powers, and now we use those powers for Truth, Justice, and Getting Whatever We Want!
KARLOS: We dark eldar were bitten by a radioactive codex a few months earlier, but it didn't give us super-powers. Basically, it was just radioactive. So now we just run an Uber service for Gary's people. Raider, Venom, or Webway Portal, give us a call and we're there.
ME: Okay! I've been looking for miniatures to bring you guys to visual life, but it hasn't been easy. If you want sexy females, you're spoiled for choice, but have you tried finding miniatures for slim, sexy, glam-looking male elves from the future with bishy hair? Sheesh.
KARLOS: Isn't that just typical.
GARY: It's like the miniatures industry hasn't even heard of Ziggy Stardust.
ME: I know, right? Anyway, I found this service called Hero Forge that lets you design and print out your own miniatures, so I thought, why not give it a try? So I did, and well... this is kind of what I had in mind for you guys: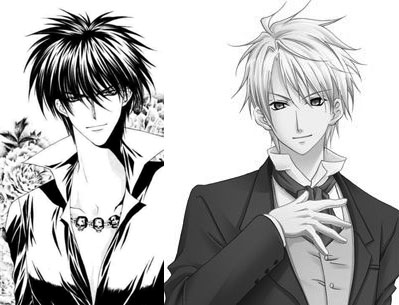 ... and this is what we got: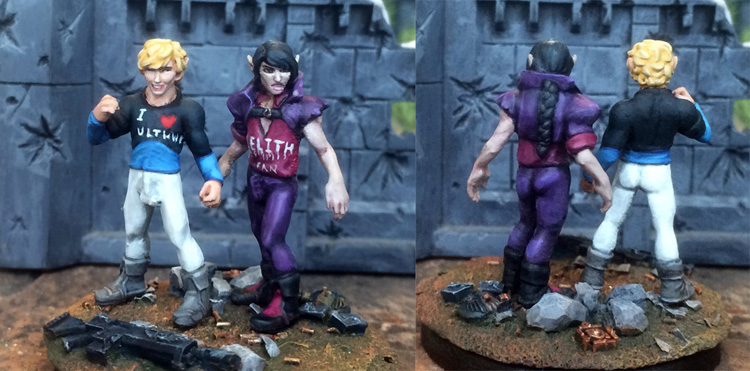 I'm.. disappointed. Are you guys disappointed?
GARY: Me? Oh, no. Not at all! No, no, no. Well, yes, but... mixed feelings. Karlos?
KARLOS: I am a dark eldar, I'm always disappointed.
GARY: If I had to describe us in one word, it would be
'coarse'
. Coarse material, coarse texture, coarse detail...
KARLOS: Almost no detail.
GARY: It depends on what your expectations are.
KARLOS: True, but we each cost the same as a GW single miniature and... just look at us.
GARY: Let's start at the beginning. You go to their website (https://www.heroforge.com/) and you get a character design screen that is actually brilliant and a lot of fun! You can choose body types, fantasy races, poses, clothes, expressions, faces, and so on, seeing your miniature come to life on the screen.
KARLOS: There are limitations, though. Obviously there's a limited pool of elements to choose from, you can't make a miniature that holds a weapon, or anything else, in both hands, and the hand-held items tend to be cartoonishly oversized and, well... coarse. We're back to that word.
GARY: That is all true, but they're adding new elements to the pool all the time, and holding something in both hands might be something that they can eventually program in. The cool thing is that with these few simple and, yes, blocky elements you can design all kinds of characters. A robot gunslinger, a santa cat-girl, a volleyball beach wizard, or a vampire tagger punk, for example.
KARLOS: That is very cool indeed, but even in these 3D images you can already see that the detail on the miniature isn't going to be that great. Look at the fur trim on the santa suit, for example, or the beard on the wizard.
GARY: Or the mini-skirt. It's too plain. Elements such as clothes and items have to be plain, because these designs are for printing on a 3D printer, and I guess they still can't handle very complex or delicate designs. I think they look great IF you consider the limitations.
ME: Moving on, when you guys arrived you turned out to be made of transparent plastic. The material is surprisingly hard and brittle, with about zero capacity for bending, so be careful, yeah?
KARLOS: We are available in two plastic materials, 'Strong Plastic' and 'Ultra-Detail Plastic'. You chose 'ultra-detail' which, according to their Website, is 'ideal for users who want a high level of fidelity to their 3D design', 'Less durable that our Strong Plastic, but smoother in texture and with sharper details. It is more suitable for painting...'
ME: I hate to say it, but it's absolutely terrible. I began by giving you a soapy wash...
KARLOS: Hurr, hurr.
ME: Yeah, anyway, there were areas on you that had a grainy texture. I tried to sand it off as best I could, but I couldn't get rid of it. Then I sprayed you with white primer, and you didn't take it well.
KARLOS: No, it didn't adhere well, and it exacerbated the graininess.
ME: As I began to paint you I tried to lay down a solid basecoat, but the paint just wouldn't stick. It came out splotchy. So I applied a second coat, and a third, and so on, until the colour was at least close to solid.
KARLOS: And all those coats of paint are a problem, because some of the details (such as seams) are so thin that they're practically drawn on, and they disappear after even one coat.
ME: Like painting on teflon. Also, the material is porous, so washes don't work, and forget about dry-brushing -- dry-brushing what? There are just no details to latch onto. I did the best I could, but it was a lot of effort for a very mediocre result. A better painter than me would have done a better job, but then -- for them -- it would still be above average effort for below average results.
GARY: I was somewhat more fortunate, in that at least the grainy texture wasn't on my face, and you didn't spray me with primer.
ME: No, it turns out that you get a slightly better result with brushed-on Citadel Imperial Primer, of all things.
GARY: Still not your best work, though.
KARLOS: If you're a miniatures painter, or you just like well-painted, good-looking miniatures with a high standard, I'd say stay away.
GARY: But many people don't. Many are slap-dash painters, and for them a Citadel miniature might as well be a Hero Forge miniature, or Reaper Bones.
ME: Reaper Bones are easier to paint, at least, and they have some lovely sculpts.
KARLOS: And they cost, like, two dollars each.
GARY: True, but they don't always make the exact miniature you have in mind. That will appeal to role-players, for example, as long as they're not too picky about quality.
ME: So, in conclusion?
GARY: It's an absolutely brilliant idea, and someday it will produce the miniature of your dreams.
KARLOS: But the technology still has a long, long way to go. <Beep! Beep!> Excuse me... (pause) I have to go, sorry. Farseer Irwin wants a Webway Portal for his wraithguard. Hello? Henry? Henry the Haemonculus? Get off your lazy arse, you freak, we've got a job...
GARY: Ooh, a battle? Can I come with?
KARLOS: I thought you had a full calendar, with your super-powers and all.
GARY: Get real, Karlos. No one ever uses guardians.