Coven of Lambent Hunger, Kabal of the Dying Sun, Cult of Marrow Excised
Dark Eldar CAD
HQ -
Succubus, Glaive, Helm of Spite [Warlord]
Troops -
5 Kabalites, Blaster, Venom w/SC
5 Kabalites, Blaster, Venom w/SC
5 Kabalites, Blaster, Raider w/DL
5 Kabalites, Blaster, Raider w/DL
5 Kabalites, Blaster, Raider w/DL
Fast -
Razorwing w/DL
6 Reavers, 2 CC, 2 Blasters
5 Scourges, 4 HWB
Heavy -
Ravager w/3 DL
Talos, TL-HWB
Formation
Grotesquerie -
Urien Rakarth
4 Grots, Aberration, Scissorhand, Raider w/NS
4 Grots, 2 LG, Aberration, Scissorhand, Raider w/NS
Thokt Dynasty
Necron CAD
HQ -
Overlord, Warscythe, Mindshackle Scarabs, Phylactery, Phase Shifter, Sempiternal Weave, Catacomb Command Barge [Warlord]
Destroyer Lord, Sempiternal Weave, Mindshackle Scarabs
Troops -
10 Warriors, Ghost Ark
10 Warriors, Ghost Ark
10 Immortals, Night Scythe
10 Immortals, Night Scythe
Fast -
6 Canoptek Wraiths, Whips
Heavy -
Annihilation Barge
Annihilation Barge
Annihilation Barge
Mission: Maelstrom, Deadlock
Deployment: Dawn of War
Night Fight: No
Warlord Trait: DE - Ancient Evil (Warlord and friendlies within 12" cause Fear)
NEC - Legendary Fighter (1 VP/Character killed in challenge)
Combat Drugs: Splintermind (+1 LD)
Latest Experiments: Hyperstimm Glands (Fleet)
First Deployment: DE
First Turn: DE
Initial Thoughts: I learned exactly two things during set up banter - that my opponent had several years more experience playing 40K than I did, but that he had little to no experience playing against Dark Eldar.
I felt my list was reasonably strong even though I had (purposely, to really test it out) invested too many points into the Grotesquerie. His list I was unfamiliar with, this being only my second game against Necrons.
I should add we're playing Maelstrom with the (IMHO necessary) house rule that if you draw an impossible objective you immediately discard and draw again.
Deployment: Objectives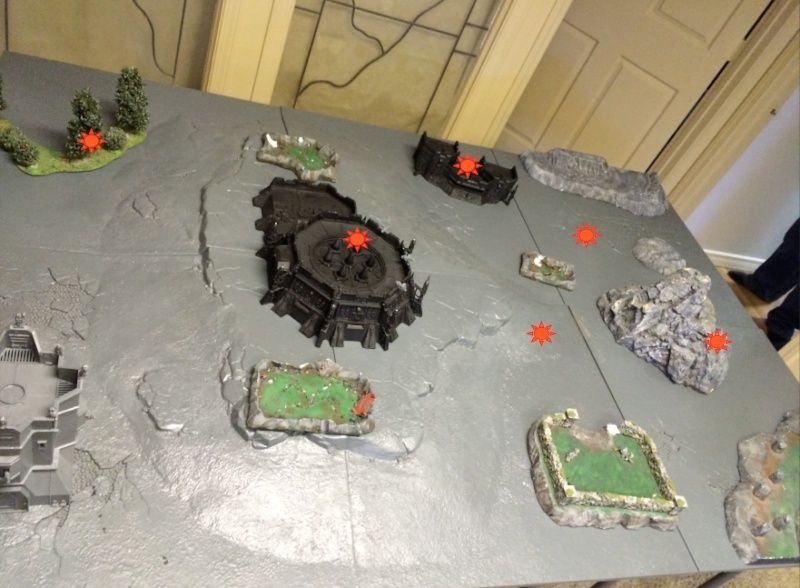 Urien's Raider is the lowest vertical one, the darker one. The Succubus is in the one next to it.
I deployed pretty aggressively, counting on him not seizing in order to do as much damage first turn as possible. Talos was in front to do its job as a fire magnet, Grot squads nearby to deal with the inevitable Wraith charge. Razorwing in reserve along with the Scourges (because I forgot to deploy them. D'oh!)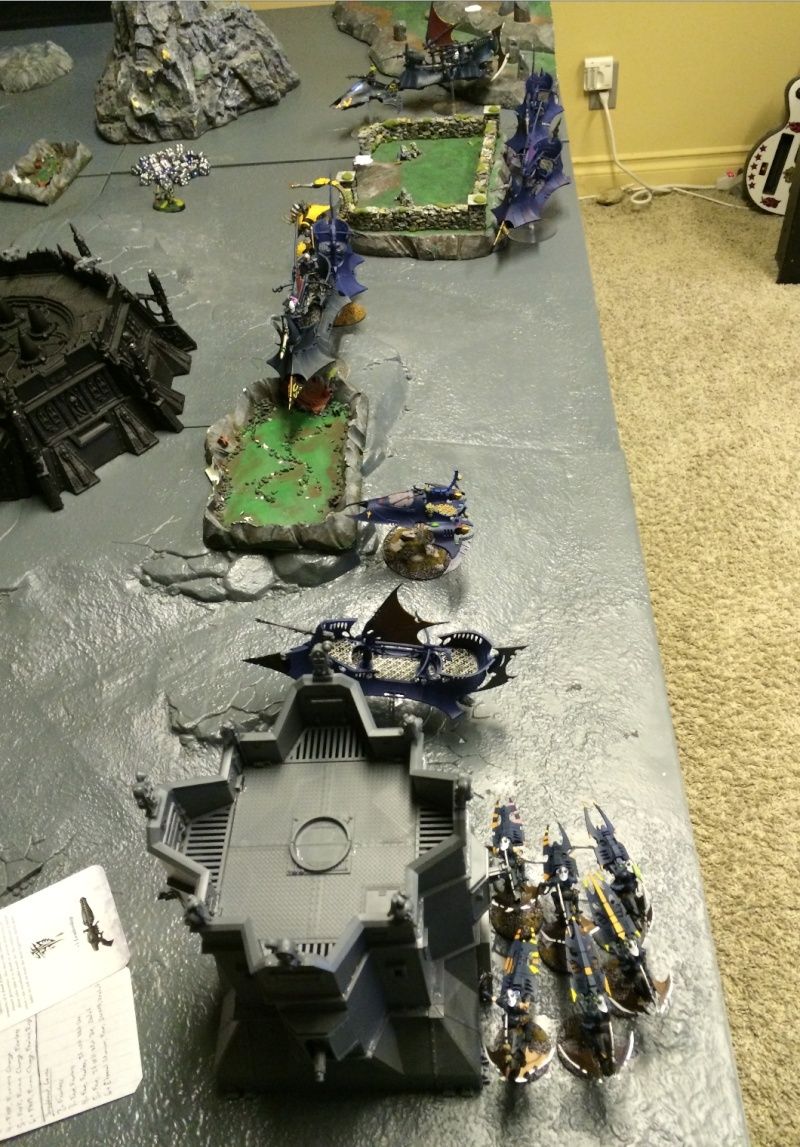 He deploys the Wraiths & Destroyer Lord up on his line (surprise!) with everything else around them, aside from one Anni Barge way off in the forest. Immortals in their Space Pastries lurking in reserve.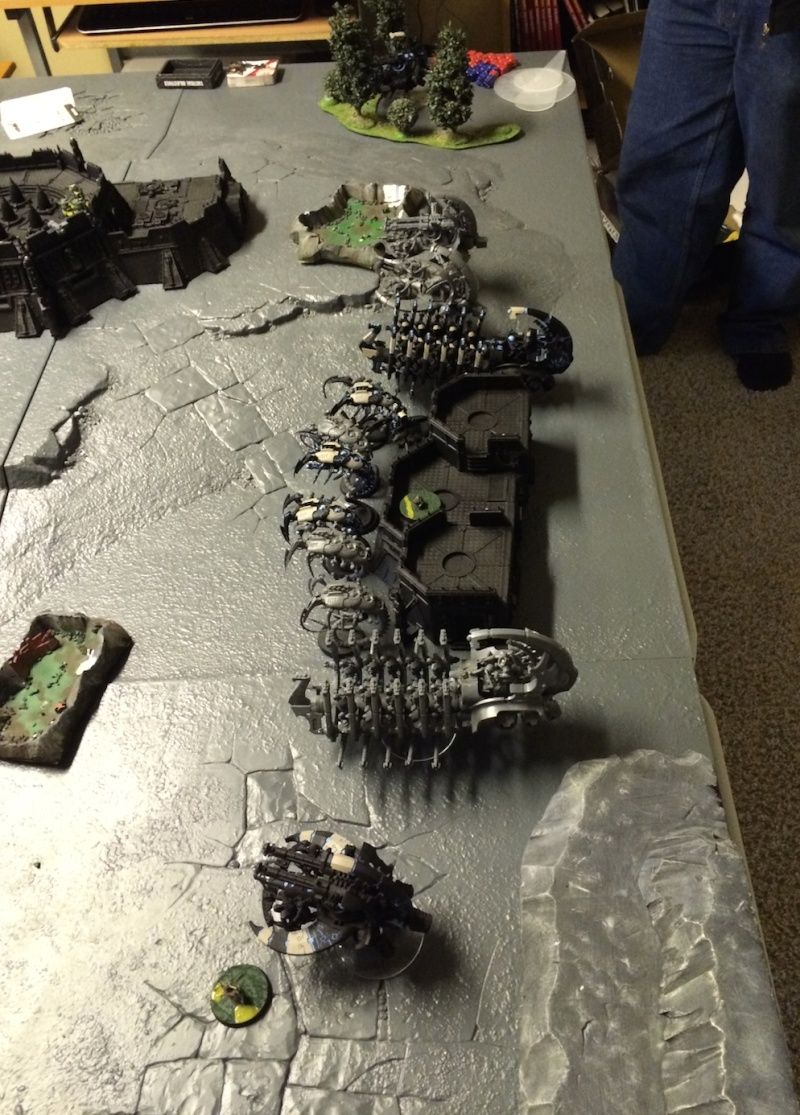 Necrons fail to Seize!
DE Turn 1 -
I draw a sweet suite of objective cards. Between that and my alpha strike opportunity I feel like I'm in for a good 1st turn!
Everything advances. Venom on my Right unloads warriors onto an objective I drew twice, Talos claims the central objective. My Ravager and Raider dark lances and zero in on the Annihilation Barge near his Catacomb Command Warlord resulting in 2 HP and a weapon destroyed. Talos' Haywire Blaster fries the electronics for first blood! Everything with "splinter" in its name opens up on the Wraiths. I manage to stick 3 wounds, killing one of them.
Reavers boost up to his Anni Barge in the forest, while the Grots stay in their Raiders to lure his Wraiths closer.
I score FB, Obj 6 twice, Obj 4, and the Trophy Hunter objective for 1. 5 VP!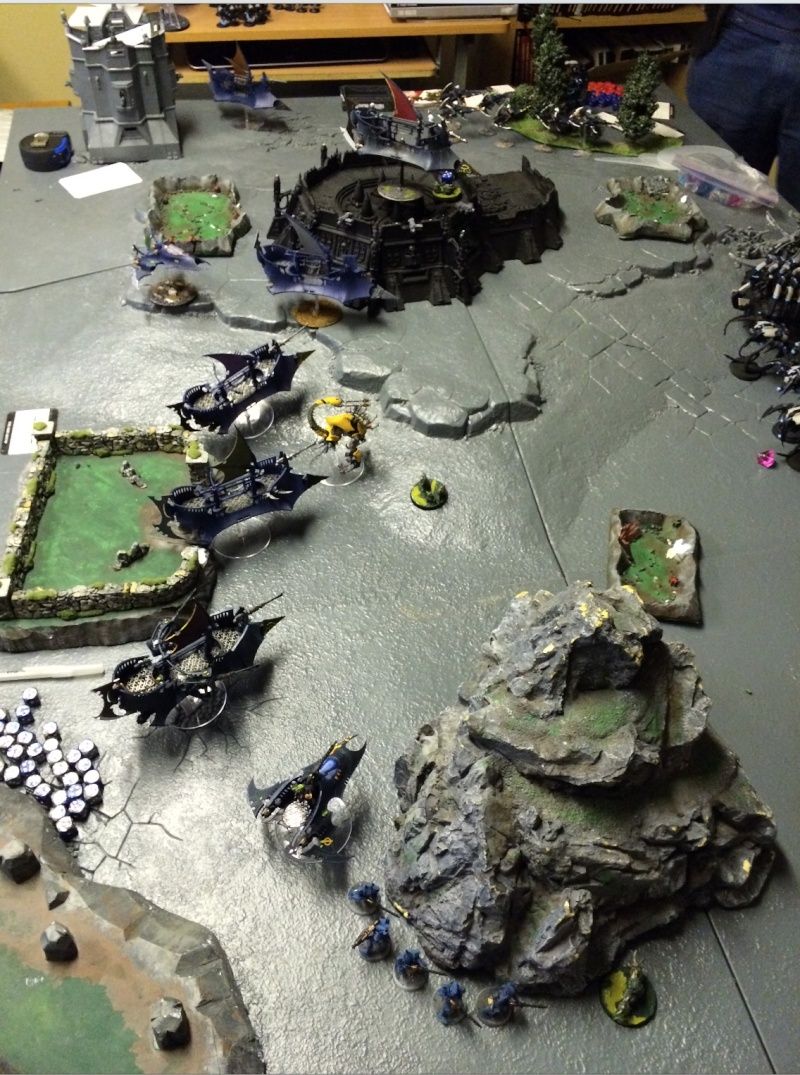 NEC Turn 1 -
Binary trumpets blaring, the Necrons sound the charge! Everything moves up to get LoS and Range on his preferred targets.
Anni Barge in the forest opens up on the Reavers. Jink! With twin-link he lands 5 hits, 8 wounds. 4 dead Jetbikes
 Clever placement saves the 2 CC/Blaster bikes. Bloody Tesla guns... This is a theme. Only
once
in the entire game do his Tesla weapons NOT land more hits than he has shots.
Catacomb Command Barge and a Ghost Ark/Warrior broadside bring Urien's Raider crashing into the ruins. They emergency exit into the ruins nearest the Wraiths. Annihilation Barge and the other Ghost Ark destroy a Kabalite Raider, while the Wraiths and Destroyer Lord phase right up into the Talos' grill and tear it into meat!
Excellent turn for the Necrons combat-wise. That really hurt.
He scores Obj 2, Obj 3. 2 VP.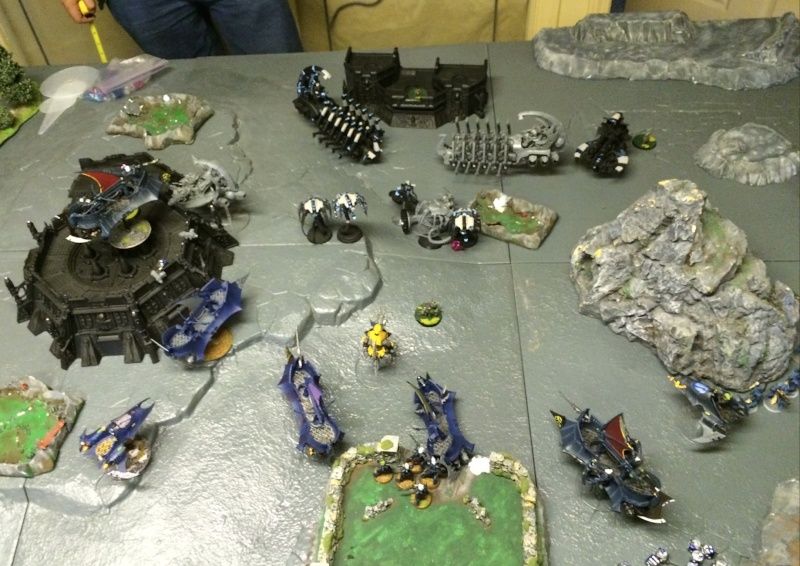 DE: 5   NEC: 2
DE Turn 2 -
No reserves arrive.
Reavers jump behind the Anni Barge. Snap-fired blasters do nothing. One rear armour, one side, but the two Caltrops HOW only land 1 glance before using Hit & Run.
(I made a mistake here. I should have used H&R to stay behind the Barge, forcing it to present rear armour to the Raider if it wanted to finish the bikes.)
Nearby Raider with Kabalite Blaster do nothing to it.
The entirety of the rest of my army moves for LOS on the Wraiths, both Grot squads walking out to get the charge. Dark light and splinter fire pour in, along with Urien's Casket of Flensing landing 11 hits! Liquifier guns stick 2 wounds. They're reduced to 2 Wraiths and the Lord before I charge in. Both Grotesque units make it into CC and seriously overkill the squad. Ravager fires uselessly into the Annihilation Barge on this side.
I score Obj 4 and Blood & Guts. 2 VP.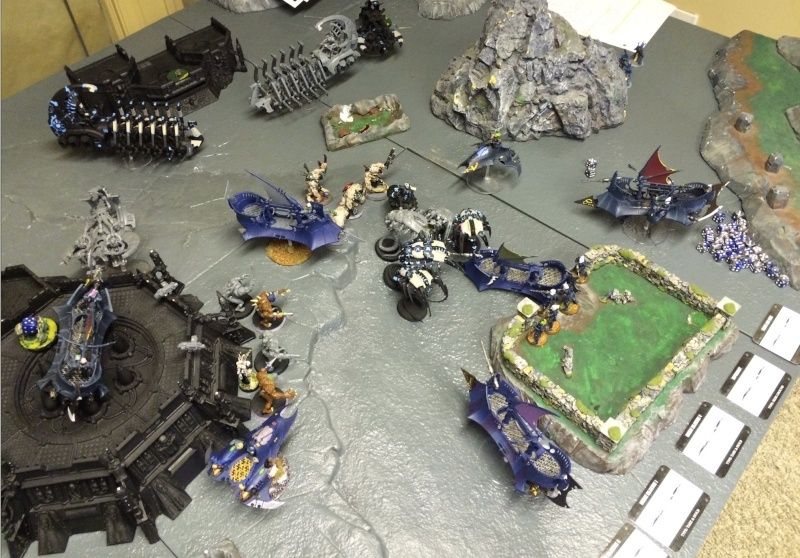 NEC Turn 2 -
Enter one Night Scythe, stage left. He dumps his Immortals onto the objective my Kabalites had been holding and with one crackling burst of lightning purges them from existence.
Annihilation Barge disintegrates the Reavers. CCB jumps over to where the Wraith unit was, pointed straight at Urien. Sweep attack shatters the Succubus' empty Raider. Ghost Arks shuffle for Objectives and angle of attack on my units. One puts a few wounds on Urien's Grots, the other fails to damage a Venom. Annihilation Barge on my right finishes off 2 of Urien's Grots.
Urien tanks the CCB's shooting on his Clone Field/4+FNP no trouble. The Overlord charges, challenges Urien, and MSS. Urien passes LD, lands an ID Ichor Gauntlet wound, but the Overlord passes his 2+ on a 2. Overlord can't land a wound through Urien's beefy saves. They're locked.
He scores Obj 6 twice, and Obj 3. 3 VP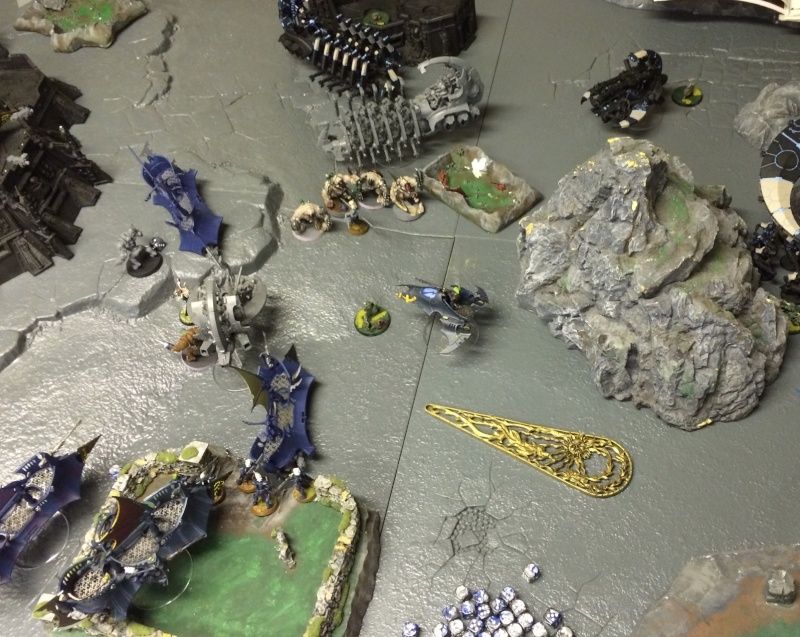 DE: 7   NEC: 5
DE Turn 3 -
Razorwing and Scourges arrive right on time. Scourges DS near the missile silo ruin in his DZ in line of both the Ghost Arks and the troublesome Anni Barge on my left. Razorwing swooshes right up in front of his Night Scythe so it won't be able to target it next turn. 4 missiles later and 9 of the 10 Immortals have been blasted apart.
(I think he may have forgotten to roll ressurection protocols here).
Venom had moved to draw a bead on the Immortals, but with no targets I boosted it to contest the objective. Raider on the left moves up and again Dark Lance and Blaster do nothing to the Anni Barge. Scourges finish it off with Haywire despite jink. Other Venom unloads Kabalite Warriors onto the Silo before boosting onto the nearby objective. Ravager and Raider lances fire on the Annihilation Barge, again barely scratching the paint. (He voluntarily hasn't been jinking basically anything all game either.) Everything else uselessly shoots the CCB.
Once again the Grotesquerie goes to work. The Succubus crashes her full-strength unit into the CCB thanks to Fleet, a unit of Kabalites charging in to help. Furious Charge/IWND thanks to Urien's Father of Pain! Close combat ensues. Kabalites put 1 wound on the Overlord! Grotesquerie and Succubus do 1 more wound. Urien fails LD from MSS, takes a wound from the Overlord, does 1 wound to his unit
(errata states should have done the wound to himself since he was in a challenge)
which I promptly regenerate with IWND.
I score a measly 1 VP for Obj 5.
NEC 3 -
His second Night Scythe rolls up right behind his first one as it flies over to stare my Ravager in the face. Immortals stay embarked. Night Scythe 2 fires at my jinking Razorwing but only sticks 1 glance. The surviving Immortal tries and fails to damage the Venom. Ghost Arks shuffle around, one onto the middle objective and one staying on the back objective.
Night Scythe 1 opens up on my Ravager and deals
9
glances
 I roll my Jink... and only 1 glance gets through!!! Nearby Ghost Ark then gets 4 glances through Jink. So much for plan A. The one on the back objective whiffs in the general direction of my Venom on the silo. Since the Ravager died, he pivoted his remaining Annihilation Barge to fire upon my Razorwing.
I wasn't sure this was allowed but he said it was all good, so I was happy to go with his experience!
Of course the Anni Barge had 4 hits, 1 pen that immobilized my Razorwing, which promptly crashed and burned.
Combat. Right off the hop the Succubus, Urien (passed MSS), and rending attacks from the Aberration enthusiastically rip apart the CCB! They celebrate and consolidate pre-emptively as the everliving Necron Overlord activates reanimation protocols and re-forms from the glistening metal wreckage.
He scores Obj 4, Obj 1, Scour the Skies, and Overwhelming Firepower. 4 VP!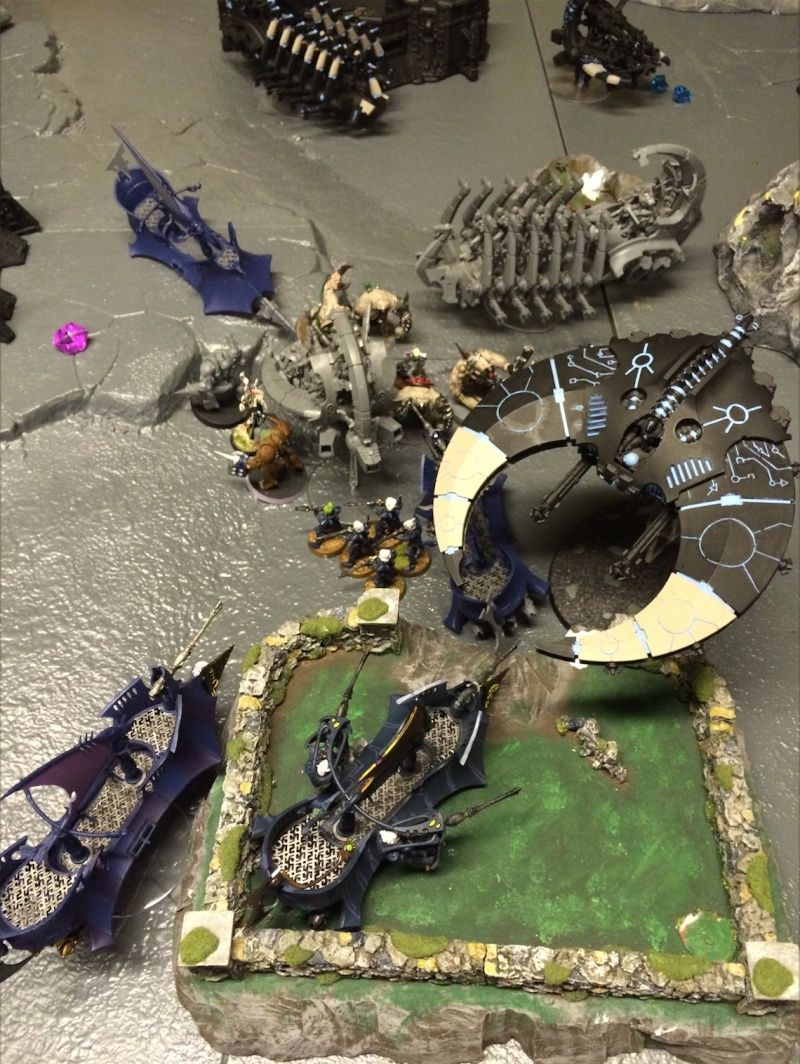 DE: 8   NEC: 9
DE Turn 4 -
Ouch. That was a whammy of a turn for the Necrons! 4 VP, Overlord reviving, Razorwing down. I'm going to have to claw my way back up somehow.
Good news is I drew the Behind Enemy Lines card so that was basically a guaranteed D3 VP!
Scourges and the Kabbie Raider on my top left jump into linebreaker and put 3 HP on the nearest Necron Ghost Ark. It takes the rest of my dark matter to put it down; the final blaster shot pens and explodes it! My Venom boosts over to contest the objective it had been holding and grab linebreaker. The other Venom jumps for linebreaker while pivoting to eradicate the remaining Immortal.
The entire Grotesquerie with their Kabalite supporters charges back into the CCB with a dark vengeance. It goes down without a fight! Finally, Slay the Warlord is mine! Succubus Grots consolidate towards the exposed Warriors. Urien's unit move up to the nearby Ghost Ark, Kabalites back into terrain.
Then the bloody stinking Overlord reconstitutes himself AGAIN.
I swear I can hear the gods laughing.
Behind Enemy Lines gets me 2VP.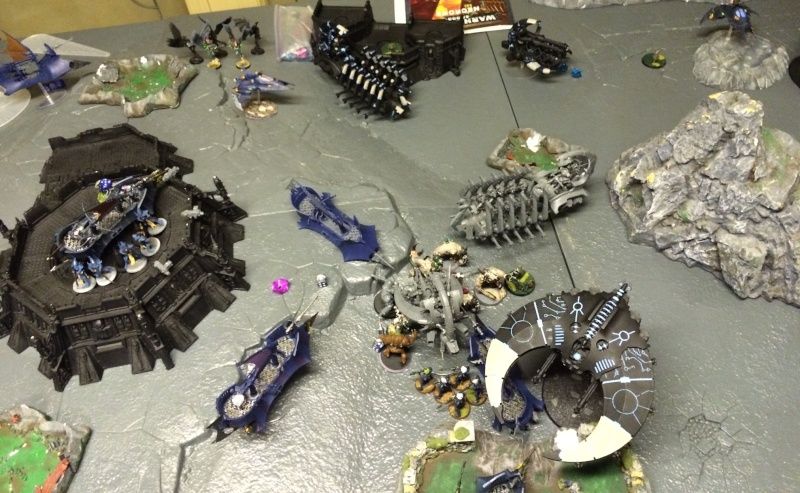 NEC Turn 4 -
Overlord makes a Sweep attack on the nearby Kabalite Raider and cuts it perfectly in half. Yeesh.
He then shoots at and charges into the Kabalites on the silo, killing 3 while the two survivors run off the ruin.
Both Space Pastries swoosh over toward my Scourges and lighthing the remaining Raider to itty bitty pieces. Kabbies are pinned. Warriors shoot the Venom on his objective and break it. Anni Barge shoots the Venom on my far right and lands 12 hits thanks to Tesla! It goes down screaming.
Ghost Ark and passengers shoot at Urien's. He tanks everything on his 4++/4+FNP again!
He scored Obj 4, No Prisoners, and 3 VP for Supremacy. Another lethal Necron turn!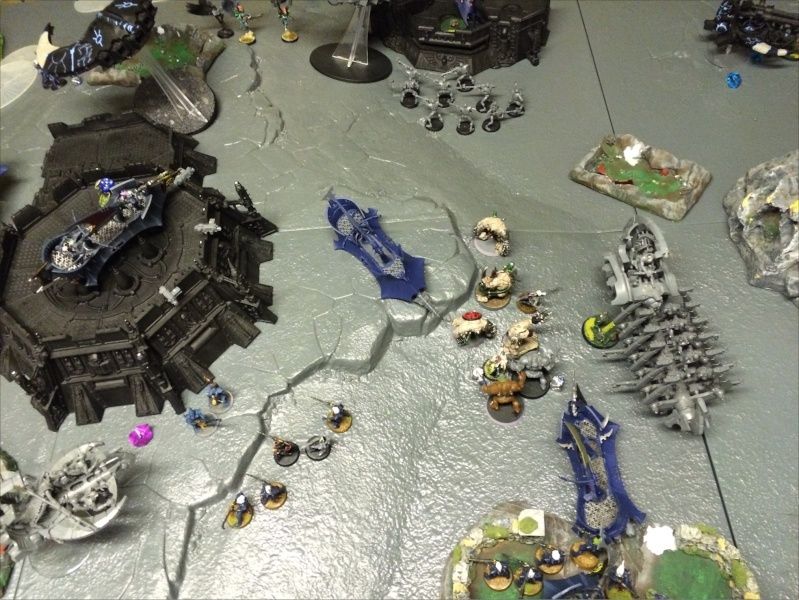 DE: 10   NEC: 14
DE Turn 5 -
Gotta get some points, this is the end game!
Kabalites rally 'cause they're now Fearless. But I move them in the wrong direction, keeping them in front of the flyers. The other unit running from his CCB roll an epic Run and clamber up the silo onto an objective.
Scourges jump into the ruins to try for the objective, losing one idiot as he flies into a wall and breaks all his bones. All I need to do is draw off his Warriors. Thanks to Fleet the Succubus' unit make their 8" charge. She kills 6 warriors herself (Urien's Father of Pain bubble gave Rage) then the Grots clean up and consolidate back toward the other Ghost Ark. Scourges have the objective! Scourges put 1 HP on the last Ghost Ark which Urien's unit promptly hits with a liquifier gun, the No
Dark Eldar
Escape rule benefiting us for a change. 4 dead Necron Warriors later they charge and inflict 1 more glance. Not enough to finish it which is a problem since that Ark is on an objective I know he needs but I can't contest due to Obj Sec. The other Kabbie units all fire blasters into his CCB (still at 1 wound/HP) and of course do nothing.
I score Obj 1, and Ascendency for 3VP. We're tied!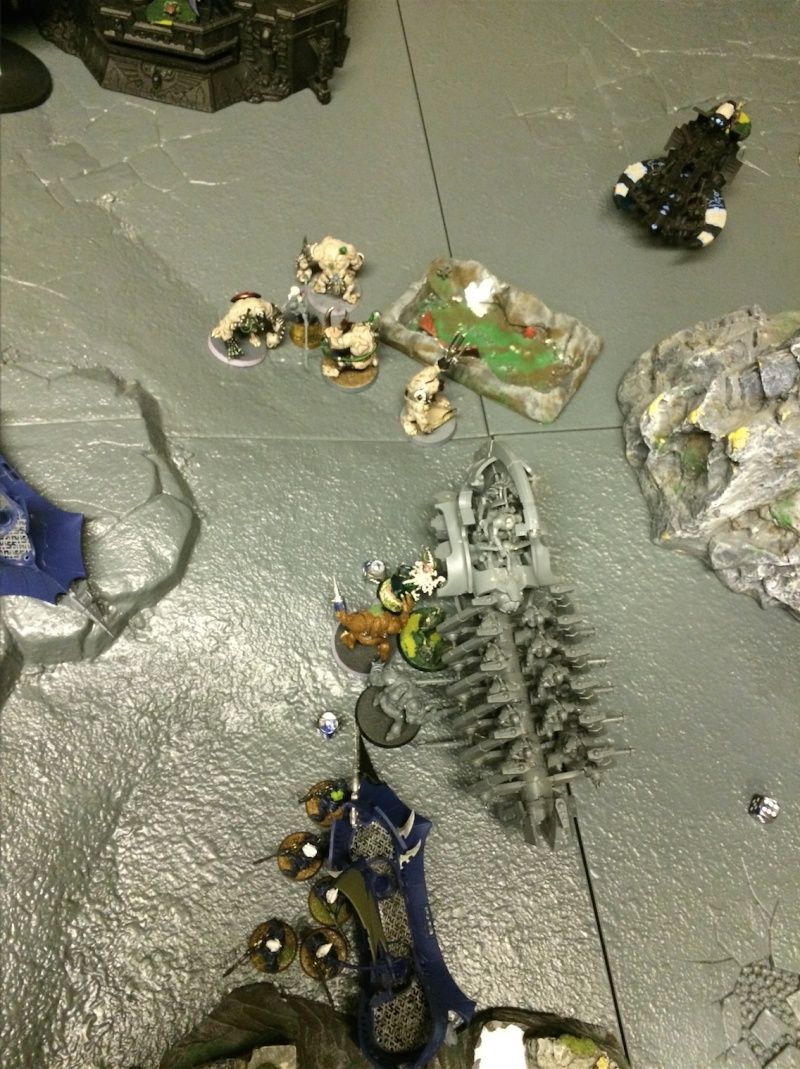 NEC Turn 5 -
Potentially the last turn of the match he knows he has to accomplish something big lest I get the opportunity to sneak ahead.
Night Scythe 1 flies off the board, Night Scythe 2 pivots and flies to centre board where it disgorges it's Immortal cargo.
Ghost Ark pivots to fire at both Grot units but only lands 1 or two wounds as Urien tanks everything again! CCB sweeps two kabbies in one unit blasts another unit of Kabbies to death with help from the Scythe. Immortals fire at the Succubus' Squad, but my saves are on fire and I pass most of the FNP. Annihilation Barge also fires into the Succubus Grots and manages to kill 1 Grot.
He scores Obj 4 with the Ghost Ark I can't contest. 1 VP and this puts him ahead! Uh oh.
DE: 14   NEC: 15
We roll for continuation... it's a 1! Game over!
I get Linebreaker, he gets Linebreaker, bringing the final score to  
DE: 15   NEC: 16
A Necron Win!
(edited from the original "draw", didn't realize he got line breaker too. My buddy pointed it out via the pictures.)
Fantastic opponent and a super tight match! He did a great job of punishing every move I made with his Necrons. I could tell as we went along that he his greater experience was going to be a factor. Good and bad luck was had by all, the dice gods were mostly fair this match. I can definitely learn a lot from my opponent. He's a better general than me but I managed to stay in the game thanks to, I think, a few smart decisions on my part, luck, and maybe him not being entirely certain what to kill when.
'Cause when he wanted a unit dead, it died. There was no question there.
Bad mojo on my part when his CCB Overlord reincarnated not once, but TWICE. If he'd stayed dead I would have been up 2VP and won the match!
We both rather enjoyed that match and are looking forward to playing each other again soon. I believe he also fields Sisters and Daemons. Potential right there!
I think he was under the impression Urien was my warlord for a little while, what with attacking him with the CCB and all. I didn't realize this until later in the game. I didn't do anything to hide the Succubus being my warlord so some kind of confusion must have reigned for a moment, but that could have changed the way the game turned out.
Also I went and looked up the rules for vehicles pivoting during the shooting phase, aka his Anni Barge taking out my Razorwing T3 - now we know for suresies they can't. After pointing that out to my opponent he apologized profusely but it's all good. It was an honest mistake so no foul! My Razorwing continuing to kick around could have significantly altered the end game just as him targeting my Succubus unit.
Who knows what would have happened? We'll have to have a rematch! Next time...
Overall I like my list though I'm for sure moving points out of the Grotesquerie. The MSU Kabalite/Blaster thing would have been awesome if the Kabalites could actually successfully HIT anything all game long. I do feel like this list could use some extra anti-armour, though I don't know if that is simply due to facing Necron Boats or an actual need.
The durability and kill-power of the Grotesquerie is kind of ridiculous. By the end of the game I still had I think 5/8 left, all of them at or near full wounds thanks to IWND.
And Urien! Only taken the 1 wound all game long, which he hadn't managed to heal. But he took an absurd amount of punishment in the face and just didn't care!
Looking forward to hearing your thoughts on the game, my list and tactics, and anything else you may want to say. Criticism helps me learn!
Thanks for taking the time to read, and hope you have a good one!