Reporting live from the other side of the tracks!
Today I got into a match AGAINST the new DE using my Chaos Space Marines, specifically the Crimson Slaughter supplement. My own personal war band, Sons of the Last Breath, styled in dark purple with green highlights. I recently picked up Typhus' model so decided to run zombies, and that led to me deciding to run as many infantry models as I could fit in comfortably. Probably not what you'd call a competitive list but it was a heck of a lot of fun to play! And I figured many armies would have trouble with this many power-armoured bodies.
I didn't know I'd be up against DE but this was an excellent opportunity to learn more about the new DE from a different perspective. Plus I'd been wanting to be on this side of this matchup!
This was an opponent I'd only had the pleasure of playing against once before at a doubles 1000pt tournament a long while back. Him and his partner (~40 flesh hounds daemons and blob IG/AM) just squeezed a win past my buddy and I (Imp. Fists and Kabalite DE) so I was eager for a rematch.
Sons of the Last Breath
CSM - Crimson Slaughter CAD
HQ -
Typhus (Nurgle's Rot, Gift of Contagion, Plague Wind)
Troops -
10 CSM, 2 Plasma Guns, Melta Bomb, Rhino
10 CSM, 2 Meltaguns, Melta Bomb, Rhino
10 CSM, 2 Flamers, Melta Bomb, Rhino
7 Plague Marines, 2 Plasma Guns, Powerfist, Rhino
30 Zombies
30 Zombies
Elite -
7 Noise Marines, 5 Sonic Blasters, Blastmaster
Heavy -
Nurgle Obliterator
Nurgle Obliterator
Nurgle Obliterator
Fortification -
Aegis Defense Line, Quad-Gun
Dark Eldar Scavenger Hunters
Dark Eldar CAD
HQ -
Archon, WWP, Blaster
Troops -
5 Kabalites, Blaster, Venom w/SC
10 Kabalites, Blaster, Raider w/DL
10 Kabalites, Blaster, Raider w/DL
Elites -
5 Trueborn, 4 Blasters, Raider w/DL (Archon goes here)
Fast -
5 Scourges, 4 HWB
5 Scourges
Venom w/SC
Heavy -
Cronos, Spirit Probe
Ravager w/3 DL
Formation
Corpsethief Claw -
5 Talos, 5 TL-HWB, 5 Ichor Injectors
Mission: Purge the Alien
Deployment: Hammer & Anvil
Night Fight: No
Warlord Trait: DE - Master of Ambush (didn't use, surprisingly)
CSM - Lord of Terror (Warlord has Fear)
Combat Drugs: None, because all Archons are in a Vect-mandated 12 step rehab program
First Deployment: CSM
First Turn: CSM
Initial thoughts: I felt confident nobody would be expecting a list like mine and that they'd have trouble dealing with it. Until I saw my opponent continue to pull Talos out of his case like ribbons from an evil sadistic magician's sleeve. I knew I didn't have an answer for those!
Also before we get down to it: I completely forgot my entire army causes Fear in CC, and that I had paid for melta bombs on my CSM Champions.
He forgot about the Freakish Spectacle rule. So that puts us about even.
Deployment: Each 2'x2' section of the 6'x4' board had a decently-sized ruin in it, you could get some BLOS angles with the mix of one and two story buildings. A couple pieces of tank wreckage in our DZs counted as battlefield debris. Decent sized killing field in the middle. Quite a nice setup all in all!
-I deployed agressively. Both blobs of Zombies mushed up against the edge of my DZ, one centre with Typhus and one centre-right. All my Marines in their Rhinos; Plague and Plasma Rhinos between the Zombie units, Flamer Rhino on my right board edge, Melta Rhino on my left. My three Oblits sat on top of ruins with nice LOS to his side. Noise Marines are manning the Quad-Gun just behind my Plasma/Plague Rhinos, with the Aegis Line in a mushy circle around them to prevent DS trickery.
-He puts his Corpsethief Claw front and centre, scouting them up their 6". Cronos is behind Debris within 6" for their 4+FNP. One Raider behind BLOS ruin, one using Talos for cover. Venoms and Ravager behind BLOS ruin on my left. Shardcarbine Scourge hide opposite my Zombies in a ruin, Haywire Scourges behind BLOS on my right near my Flamer unit. Blasterborn in reserve.
He failed to seize.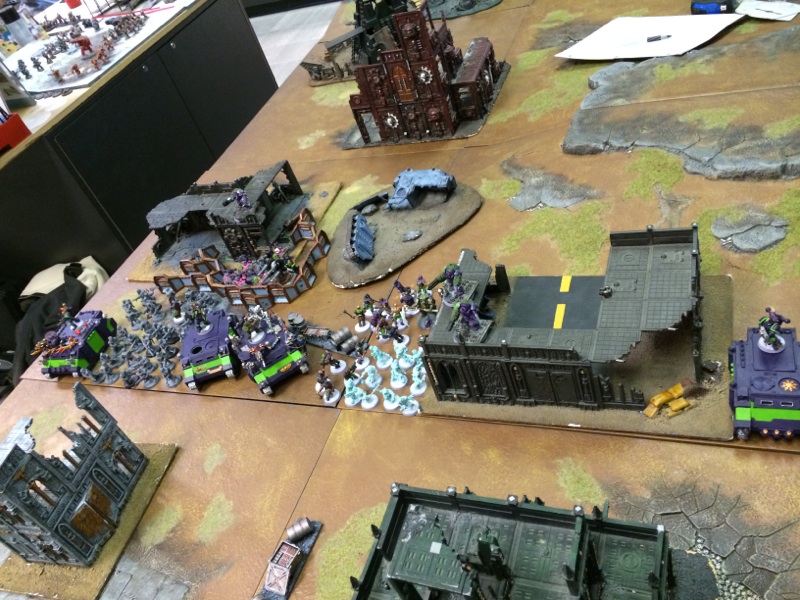 CSM Turn 1 -
Melta Rhino on my left flat-outs behind a ruin to try get around and behind his Venoms/Ravager. Flamer Rhino on the right flat-outs to get close to his Scourge and Kabbie Gunboats. Plague and Plasma Rhinos move up combat speed toward the Talos. Zombies do the Thriller dance as the centre blob moves up towards the Talosand the right blob swings behind the Plasma Rhino to catch up with their buddies.
Typhus casts Gift of Contagion on the Talos, giving them -1A and shrouded. Argh.
Quad-gun, blastmaster, Oblit lascannons and Rhino combi-bolters all go into his Raider hiding near the Talos. He jinks, I score! Wrecked for First Blood. Kabbies disembark on my right nearer my Flamer Rhino. Plasma CSM fire out of the top hatch at Talos 'cause I lost my mind. Land 2 wounds, of course nothing beats his 4+FNP.
2 VP for me.
DE Turn 1 -
Kabbie Venom and Shardcarbine Scourge hop in front of the Talos as they... retreat? The other Venom mounts a ruin to the left of the Talos. Kabbie Gunboat on my right sneaks around the ruins to get a line on my Flamer Rhino, the blaster and DL putting 2 HP of damage on it. Ravager moves to get a line on my Melta Rhino. Haywire Scourge jump the ruin, eyeing up my mighty Rhinos.
Kabbies from the wrecked Raider, Shardcarbine Scourges, and Venoms fire into my Typhus Zombie unit. Combined fire kills about half the squad. Talos and Scourges have to work together to wreck my Plague Rhino. Ravager blows the snot out of my Melta Rhino but this allows the Marines to disembark closer to the Ravager for payback.
2 VP for him
CSM: 2   DE: 2
CSM Turn 2 -
Flamer Rhino moves hungrily towards the Kabalites without a ride, turning 9 of them into screaming melted husks! Survivor runs for the hills. Plasma Rhino moves up combat speed. Plasma toting Traitor Marines disembark using the Rhino to screen them from the Talos. They open fire on the Haywire Scourge and with the help of the Plague Marines hiding behind their Rhino, blast 3 of them who then fall back. Melta Marines move up behind the ruin and explode the jinking Ravager. Boom! 2 Oblits using Assault Cannons, the Quad Gun and the blastmaster wreck the unmanned Venom in the ruins. Other Oblit wastes a plasma-cannon at the Cronos.
Zombies slog forward, Typhus AGAIN giving the Talos -1A and Shrouded. Whose team is he on???
2 VP for me.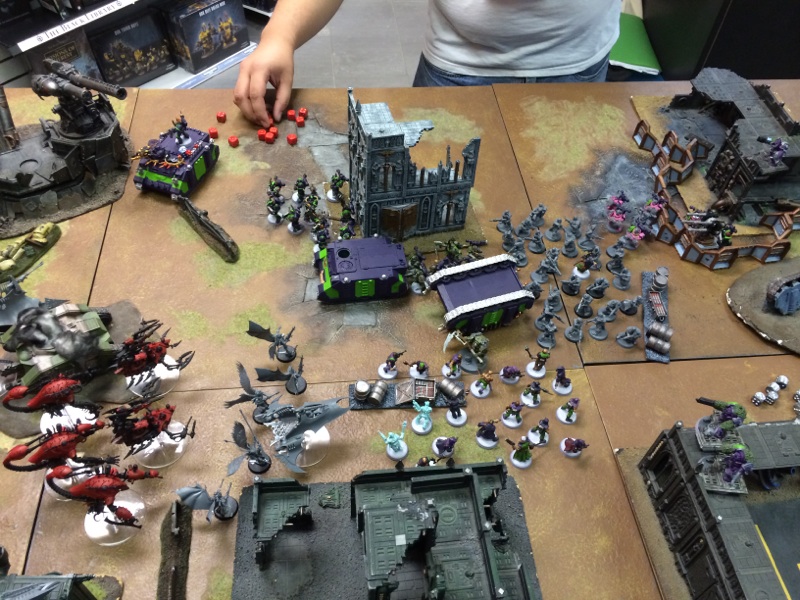 DE Turn 2 -
Trueborn stay in Reserve. Haywire Scourges fail to rally and fly off the board. Lone Kabalite fails to rally and falls back. Shardcarbine Scourges bubblewrap the Kabbie Venom, in front of the Talos, and all advance towards the Typhus Zombies.
Kabbie Gunboat on my right moves to get LOS on my Flamer Rhino again but fails to do any damage. Talos HWB fry the electronics on my Plague Rhino earning him another kill. Venom and Shardcarbines pour more dakka at the Typhus Zombies and kill only 3.
1 VP for him, 1 VP for me.
CSM: 5   DE: 3
CSM Turn 3 -
I've decided the Cronos needs to die. Sadly, my Obliterators disagree with me.
Quad-gun and Noise Marines get some sonic goodness all over the Kabbie Venom which vibrates to pieces from süch a Metal overdose. Plague Marines fire at the Talos from behind their bunker made of busted Rhinos. Of course they stick zero wounds through FNP. Flamer Rhino moves up and tries to burninate the Kabbie Gunboat shooting at it, killing 3 Kabalites with the "No Dark Eldar Escape" rule. Plasma Marines fire into the Raider but he jinks successfully, only taking 1HP. Zombies move up. Typhus joins the 2nd unit of Zombies behind the first since I'm trying to keep him away from the Talos. He casts Plague Wind on the Talos but no wounds stick. Yeesh. Rhino combi-bolter offs the surviving lone Kabalite.
The depleted Zombie unit multiple-assaults Shardcarbine Scourges and Kabbies from the wrecked Venom. He loses 1 Kabbie and 1 Scourge, only killing 1 Zombie. We roll... and the I3 Zombies sweep the enemy units! I consolidate closer to the Talos as a speed bump.
4 VP for me.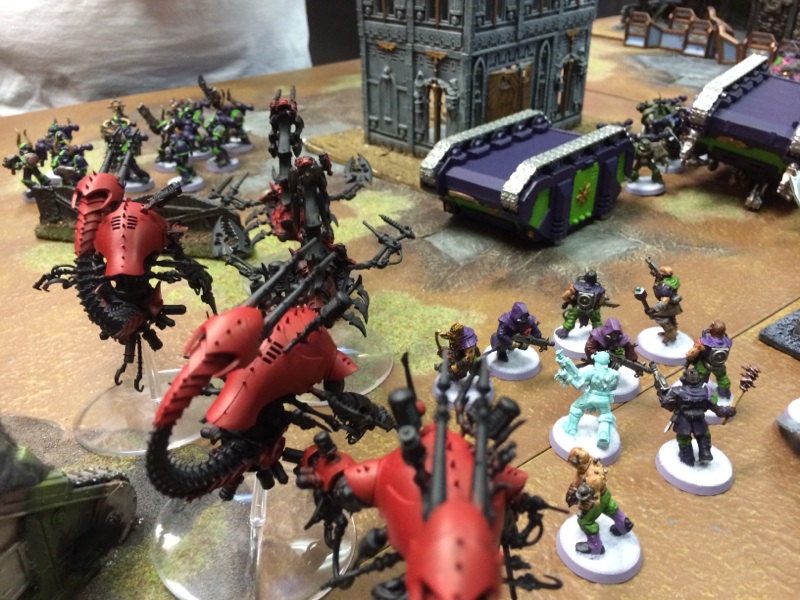 DE Turn 3 -
Trueborn & Archon are waiting in reserves to be fashionably late.
Talos eagerly take the bait and vivisect all the Zombies no problem. Corpsethief Claw's "Let the Harvest Begin" rule gives him an extra VP! Worst!
Cronos charges into the Flamer Rhino, easily survives wall of death overwatch, and whiffs all his attacks. Kabalite Gunboat turbo-boosts into ruins behind the Melta CSM, getting out of LOS of them 'cause they'd been creeping around a building towards it.
2 VP for the corpse collectors.
CSM: 9   DE: 5
CSM Turn 4 -
I was feeling really good about the score of this match before he reminded me of double VP for Talos kills. Typhus and the Zombies back away from the Talos. 'Cause they're fearless. Mostly 'cause Typhus ain't dumb. Force weapon or no, 20 S7 AP2 attacks with ID on 6s wasn't going to leave much room for negotiations. Typhus drops Plague Wind and nails a Talos for 1 wound! Melta Marines back up to get LOS on Gunboat again, but do no damage. Plague Marines squeak over to get LOS on the Cronos and Plasma does a wound, with the other plasma gunner blowing himself sky-high. Quad-gun, blastmaster and sonic blasters, and plasma-cannon Oblits put 2 more wounds on the Talos unit, finally earning me my first MC kill! Only 5 more MCs to go... Flamer CSM disembark into nearby ruins and shoot the Cronos to no effect. Flamer Rhino backs up away from Cronos, between Plasma Marines and Talos. Plasma CSM brandish pistols and charge the Cronos. No damage done to either side.
0 VP scored.
DE Turn 4 -
Trueborn arrive! They drop in their Raider behind the ruins my Aegis line is cuddled up to, out of LOS of my Quad-Gun. They disembark into the ruins (Archon hides in his ride) and the 4 blasters punch big enough holes into his torso that my Obliterator can't regenerate his metal flesh. That's a confirmed kill ladies and germs! Kabalite Gunboat on the other side opens up on another Oblit but does no lasting damage, failing to hit or wound with the Blaster and DL. Talos unit multiple-assaults my Flamer Rhino and the Plasma CSM in CC with the Cronos. Rhino is wrecked hard. The CSM put a wound on the Cronos then are killed before being swept into their own special sample bottles tucked neatly under the Talos' carapace. Talos consolidate towards the Flamer CSM in ruins, Cronos consolidates away from those very same traitors.
4 VP scored!!!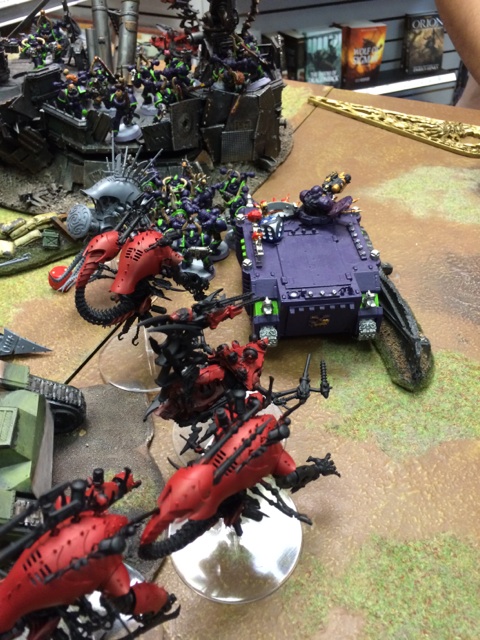 CSM: 9   DE: 9
CSM Turn 5 -
My two remaining Obliterators form bulky assault cannons from their mutable flesh and with the help of the Quad-Gun and Noise Marines tear the jinking Kabalite Gunboat asunder. Typhus kills 1 Blasterborn with Plague Wind. Plague Marines don't land any kills through his 3+ ruins cover because he mistakenly decided to Go to Ground, both of us forgetting that Fearless from PFP kicks in on game turn 5 not player turn 5. Oh well. Flamer CSM try finish off the last wound on the Cronos with pistols, to no avail. Stupid T7 3+ with 4+ FNP! (So that's what that feels like on the receiving end lol.) Could have landed 6 hits with flamers on the VERY nearby Talos, but decided to try for the extra VP instead. Kabalites aren't pinned and are in ruins.
1 VP scored.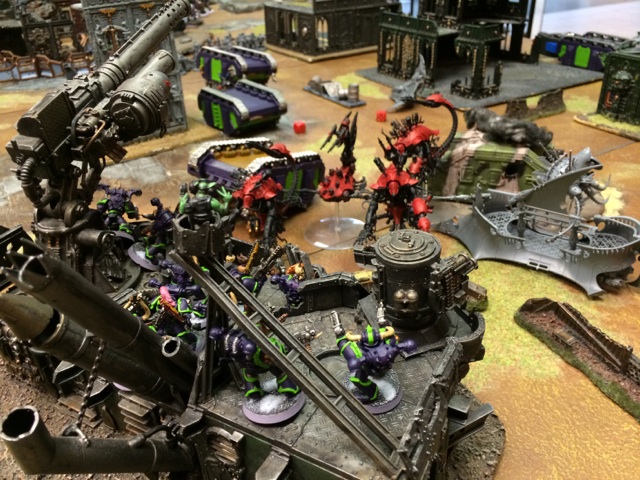 DE Turn 5 -
Talos pounce on the Flamer CSM in ruins. The CSM can't land a single bloody wound and are dealt 11 AP2 wounds. Bye bye. From the perspective of CSM, this sucks. From the perspective of a player, this was hilarious and added fuel to my "I love Talos forever and ever and ever" fire. Cronos doesn't even need to do anything. His remaining Kabalites put fire on the Oblits but no hurty. Trueborn climb back into their flying spiked bathtub which sticks its nose around a corner, launching 5 dark matter shots into the Quad-Gun. Because I was clever and wrapped my Aegis Line all the way around, only 1 wound sticks!
2 VP Scored with Let The Harvest Begin!
CSM: 10   DE: 11
The Game ends!
DE get Linebreaker so the final score is
CSM: 10   DE: 12
Victory for the True Kin!
I know I'm not supposed to be happy about losing but this match was a lot of fun against a good sport of an opponent, and do I love me some Dark Eldar.
If he hadn't brought the Corpsethief Claw formation, I believe I could have pulled out a CSM win. That formation earned him something absurd like 7VP (Rhino, 3 infantry units in CC). Those extra CC VP alone made the difference between a win and a loss. That's some pretty heavy mojo right there.
Tactically I should have fed him the 2nd Zombie unit to slow him down and keep him from fleshing 2 entire units of CSM in 2 combat phases. And maybe could have attacked with Typhus and the Plague Marines from the side. Gift of Contagion would have made a difference in CC, reducing Attacks, Strength, or Strength and Toughness. I stopped using it because it kept giving him Shrouded which was a mistake on my part I feel. Or maybe not lol. Regardless, Typhus could have killed 1 or 2 Talos on his own if he activated Force on his Manreaper artefact (+2S AP2, Daemon Weapon [gives 2-6 extra attacks or on a 1 gives Typhus a wound], unwieldy) and the Plague Marines could have landed a wound or two. With enough Zombies I could have hopefully avoided serious retribution for at least one phase if not 2.
Aside from that I feel my target priority was relatively decent. Trueborn not showing up until Turn 4 was bad for him, but I feel with an extra turn I could have killed them and gotten Warlord since he brought no defensive kit on the Archon.
His only mistakes (in my mind) were not choosing to infiltrate the Talos and Cronos with his warlord trait even closer to my battle line, and him having moved his Talos unit in reverse away from me that one turn. It turns out it was to draw out portions of my army at a time so I couldn't assault him with everything at once, but I think it reduced target options for the Talos later on, and would have let him chase down and murderate Typhus for Warlord (earning 3 VP!!!!).
That, and putting the Scourges and Venom in front of the Talos as a shield was totally unnecessary and even detrimental to him. Talos should be shielding the shooty units, not the other way around. He let me get those 2 VP basically for free.
As always, C&C on any aspect of this welcome!
Thanks for taking the time to read!