My list for both Cleanse and Control games:
Unit 1: Archon with WWP, Haywire Grenades, and Archangel of Pain
         Fire Dragons x5, one upgraded to exarch with fast shot
         Raider (empty fast attack slot)
Unit 2: Kabalite Warriors x5 with blaster
         Venom with 2 cannons
Unit 3: Kabalite Warriors x5 with blaster
         Venom with 2 cannons
Unit 4: Venom with 2 cannons (bought from the archon selection)
Unit 5: Venom with 2 cannons (empty fast attack slot)
Unit 6: Scourges x5 with 4 haywire blasters
Unit 7: Scourges x5 with 4 haywire blasters
Unit 8: Razorwing Jetfighter
Unit 9: Razorwing Jetfighter
Unit 10: Autarch on jetbike
          Windrider Jetbikes x3
Unit 11: Crimson Skyhunter Exarch
Game 1: Opponent had 2 special characters (one allowing them to deepstrike while on the table and the other died too quickly to find out what he did) with a court of 4 lords wielding warscythes and all having everliving.  He also had two big blobs of necron warriors (one in a ghost ark), two units of scarabs, an annihilation barge (i think?), and a doom scythe.  With Tau allies, he brought a huge blob of fire warriors with a cadre fireblade.
Opponent deployed first along the whole table and I made sure everything was outside of 36" so even if he moved forward he couldn't hit me.  I also clumped up on one side opposite the firewarriors, his HQ unit, and a unit of scarabs so they wouldn't affect anything for a couple turns.
Turn 1 Necron: He moved forward with everything and revealed some objectives but that's about all he was able to do.  He did deepstrike his big HQ unit right in front of my deployed forces hemming me in a good bit.
Turn 1 DE: I decide not to scatter away and try to wipe out his hq unit with concentrated firepower from everything but the scourges who I move into position to knock out the annihilation barge.  The pic below shows the end of my movement phase.  I did leave one venom a bit uncomfortably forward to capture the objective for one of my cards.  My shooting knocks down everyone in the court except his warlord who has 2 wounds left after the smoke clears.  My scourges whiff and only get 2 hullpoints on the barge thanks to missing with 3 shots and rolling several more 1's on the pen roll but he is jinked.  My eldar bikes make a pathetic jump back a few inches in the assault phase but everyone in the court gets back up except the second special character that is a mystery to me.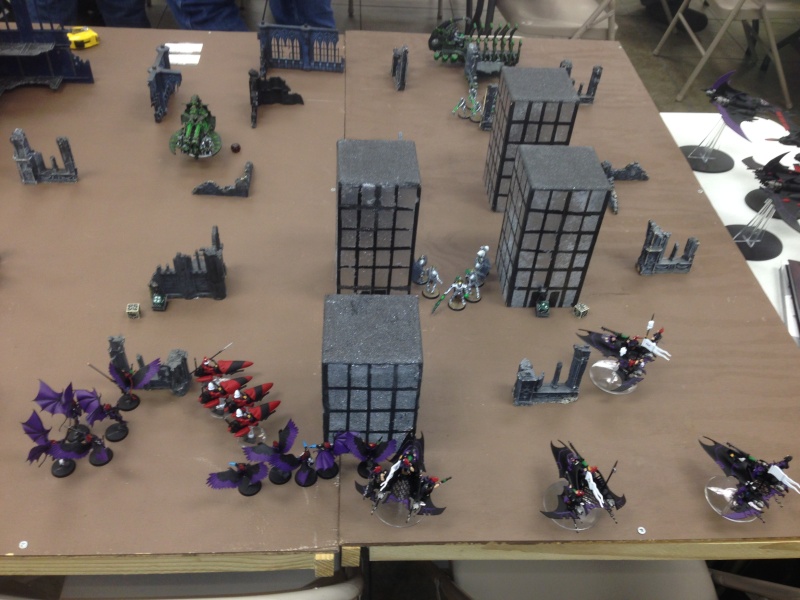 Turn 2 Necron: My warlord traits prevents his doom scythe from coming in and he takes the scarabs on the far left to a distant objective since they had little other purpose being so far out. His snapshooting barge manages two 6's on my scourges and wipes out most of one unit. The scarabs on the right (hiding behind a building in the pic) make a longish charge into my forward venom and his court makes a 9 or 10 inch charge into my bikes that hadn't been able to make a better jump move.  The combat is a massacre and although the autarch braved the mindshackle scarabs and survived he hastily exited the battlefield to abandon his so-called brothers.
Turn 2 DE: I make all my reserve rolls even without the autarch.  I drop my raider behind his ghost ark and set my jets up to knock out the big blobs with missiles and disintegrators.  My venoms and warriors dedicate their shooting to the 5 scarab swarms that wrecked my venom and getting a few wounds on his court again.  The fire dragons destroy the ghost ark and the archangel kills 4 or 5 warriors from the two squads.  One razorwing wipes out the warrior blob that wasn't in the ghost ark, the other kills most of the fire warrior blob (forcing them to flee), and the crimson skyhunter shoots down a few of the distant scarabs since my scourges finished off the barge.  The raider also shoots across the field into his court and knocks off a wound from his hq but two of his court get back up.
Turn 3 Necron: Fire warriors fail to regroup and run off to safety.  His doom scythe shows up and finishes the one lonely scourge as well as killing 4 from the other unit.  His warriors that were in the ghost ark failed the pin test when the transport died so they were unable to threaten the raider.  His few remaining scarabs huddle into terrain off in the middle of nowhere as he's trying to avoid a tabling at this point.  He doesn't charge the scourge with his court because he wants them to stay locked in combat so he attempts a long multi charge at my disembarked warriors and a venom but fails.
Turn 3 DE:  My Crimson Skyhunter knocks 2 hullpoints off his doom scythe.  My razorwings crisscross and one kills the remaining warriors in the back corner while the other kills one or two more scarabs.  My venoms and warriors shoot down and kill his entire hq unit but every single one gets back up.
Turn 4 Necron: It is announced this will be the last turn and I'm in a bad spot because my maelstrom card draws have been terrible so I have to table him to win.  He moves his doomscythe safely behind my skyhunter and attempts another long charge into my warriors and venom but fails again because I kept moving back to keep him out of a good range.
Turn 4 DE:  I move my raider as close as I can to his doom scythe while still controlling the skyfire objective his warriors had held.  They're outside of melta range but still pull off the killing shots needed.  My skyhunter finishes the last scarab hiding on the far table edge from the action.  My jetfighters both fly off because they can't do anything else.  I push forward with all my venoms and warriors and disembark them.  It takes the shooting from all 3 venoms to put his squad down again, then I run my two warriors squads around to cover as much of his area as possible.  I thought there was just one token placed for the whole unit's res location but he insisted each model had its own spot because of everliving so I couldn't cover all of them.  Game came down to one single reanimation protocol roll on a 4+ for one of the lords and he failed it.
Closing Thoughts:  That damn court was incredibly difficult to keep down.  I wasn't having much trouble wiping out his army, but I was getting terrible draws on the objective cards which hurt me score-wise.  Usually I rack up points at excessive levels. I don't like my 1500 list because too much of my stuff feels barebones.  I like what my scourges did, but I can definitely tell I shouldn't count on one unit wiping out a vehicle so I should keep them at max range as best I can and keep them close to support each other if one fails a vital kill.