Twelve stories were written for the theme word 'Storm'.
Each was unique and interesting, but only one can stand up as the ultimate winner.
Twelve Stories Enter, One Story Survives:
Before we get too much into the winners and losers we-
BLOOD!
...what the hell?

Greetings one and all, puny things that Kharn has yet to kill. I am here to kill you, but first I am hosting this special awards ceremony!
Kharn...what the heck are you doing here?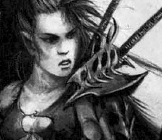 The sad truth is - he polls really well with the masses, we can't get rid of him.
Lilith? I thought you and I agreed I only fantasized you during...y'know...less public occasions.
And I think we can both agree that you may die horribly if that thought goes any further than it already has.
Is there horrible death about to happen? Kharn approves!
So...is Leo going to show up?
Funny that...he doesn't actually poll all that well.
Plus he smells up the car during the roadtrips.
Okay, whatever, but the real question is, what are you guys doing here?
Fanservice...also, skulls for the skull throne.
But-
Writers usually have nice rounded heads, they work well on armrests.
Also, we're here as a cheap teaser plug, to hint that the Dark Olympiad may be coming back.
Yeah, I understand it's *really* cool and not uncool...like, y'know, Tau or something else uncool...like Tau.
...
...
TAU SUCK!
Okay, so cheap plugs for the possible return of -
The Dark Olympiad
aside, what are you here for?
To make this drivel 'any worth listening to at all' mostly.
Fair enough, okay, so let's see, we have a few announcements to make about some of the stories-
I liked all the stories with blood in them!
I liked the ones that featured me...and by that I mean there was only *one* that featured me, and I'm pretty sure I was backup and not the frontman, so it's basically like an insult at that point. I presume it is simply because eleven writers opted for 'suicide by living goddess' today and one opted for 'eternal torment in a pain amplifier', so everyone who didn't venerate me properly can please line up over here so I can practice my decapitations...
It's all in the wrist.
*Ahem* Okay, well, first off let's offer up a few;
INTERESTING YET TOTALLY USELESS FACTS!


There were a total of 3,970 words written for the competition (not counting about four stories not judged)

The longest story was Harpy of Tears by Partridge King (358)

The longest legal story was Recruiting Drive by Tengu and also The Calm Before The Storm of Blades by Burning_Eye - both at exactly 350 words.

The shortest story was The First Cut by KnightSeerValkia at only 185 words.

The most popular length was 349 words (with three entries at this length)

Partridge King originally wanted 'Harpy of Tears' to be his entry - due to limitations of word length he was forced to use 'A Moment's Calm'.

The Judges universally liked Moment's Calm better than Harpy

Wow...
I know, pretty impressive, huh?
Yeah, you were right, those are utterly useless.
All that matters is whose prose took a chainaxe, lopped off the other stories' heads and danced a hurdy-jig atop their graves to the tune of 'I'm so Pretty'!
Riiiiiight. Okay then, let us first reveal our first winner;
Reader's Choice Award:
Moving on!
2nd Place:
Well, as fascinating as that was, here's the real question, whose prose reigns supreme? There were many fine entries, indeed the Judges debated a few personal favorites back and forth.
That said, there was one story that stood out as special to all of us...
1st Place:
Hope you all have enjoyed reading the stories here, and I hope to see you all next time if we manage to do this again (there seems to be a decent amount of requests already). Feel free to weigh in below on anything you'd like to see changed if we were to do the competition again (different entry length, more/less time to write, more/less time to judge, ect. ect.)
If you were a prizewinner, please PM me your mailing address so we can get to work sending you your awards. You also can feel free to snag the *highly artistic* brag banners I made for you. Feel free to make nicer ones for yourself if you wish

Also, remember to say thank you to *all* the participants, for making this first competition such an awesome success. I know I was only expecting maybe 5-6 entries, and the sheer amount of response and positive input was STAGGERING to me and super awesome. Thank you everyone who participated, I hope to have the chance to laud one of your works in a future competition!
Also, remember to pay attention for the return of the Olympiad. There will be more blood, more action, more lewd and low-brow comedy passed off as wit-
And more Kharn!
Well...nothing's perfect.