I supposed since this is where all the Kabals of the dark city come this is the right place to share.
So, I joined the dark city about a month ago and said that I would show everybody my Kabal once I finished painting it all up!
I used to play Dark Eldar back when they had the old 3rd edition codex. Ahhh those were the days of being called a goth kid... and boy OH did my goth elves go crazy! So i finally came back to a fantastic new and gory codex with all the skin-flaying, eviscerating barbed and spikey horror I knew and loved when I first got into 40k years ago... only thing is it's Emo now a days instead of goth..
ANYWAY! I have pictures of what I have so far below. I use alot of my old 3rd edition models kitbashed with the new box sets along with some of my old favorites, like my HQs and Incubi. I don't really have a name for my Kabal, however I've just been going by the name of The White Flames or Black Heart Kabal... Though in 3rd I called them Violation Kabal so I might stick with that. But here ya go, Commorites!
And tell me what you think of them, fellow Archons and Archites!
Oh, and sorry about the quality. I'm going to post up some better close ups very soon, most likely today.
The First Raider squad: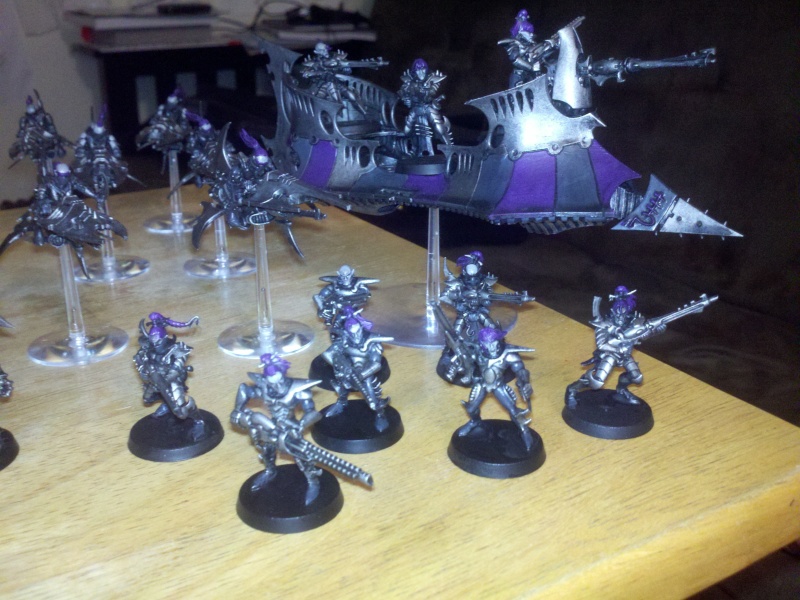 If your wondering, I don't like the sails on the raiders. I always liked the older design of the raiders, but I wanted the newish look.. yeah. That and I also wanted to put my guys on top of it in game instead of the models the raider comes with. I thought it gave the Raiders a mix of the old and new look without them.
The second Raider squad: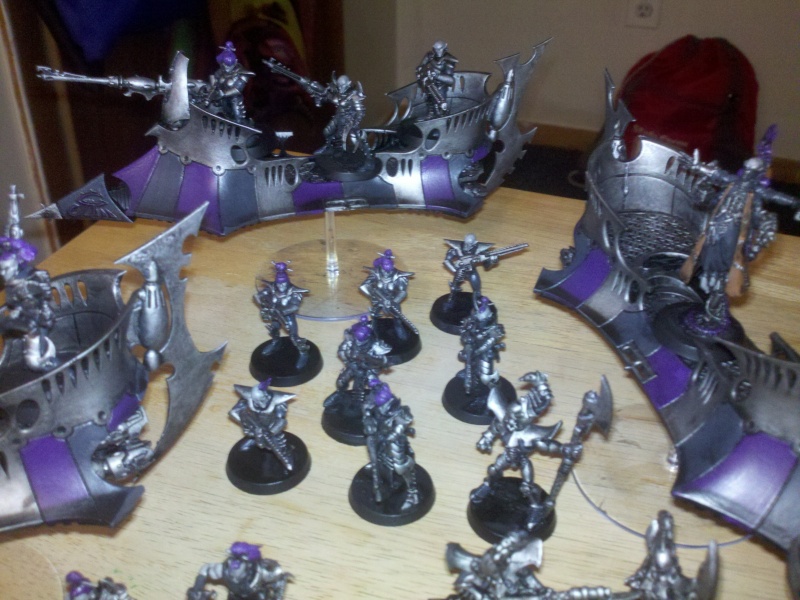 If you haven't noticed no one in my army has a helmet. I gave all the old and new warriors and wyches bare heads and mix and matched the kits. The only exception is the Incubi.
The Witch squad:
The Wych squad's Hekatrix is the 3rd edition Dracon model. She is also sometimes used as either a succubi or Lelith and has 9 wyches. One of the wyches is armed with a power sword(sometimes a venomblade or agoniser) so they have a Hkatrix in that scenario.
The Reaver Jetbikes: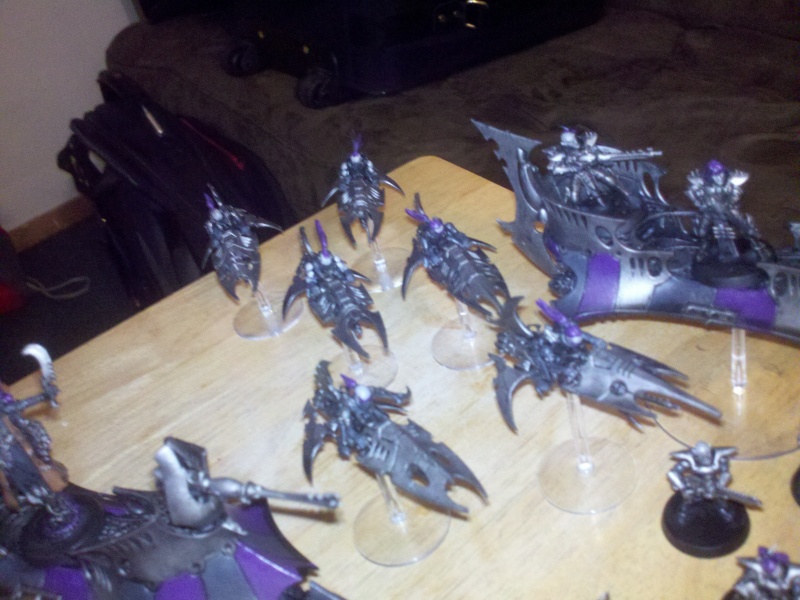 I love my Reavers! Sure, they die pretty quick, but the thought of moving sixbumdillion mph with screaming drugged up elves with explosive blasters and slicing libs as they pass by!... man, it brings a tear to my eye.
And last, but no where near the least is yours truly with his Incubi body guard:
Haemonculi are obviously my favorite. I love insane surgeons with crazy cosmic horrors up his, most likely, multiple sleeves. And of corse an Artist must have his Black Guard of equal terrifying stature. Incubi are my favorite Unit, especially when surgically altered by their master. However I truley dislike the new Incubi models... A lot! The older models had a slender and lithe looking pose and leathal tormentor helm that resembles that of a fallen Striking Scorpion, armed not with klaives, But PUNISHERS! These Incubi also have a lot of sentimental value for all the years of Raids they accompanied my realspace raids.
Ahh, The smell of blood and purple goopy, plasmatic Dark matter fumes has been replaced with Poisonous splinter racks and the sounds of warrior's hollow laughter this edition. And what a change it is!
I have two Ravagers and my old Archon in the works and once their ready I'll show them off too, fellow backstabbing Commorites!
Heres apicture of the whole force so far!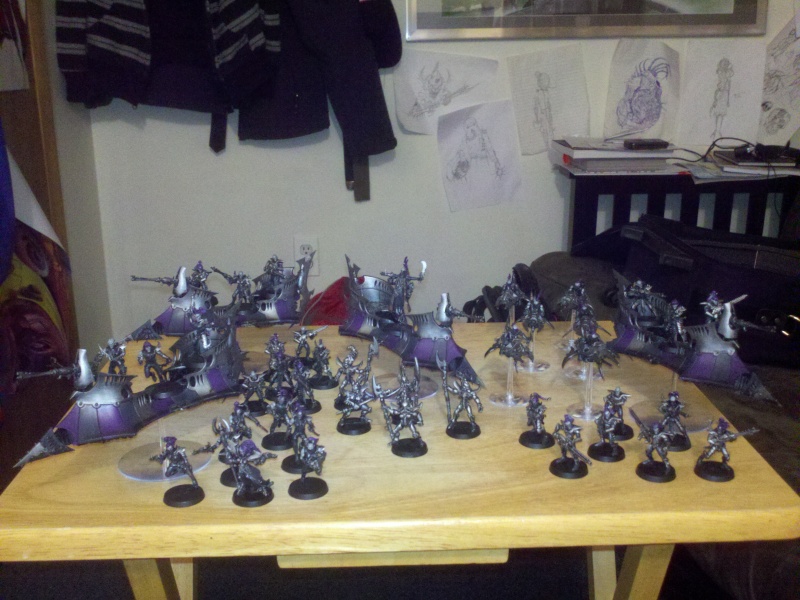 Thanks for checking it out if you do, tell me what you think?