Another game played and another victory for the True Kin!
Played 750pts vs Skitari which was cool as I have never seen them before. We played the maelstrom mission where you keep your objectives secret until you achieve them. We did agree to use the long edges for deployment though. I won the roll off for first turn and we got night fighting for first turn as well.
My list:
Succubus w/ AoM, HG, Glaive
w/ 9 wyches in a DL raider.
2 x 5 man warrior squads in dual SC venoms w/ blaster & sybarite w/ HG in both.
3 x 3 man reaver jetbike squads w/ blaster & cluster caltrops.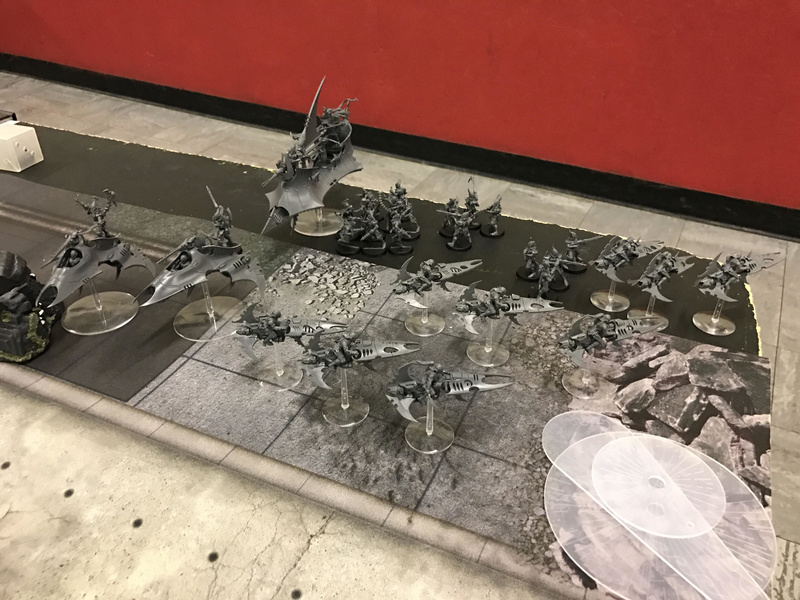 Sorry, painting starts this weekend!
His list (I don't know any of the upgrade names I'm afraid):
5 man unit of sicarian infiltrators, his warlord was in this unit
2 x 5 man ranger units
1 x 5 man vanguard unit
1 ironstrider walker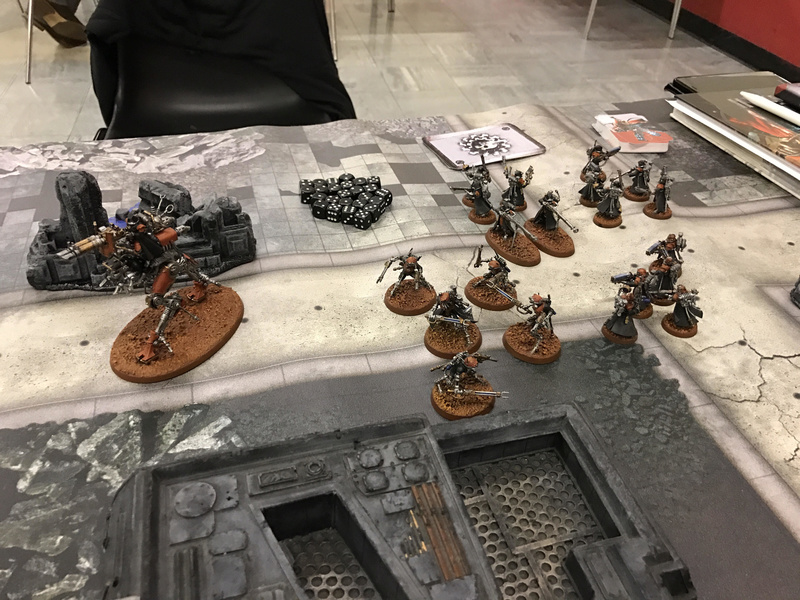 I rolled on the DE table for warlord trait and ended up with +1 WS after a reroll which wasn't super helpful for my already WS 8 Succubus. Also managed to roll a 6 on combat drugs for +1 LD. Doh!
Deployment
I deployed aggressively at the edge of my deployment zone and reasonably spread out but ready to swing to either side depending on how things went. He deployed mostly behind cover in his deployment zone but moved his infiltrators aggressively close and into cover.
Turn 1
I got big game hunter, secure objective 1 and secure objective 6. I swung left with my venoms and 1 jetbike squad to start putting the hurt on the infiltrators and claim objective 6. The raider and other 2 jetbike units swung right to try and take down the ironstrider.
All my dark light shots missed! No luck taking down the ironstrider this turn. All of the the fire from the venoms and the units inside only managed to do 1 wound on the infiltrators. I started to think I could be in for a tough game. Charged the infiltrators with 1 unit of reavers and managed to put 3 more wounds on them. He then proceeded to obliterate me with his return attacks. Some powerful close combat stuff in that unit. I won't be charging them again any time soon.
His turn he stripped 2 hull points off my jinking raider but both only glances so no explosions to hurt the wyches inside. He assaulted one of my venoms with the infiltrators and had no problem destroying that. Didn't pin the unit inside.
End of turn one he had first blood plus another objective, and I had a single objective so 1-2.
Turn 2
I drew a duplicate big game hunter on objectives.
Having realised what a threat the infiltrators could be I prioritised everything on taking them down as well as positioning my two remaining jetbike units to attack the ironstrider. The two warrior squads, one venom and pistols from the wyches managed to be enough shots to take out the infiltrators netting me slay the warlord. The jetbikes stripped one hull point from the ironstrider in shooting and it ended up being the normal S4 rending attacks that finished it off in combat. One of my jetbike units consolidated into cover but the other only got 1" on the roll so was left out in the open.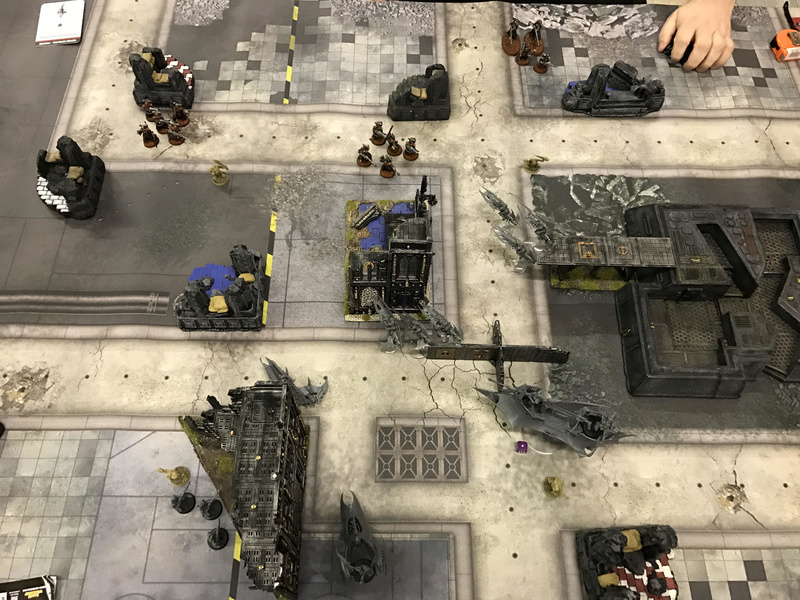 On his turn he stripped the final hull point from the raider, I passed the pinning check and deployed the wyches aggressively for a charge next turn. His shooting took out the jetbike squad that was in the open and a few of the warriors that had lost their venom.
End of turn two he got one more objective, but I had got duplicated big game hunter and warlord so 4-3 now to me.
Turn 3
At this point it was looking like I could table him so I stopped focusing on the objectives and went for the kill.
I swung all my remaining mobile units to focus on two of his remaining units. Set things up to make charges with the wyches and the reavers on two separate units and get enough shooting on both to take out a few models but not wipe them completely. The wyches charged one unit and the succubus killed them all before the regular wyches could even attack. The jetbikes had no trouble wiping the other unit.
This left him with a single unit which he advance towards one of my objectives with a lone warrior guarding it and had no trouble taking him down.
Turn 4
Advanced all my remaining units towards the final enemy unit. The wyches couldn't get line of sight so I just ran with them. Shooting from the venom and the jetbikes wittled them down a bit. Then I needed the charge on an 8+ to get one jetbike into combat and managed to roll a double 4 so just made it. Unfortunately the cluster caltrops bike wasn't in base contact so didn't get his d6 rending attacks. Thankfully he had done his special rule for the turn to get +3 WS but -2 BS so I was hitting on 3s, wounding on 3s and this was enough to wipe the unit getting me the victory.
So a fun game. Some crazy special rules for the Skitari both in shooting and melee. Definitely my mobility and the redundancy in my list helped get me through after a shaky start.
Hoping to get my grotesques built this weekend so I'll be dropping the sybarites and wyches to add those in to ride with the succubus instead for a revenge game next week where he will bring his cult mechanicus. I'm gonna have to listen the the splintermind episode on mechanicus for some tips I think!
Let me know if this battle report is ok/too long winded/not enough detail/not enough pics/why the hell haven't you painted your models yet etc and I will endeavour to do better the next time round.